Jemma Egan | Sheila Rennick: Sausage Fest
Friday 28 October – Friday 18 November 2016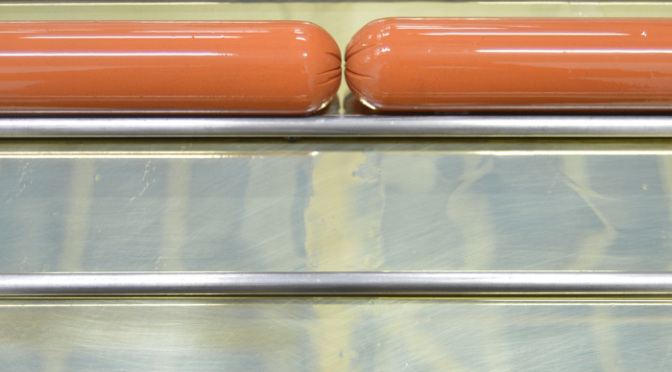 'Sausage Fest' is an exhibition by UK based artists Jemma Egan and Sheila Rennick. Through their diverse practices they investigate commodity, branding, the mass produced and cultural identity through a contemporary lens. Questions of taste, aesthetics and class culture are explored through painting, sculpture and moving image.
Rather than looking from the outside, both artists are rooted within the context and culture they are referencing, so despite hints of satire and humour, there is still a certain affinity with the subject-matter. Together Egan and Rennick demonstrate a palpable interest in what lies between the desired and the discarded. In this way, 'Sausage Fest' not only alludes towards sexuality, but pokes at our abject and engrained desires and needs.
The exhibition is guest curated by Séamus McCormack.
Jemma Egan is an artist based in London. She completed an MA in Sculpture at The Royal College of Art in 2015 and BA in Fine Art in Liverpool in 2005. Recent exhibitions include: It means more to me than most people, Zabludowicz Collection-Invites, London, 2016 (solo); Bloomberg New Contemporaries, The Bluecoat, Liverpool and ICA, London, 2016; dip, CBS Gallery, Liverpool, 2016; Is it Heavy or Is it Light?, Assembly Point, London, 2016. Upcoming projects include an Arts Council and British Council AIDF research trip to Las Vegas, 2017 and an artist residency at Edinburgh Sculpture Workshop, 2017.
Sheila Rennick graduated from NCAD with a degree in Fine Art Painting in 2004 and upon graduating she was co-recipient of the prestigious CAP Foundation Award. In 2006 she completed an MA in Painting at St. Martins College, London. She was one of thirty artists selected from across the UK for the notable Jerwood Contemporary Painting exhibition, 2007.  Recent exhibitions include Save Changes at Stour Space, Hackney Wick, London, 2015 and Somethign for Nothing, Hillsboro Fine Art, 2016 (solo).  Rennick was selected for Futures at the RHA, Dublin and in 2016 was awarded runner up at The Marmite Painting Prize at Block 336, London.  She lives and works in London. Sheila Rennick is represented by Hillsboro Fine Art.
Séamus McCormack is a curator and artist based in London and is Programme Manager, New Contemporaries.  Previously he was Assistant Curator: Whitechapel Gallery; Assistant Curator: Collections, IMMA and Project Coordinator: Exhibitions, IMMA.  At IMMA he curated exhibitions Traces (2009); Roadkill (2014) and was co-curator of Mobile Encounters (2014) and Primal Architecture (2014).  At Whitechapel he was Assistant Curator on Christopher Williams – The Production Line Of Happiness; Harun Farocki – Parallel; The Kibbo Kift Kindred and Electronic Superhighway. He has co-edited numerous publications and written on artists including Haroon Mirza, Paul Sharits, Jonas Lund, Ulla Wiggen, Christopher Williams, Janine Davidson and Elaine Leader. As an artist he has exhibited his work in solo and group exhibitions.
Image: From Here to Eternity single screen moving image, looped (steel hot dogs with oil on brass), 2014
Friday 28 October – Friday 18 November 2016
Unit 3, James Joyce Street
Dublin 1
Opening hours / start times:
Thursday 11:00 - 17:00
Friday 11:00 - 17:00
Saturday 11:00 - 17:00
Admission / price: Free