Jay Murphy: Leaving Shadows
Friday 28 June – Saturday 20 July 2019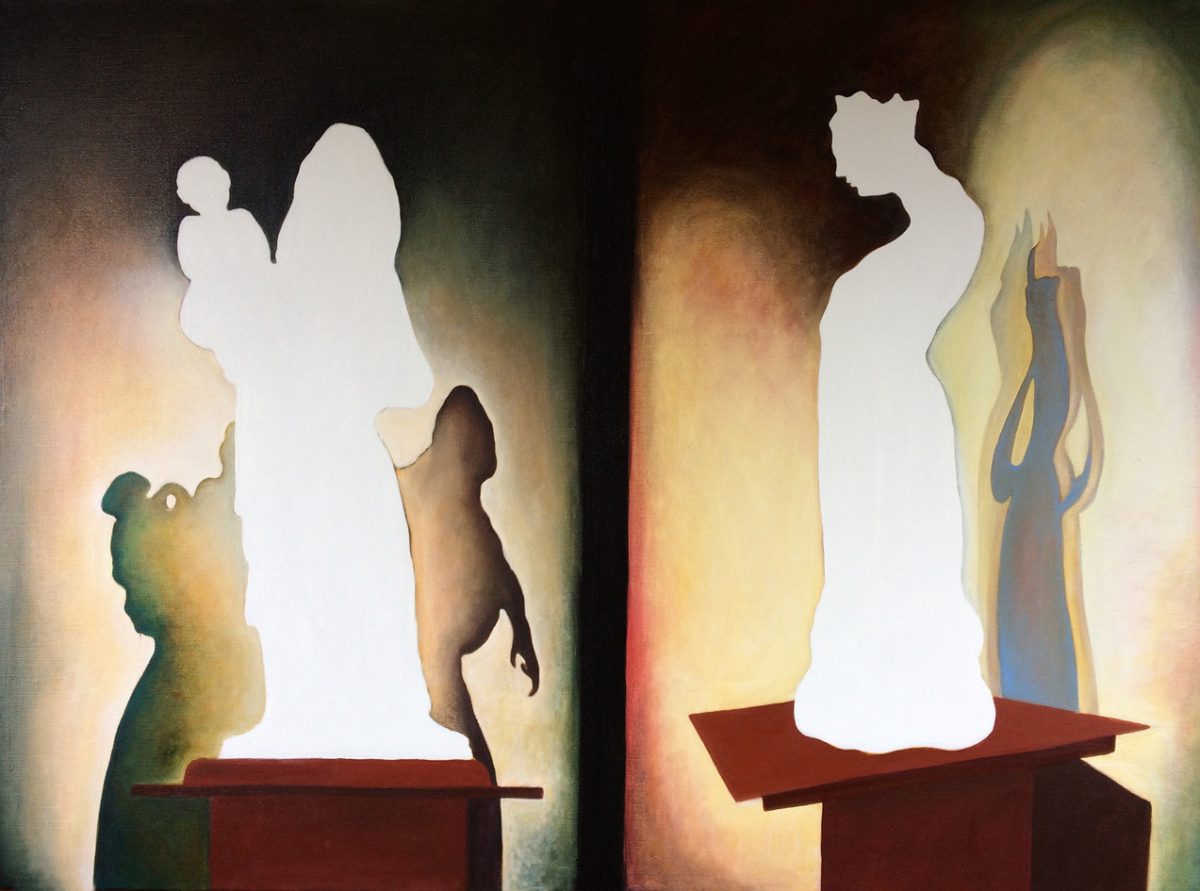 Taylor Galleries is delighted to present Leaving Shadows, an exhibition of new work by Jay Murphy. Poet Paula Meehan will officially launch the exhibition, which is one of two solo shows running simultaneously. The other exhibition, Contemplating the Ineluctable, is by Brian Bourke.
Writing about Leaving Shadows, the artist notes: The idea for the series started in Prague on a visit to the Museum in the Convent of St. Agnes of Bohemia. The gallery was full of magnificent early to late Gothic sculpture – Madonna and Child, the Virgin Mary, the Crucifixion, Pieta, and the lives of the saints. Not only were these all extraordinarily beautiful, but whatever way they were lit, I also became intrigued by the shadows they created. I held on to the idea of doing something with this for several years and last year I was galvanised to start work on the series. As I worked, the subject matter revealed more and more. Initially about loss – the loss of people, loss of memory, loss of faculties, loss of faith and so on – but it also contained the residue. I left the figures blank, a white blank, and the painting is all, or mostly, in the shadows and through these shadows other stories emerge.
Jay Murphy was born in Dublin in 1952 and studied Fine Art at IADT, Dun Laoghaire and printmaking at the Central School in London. She travelled extensively through Switzerland and Bavaria before returning to Ireland to live in Connemara. A founder member of the Fior Uisce and Western Artists groups, she has also been a member of Island Connection, a group of painters and sculptors who live and work on various European islands, and AKIN. Alongside work in film, puppetry and book illustration, she has exhibited her paintings in many group and solo exhibitions nationwide, including numerous editions of the Galway International Arts Festival.
Image: Jay Murphy, Leaving Shadows, oil on canvas, 122 x 170 cm
Friday 28 June – Saturday 20 July 2019
16 Kildare Street, Dublin 2
Telephone: +353 1 676 6055
Opening hours / start times:
Monday 10:30 - 17:30
Tuesday 10:30 - 17:30
Wednesday 10:30 - 17:30
Thursday 10:30 - 17:30
Friday 10:30 - 17:30
Saturday 11:00 - 15:00
Admission / price: Free