Janus
Friday 18 January – Saturday 16 February 2013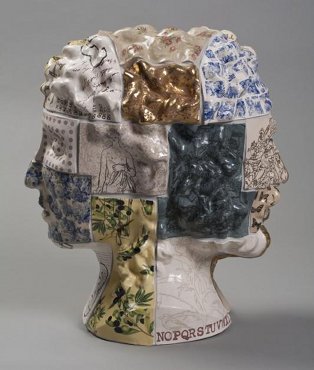 Opening Reception Thursday 17 January, 5:30 – 8pm • The exhibition will be formally opened by John Kelly, writer and broadcaster.
Peppercanister's first show of 2013 brings together original works interpreting the theme of Janus from many of Ireland's most distinguished artists as well as a number of notable UK artists. The exhibition includes painting, photography, print, sculpture and ceramic, as well as poetry by Michael Longley, one of Ireland's most eminent poets. Along with regular gallery artists, the show sees the return of invited artists Mary Kelly, Brian King, Carolyn Mulholland, Rachel Parry and Michael Quane. Political ceramic sculptor Steve Dixon (Professor at the Manchester School of Art and inaugural V&A Ceramics Artist in Residence), Andrew Folan, and John Kindness (who has recently completed his Gasworks sculpture on the quays of the River Liffey) will be showing at the gallery for the first time.
The Roman god of new beginnings and transitions, war and peace, Janus is typically represented by a two-faced God, simultaneously looking to the future and to the past. The Romans bestowed the fitting title of Janus upon the month of January as it is a time for all to reminisce on the year gone by whilst focusing on the fresh start the new year brings.
This January as we introduce our new website and identity created by award winning designers Atelier David Smith, and with a strong program of work planned for 2013, we look forward to building on our past years of exhibitions and continuing to work closely with exceptional Irish and International Artists to produce new, exciting and thought provoking shows.
Artists include: Liam Belton, Anne Griffin Bernstorff, Basil Blackshaw, Steve Dixon, Andrew Folan, Graham Gingles, Mary Kelly, John Kindness, Brian King, Sonja Landweer, Michael Longley, Deirdre McLoughlin, Simon McWilliams, Carolyn Mulholland, Abigail O'Brien, Gavin O'Curry, Rachel Parry, Michael Quane, Neil Shawcross, Andrew Vickery, Conor Walton and Charlie Whisker.
Image: Steve Dixon: Janus, ceramic
Friday 18 January – Saturday 16 February 2013
3 Herbert Street
Dublin 2
Telephone: +353 1 6611279
Opening hours / start times:
Tuesday 10:00 - 17:30
Wednesday 10:00 - 17:30
Thursday 10:00 - 17:30
Friday 10:00 - 17:30
Saturday 10:00 - 13:00
Admission / price: Free
Closed Mondays and Bank Holiday weekends.