Janet Mullarney: things done
Friday 19 November – Wednesday 22 December 2010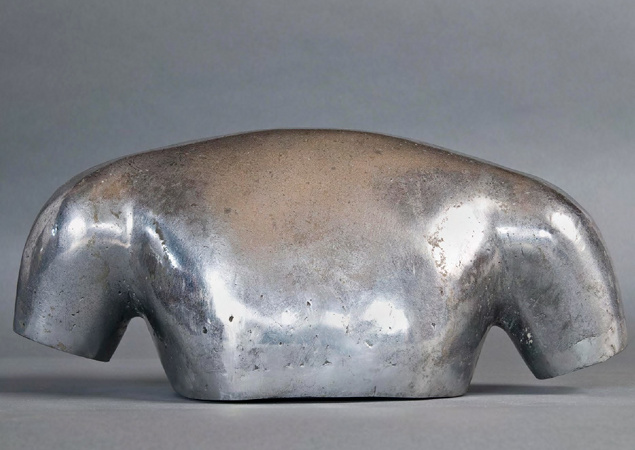 Janet Mullarney things done will open at Taylor Galleries on Kildare Street in Dublin 2 on Friday 19 November 2010 from 6 to 8pm and will run until 11 December 2010. The exhibition will include new video and sculptural works and run concurrently with the exhibition Janet Mullarney things made at the Royal Hibernian Academy from 19 November to 22 December 2010.
"Born in Dublin, sculptor Janet Mullarney has spent a great deal of time working in Italy. She is a beautifully fluent carver and maker. Her work evokes an inner, imaginative world that is quite timeless, at once ancient and modern, with simultaneous references to mythic archetypes and ordinary, everyday life. Human potential, responsibility and vulnerability are at the heart of her concerns." – Aidan Dunne
A lineage of art historical references from Gothic carvings and Romanesque sculpture, the Chola art of South Indian temples, Egyptian art, the International Gothic style and the Trecento masters of medieval Europe are some of Janet Mullarney's sources. To these we might add the Surrealist's strategy of the assisted ready-made, the strands within Modernism fascinated by primitive art and post-modernism's penchant for recycling, fragmentation and hybridity.
The new works are tender and retain an intimacy… A shift in tone comes again in Mullarney's new video works, which are of real people doing extraordinary things, and she finds the most incredible subject matter in which to portray the human potential. The men of Italy who sing like birds (and), in a second video work, Pongal, …a moment of magic invention represents for the artist the survival tactics of millions of people around the world, who make much out of little.

- excerpt from 'Through a glass darkly' by Cliodhna Shaffrey, Irish Arts Review, Autumn 2010

Janet Mullarney was awarded the Pollock Krasner Award in 1998 and was shortlisted for the IMMA Glen Dimplex Award in the same year. She has exhibited her work extensively in both Ireland and Italy and recent solo exhibitions include To Make It Home, Kinsale Arts Week (2009); around the house, Casa Masaccio, San Giovanni Valdarno (2008); Fenton Gallery, Cork (2006); M.A.C.O, Mexico (2001); and Dublin City Gallery The Hugh Lane, Dublin (1998). Her work has been included in group shows at The Art Gallery of Newfoundland and Labrador, Canada (2005); Millenium Art Museum, Beijing and Shanghai Art Museum, China (2004); Palazzo Mediceo, Serravezza, Italy (2004); Palazzo delle Papesse, Siena, Italy (2003); and Stedelikj Museum, Alst, Belgium (2002). Janet Mullarney is a member of Aosdána and more of her work may be viewed online at www.janetmullarney.com.
For further information about Janet Mullarney things done please contact Patrick Taylor at the gallery.
Image: Janet Mullarney: Rishabadev, 2010, aluminium, edition of 3, 32 x 16 x 10cm. Photo by T. Perissi.
Friday 19 November – Wednesday 22 December 2010
16 Kildare Street, Dublin 2
Telephone: +353 1 676 6055
Opening hours / start times:
Monday 10:30 - 17:30
Tuesday 10:30 - 17:30
Wednesday 10:30 - 17:30
Thursday 10:30 - 17:30
Friday 10:30 - 17:30
Saturday 11:00 - 15:00
Admission / price: Free