Janet Mullarney: My Minds i
Saturday 24 October – Sunday 13 December 2015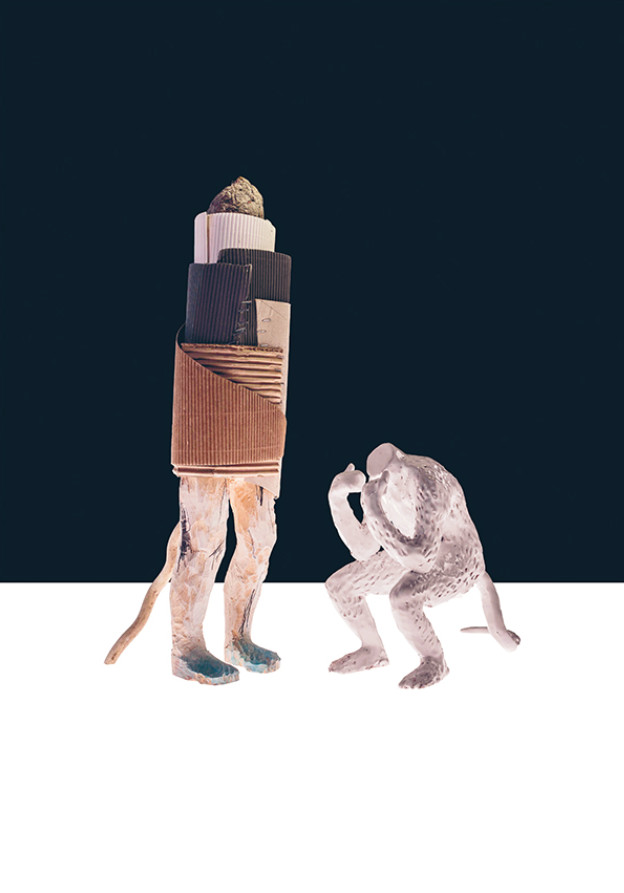 The Butler Gallery is delighted to present the exhibition Janet Mullarney: My Minds i, an Arts Council Touring exhibition curated by Aoife Ruane, Director of Highlanes Gallery, Drogheda, with lighting design by Marcus Costello.
First shown at Highanes Gallery (30 January – 11 April, 2015), My Minds i is Mullarney's first large-scale exhibition in five years and will be shown in a site-specific configuration for the four segmented spaces of the Butler Gallery.
Janet Mullarney, ARHA,  is one of Ireland's most important artists working today. The title of the exhibition, My Minds i, refers to the idiom mind's eye and to the human ability for visualisation, for the experiencing of visual mental imagery; one's ability to 'see' things with the mind, and to the power of the psychic imagination that communicates important subterranean messages to be deciphered.
In the exhibition, small fragile sculptures are juxtaposed with backdrops and a heightened lighting scheme where a mysterious theatrical world will unfold. More like drawings, and avoiding any obligation to the monumental, these small insignificant figures stand alone on large open spaces to create an anarchic independence, and the subversive effectiveness of the silent interior of the artist's thoughts.
Everything is beautifully elegant and precisely observed. Every pose is exactly expressive. Once she captures the essence, she doesn't keep going. The challenge is to nail it, then leave it be. The result is exhilarating, liberating and generous. She doesn't try to disguise the nuts and bolts of how it's all put together. It is completely demystified and approachable. Her anthropomorphic animals are just that. " I found that I could use an animal to express human feelings, or traits, or character, more effectively than trying to represent someone being timid, say, or mean. Then you're into describing an individual human personality, which is not what I want to do." Arranged on the lightboxes, her characters form numerous tableaux. Dramas are played out, but never pinned down. She is not telling stories per se. "In that sense, I don't quite know what's going on," she explains. "And I don't want to know."
From a conversation with Irish Times Art Critic, Aidan Dunne
Reviewed in The Irish Times, February 10, 2015
My Mind's i will unwind some inner vision suggesting the vastness of experience and aloneness of each individual in their transition through life, regardless of their experiences. Consequently, it can only be translated through the viewer and suggests the impossibility of knowing oneself or the other.
Janet Mullarney was born in Dublin and lives between Ireland and Italy, a country that has provided great inspiration for her work.  She has won many awards, including the RUA Perpetual Silver Medal Prize (2009), the RHA Sculpture Award (2008), and The Pollock Krasner Award 1998, and her work is represented in both private and public collections in Ireland including The Arts Council, The Irish Museum of Modern Art, The Office of Public Works, and Limerick City Gallery of Art. Janet has exhibited extensively in Ireland, Europe, and across the world,including Museo de Arte Contemporanea, Oxaca, Mexico, and Shanghai Art Museum,and has many important works in public spaces including; Groningen,Holland, Royal Victoria Hospitals, Belfast, and Cherry Orchard Primary School Dublin.  Janet Mullarney is a current member of Aosdana, the organisation which was established by the Arts Council in 1981 to honour artists whose work has made an outstanding contribution to the arts in Ireland, and to encourage and assist members in devoting their energies fully to their art. Janet Mullarney is one of 12 finalists chosen for the Hennessy Portrait Prize 2015. The work will be exhibited in the National Gallery of Ireland from 14 November 2015 – until 14 February 2016 and the winner will be announced on 17 November, 2015.
Aoife Ruane, Director, Highlanes Gallery
A full colour catalogue, with texts by art historian William Gallagher and Manchán Magan, writer and documentary-maker, will be available during the run of the exhibition. In 2016, the exhibition will travel to the Wexford Arts Centre and to the F.E. McWilliam Gallery & Studio, Co. Down.
*Discovery Pens will be available to visitors, giving access to additional audio information. This is facilitated in partnership with Arts & Disability Ireland, with funding from the Arts Council.
Meet the Artist: Tuesday 27 October at 1pm
This exhibition was awarded an Arts Council Touring Grant to Highlanes Gallery in partnership with the Butler Gallery and Wexford Arts Centre. The exhibition was sponsored by Clarke's Bar, Drogheda, the former home of the 20th century artist, Nano Reid.
With thanks to the Arts Council for essential annual funding and to the OPW, Department of Social Protection, The Heritage Council and Kilkenny Local Authorities for additional assistance.
Saturday 24 October – Sunday 13 December 2015
Evans' Home
John's Quay, Kilkenny
Telephone: +353 56 7761106
Admission / price: Free
Closed 13:00 - 14:00 until March.