Jane O'Malley: A Selection from Recent Work
Friday 26 September – Saturday 11 October 2014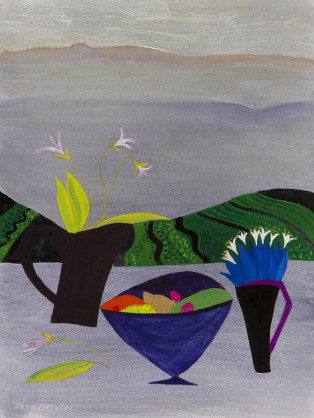 Opening Reception Thursday 25 September, 6 – 8pm
The recently published book Free Spirits: Jane and Tony O'Malley by Marion Whybrow will be launched at the exhibition opening by Sarah Stoten of The Stour Gallery, Warwickshire.
A Selection from Recent Work features new mixed media works on paper as well as Chinese ink sketches, pastels and larger oil paintings on board. Most of the work references the volcanic landscape of Lanzarote and the paintings and drawings in the exhibition are characterised by O'Malley's typically saturated colouration and her interest in creating a dialogue between everyday domestic objects – jugs, bowls, fruit – and the landscape. Furrowed fields are glimpsed through window frames and stretch out past tabletops and terraces to the horizon, giving her work a depth that draws the viewer into the landscape.
Born in Montréal, Canada in 1944 Jane O'Malley lived and worked as part of the artists' community in St Ives, Cornwall from 1969 to 1990. There she met and settled with her husband, the painter Tony O'Malley. Together they spent time working in the Scilly Isles, Bahamas, St Lucia and Lanzarote before relocating to Kilkenny, Tony's home county, where she still lives and works. O'Malley has shown widely in the UK and Ireland, with solo shows at the Hamilton Gallery, Sligo; Riverrun Gallery, Limerick; and Montpelier Studio, London; as well as Plymouth Arts Centre, Salt House Gallery and Penwith Gallery, St Ives. Her work has been included in group exhibitions at The Stour Gallery, Warwickshire; Dyehouse Gallery, Waterford; Black Church Print Studio, Dublin; and the Royal Hibernian Academy. Jane O'Malley's work is represented in private collections in Ireland, America and Europe, and features in the public collections of AIB, Bank of Ireland, the OPW / State Art Collection, Dublin City University, The Arts Council / An Chomhairle Ealaíon, Prudential Life Assurance and Kelly's Resort Hotel, Wexford.
Friday 26 September – Saturday 11 October 2014
16 Kildare Street, Dublin 2
Telephone: +353 1 676 6055
Opening hours / start times:
Monday 10:30 - 17:30
Tuesday 10:30 - 17:30
Wednesday 10:30 - 17:30
Thursday 10:30 - 17:30
Friday 10:30 - 17:30
Saturday 11:00 - 15:00
Admission / price: Free