Jane Locke: The Lighthouse at the Library
Friday 25 November 2022 – Sunday 26 March 2023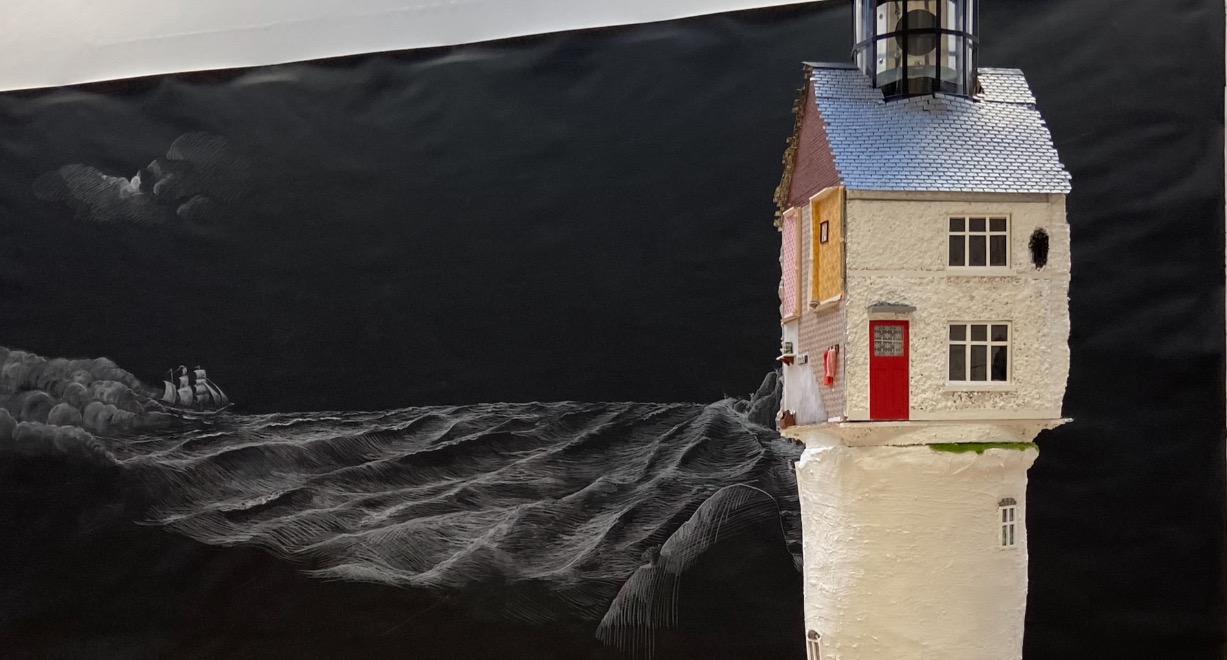 ――― In venue ―――
The Lighthouse at the Library is the outcome of a visual arts commission by Dublin City Council and the Royal Hibernian Academy of Arts for a primary audience of 8-12 year-old school children at Ballyfermot Library Creative Hub.
In its original context the lighthouse was presented as a mystery. Delivered one morning to the library with a tiny letter, its creator and purpose were unknown. Each visiting child dutifully sat through a live introductory talk and was tasked with becoming an investigator: to find clues; study the lighthouse and supporting materials; and to contribute a theory to solve the mystery.
Created for children but intended for multiple audiences, vast oceans of research supported the making: lighthouses, light-homes, light towers, street lights, "Corporation houses", post cards, the heavy dark and the ghost of a hand.
Visitors can experience the rooms of the lighthouse in detail via the 3D viewer and torches at the desk.
Learn more on www.thelighthouseatthelibrary.org • Listen to a school talk with the artist here: https://www.thelighthouseatthelibrary.org/talk 
Jane Locke (b. 1980 Dublin) has degrees in Analytical Science (DCU, 2001), Visual Arts Practice (IADT, 2007), a Masters in Fine Art (NCAD, 2014) and over twenty years experience in the pharmaceutical industry.
Recent large scale projects include; 'ConsumerFarmer' as part of 'A Growing Enquiry' at the RHA (2022), 'Tales from a Green Post Box' commissioned by The Lab (DCC) (2016) and illustrated guided tours of the Botanic Gardens Glasnevin with accompanying guidebook 'A Fascinating Guide to the Botanic Gardens Glasnevin' (2016). She has delivered talks at a number of academic institutions including at The National PhD Symposium, NCAD, Dublin and at IMMA.  Her work has been shown nationally and internationally and has been acquired by private collections and the OPW.
Friday 25 November 2022 – Sunday 26 March 2023
15 Ely Place, Dublin 2
Telephone: +353 1 661 2558
Opening hours / start times:
Monday 11:00 - 17:00
Tuesday 11:00 - 17:00
Wednesday 11:00 - 19:00
Thursday 11:00 - 19:00
Friday 11:00 - 19:00
Saturday 11:00 - 19:00
Sunday 14:00 - 17:00
Admission / price: Free