Jaki Irvine: Before the Page is Turned
Friday 8 July – Saturday 20 August 2011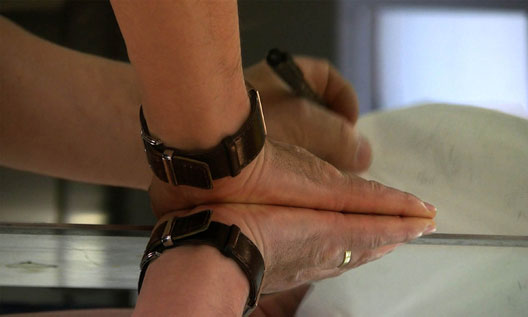 Reception Thursday 7 July, 6 – 8 pm
Kerlin Gallery in association with Graphic Studio Dublin, is pleased to present an exhibition of new work by Jaki Irvine.
Before the page is turned is a new body of video work by Irvine, taking their starting point from the processes of printmaking. In 2010, Robert Russell and Jackie Ryan from Graphic Studio Dublin, invited Jaki Irvine to spend some time working in their studios, thinking about print. By way of response, Irvine spent several months videoing and recording, developing a series of five works that act at once as a meditation on the processes of printmaking and on the wider context within which it is placed.
Despite the final silence of the framed print, its mode of production involves a series of clanks and squeals and gratings and rubbings that are both jarring and rhythmic. The soundtrack developed by Irvine, which underpins the moving image, incorporates sounds recorded by her in the studios and an instrumental score that both reflects and plays off various elements within the work.
Meanwhile, textual narratives threaded through the work reflect these underlying tensions, interrupted and pulled together by plates emerging from acid baths; inks being mixed; aquatint melted onto copper…
Jaki Irvine currently lives and works in Dublin and Mexico and is a regular artist advisor at the Rijksakademie, Amsterdam. Her solo exhibitions include The LAB, Dublin (2010), Frith Street Gallery, London (2010, 2005, 1999), Temple Bar Gallery and Studios, Dublin (2009), Kerlin Gallery, Dublin (2008, 2004), Chisenhale Gallery, London (2007), Model Arts and Niland Gallery, Sligo (2006), SMART, Amsterdam (2006), Irish Museum of Modern Art, Dublin (2005), Douglas Hyde Gallery (2005, 1999), Henry Moore Institute, Leeds (2005), Delfina Project Space (2001), Staatliche Kunsthalle in Baden-Baden, Germany (1998) and Project Arts Centre (1996).
She has also participated in numerous group shows throughout Europe, Australia and Japan including the Dublin Contemporary(2011), The Butler Gallery, Kilkenny (2009), Whitechapel Gallery, London (2007), Hugh Lane Municipal Gallery, Dublin (2006), Lewis Glucksman Gallery, Cork (2006), A Century of Artists Film in Britain, Tate Britain (2003), 50 Years of Irish Art, Irish Museum of Modern Art, Dublin (2001), Venice Biennale, Italy (2001, 2007), Intelligence, Tate Britain (2000), Stedelijk Van Abbemuseum, Eindhoven (2000), With de Witte, Rotterdam (1999), Museet d'Arte Moderna, Stockholm (1999), White Noise, Bern Kunsthalle, (1998) and NoWhere Louisiana Museum of Modern Art, Denmark (1996).
Irvine has been a contributing curator for The Irish Museum of Modern Art and with Double Agents, Central St. Martins, London. In 2000, for the reopening of the Project Centre in Dublin, Irvine curated the celebratated group show 'Somewhere Near Vada.' In 2008 the monograph; 'The square root of minus one is plus or minus i' was published by the Model Niland, Sligo and Chisenhale, London with critical texts from Michael Newman, Sarah Glennie and the artist. Irvine is represented in the collections of the TATE, London, the British Council, Butler Gallery, Kilkenny. Hugh Lane Municipal Gallery, Dublin, Irish Museum of Modern Art, Dublin, Moderna Museet, Stockholm, Sweden and in numerous other collections, both public and private. Jaki Irvine is a member of Aosdána.
Kerlin Gallery and the artist would like to thank Graphic Studio Dublin and the Arts Council.
Friday 8 July – Saturday 20 August 2011
Anne's Lane
South Anne Street, Dublin 2
Telephone: +3531 670 9093
Opening hours / start times:
Monday 10:00 - 17:45
Tuesday 10:00 - 17:45
Wednesday 10:00 - 17:45
Thursday 10:00 - 17:45
Friday 10:00 - 17:45
Saturday 11:00 - 16:30
Admission / price: Free