Jacqueline Stanley HRHA: Large Drawings
Thursday 4 October – Sunday 4 November 2018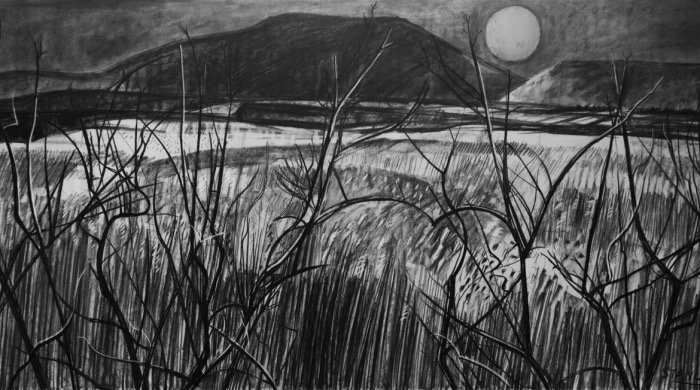 Jacqueline Stanley HRHA sees landscape as containing a parallel to our present-day life, in forms and resonances, and not as a 'misty', obscure or pastoral subject matter. Stanley's large drawings, from rugged Wicklow to the wetlands of Cork reveal a vital response into how her environment influences her work. Her dynamic approach to drawing is continued in her more recent studies of Dublin.
Born in 1928, in London; Jacqueline Stanley studied at Beckenham College of Art and Royal College of Art, London 1949-52. A prolific painter and printmaker, her early work documented a rapidly changing London, before becoming primarily concerned with landscape. Jacqueline has exhibited widely and much of her work is in major public and private collections.
Image: Jacqueline Stanley HRHA, Full Moon, Mount Gabriel, 1990, Charcoal, Conte and Silver Leaf on Paper, 98 x 176 cm, Image courtesy of the artist.
Thursday 4 October – Sunday 4 November 2018
15 Ely Place, Dublin 2
Telephone: +353 1 661 2558
Opening hours / start times:
Monday 11:00 - 17:00
Tuesday 11:00 - 17:00
Wednesday 11:00 - 19:00
Thursday 11:00 - 19:00
Friday 11:00 - 19:00
Saturday 11:00 - 19:00
Sunday 14:00 - 17:00
Admission / price: Free