Jackie Nickerson: The Past is Another Country
Friday 6 May – Saturday 25 June 2011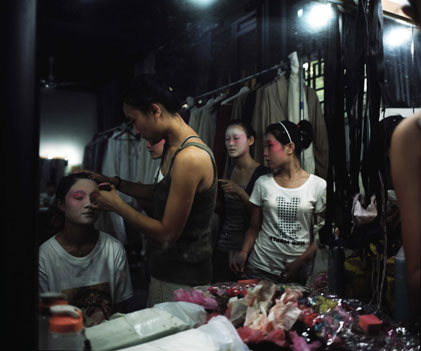 Opening night with artist's talk: Thursday 5 May 2011, 19.00-21.00
"Her photographs are a way of making visible what is otherwise unseen. We think we know who we are, we think we know the world we inhabit, but she is fairly sure that we don't, and she sets out to try and show us what we might look like if we could, for a moment, see ourselves, and the world we actually live in."

Aidan Dunne – From the catalogue Ten Miles Round, 2009
MCAC looks forward to presenting The Past is Another Country, a new exhibition of large-scale photographs by renowned artist Jackie Nickerson in Gallery One and Two.
The Past Is Another Country continues Nickerson's investigation into the nature of identity and this series explores how global homogenisation has affected indigenous and local culture. Her work is driven by a passionate interest in people and their environments. She has spent the last ten years traveling all over the globe and the photographs from this exceptional series were made in Oman, Qatar, South Africa, Kenya, Japan, Ireland, France, China and the USA.
The works in the exhibition – showing everyday objects and situations that we might see on a daily basis – examine a dilemma of our modern world, where we are caught in a space between tradition and modernity, the local and the global. The objects and environments depicted in the works prompt the viewer to reflect on the nature of this dilemma and invite consideration of our own society and our own environment, raising questions of sustainability and lifestyle choices. They bring us face to face with questions of what culture means to us, and both how we are developing and how we would like to develop our own culture. There is a depth of feeling underpinning Nickerson's practice and a truth underlies every one of these unforgettable photographs.
Ornate water towers to Bedouin encampments placed beside palatial desert homes; a troupe of Chinese opera singers preparing for a performance wearing western t-shirts; a young bride, whose hands are traditionally decorated in hennaed designs holds imported lilies; a plastic bamboo tree in a traditional geisha house; a story is told, a portrait of a place is revealed, subtly illustrating the appropriation of values from other parts of the world.
Jackie Nickerson is a photography-based visual artist with an international reputation for photographing people and their environments. In 2008 she was the winner of the AIB prize and has been short listed for the Deutscher Fotobuchpreis award (2008) and the John Kobal Prize and nominated for several prestigious prizes such as the Becks Futures Award (2003). In 2007 she was selected to be part of Le Mois de la Photo in Paris for her series 'Faith' showing at the Centre Culturel Irlandais. She has exhibited in many international venues including The Museum of Modern Art, Salzburg, the Irish Museum of Modern Art, Dublin, the Mudam Musee d'Art Moderne, Luxembourg, the Santa Barbara Museum of Art, California, and the Benaki Museum, Athens. Her work is represented in important public and private collections including the Museum of Modern Art, New York, the Irish Museum of Modern Art, the Santa Barbara Museum, the Harn Museum and Pier 24 in San Francisco.
Master class with Jackie Nickerson: Documentary Photography, Saturday 11 June 2011, 10.00-16.00
Tours and workshops are available on request.
Friday 6 May – Saturday 25 June 2011
William Street, Portadown
Telephone: 028 (ROI 048) 38394415
Opening hours / start times:
Monday 10:00 - 17:00
Tuesday 10:00 - 21:00
Wednesday 10:00 - 21:00
Thursday 10:00 - 21:00
Friday 10:00 - 17:00
Saturday 10:00 - 17:00
Admission / price: Free