ITSA Collective: You Are Here
Friday 3 April – Wednesday 15 April 2015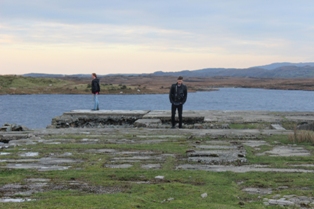 Opening Reception Thursday 2 April at 6pm
Galway Arts Centre is delighted to present You Are Here a group exhibition by Galway based Itsa Collective, opening Thursday 2nd April 2015. The exhibition is a follow on from the Collective's involvement in The Stir Project in Galway Arts Centre as part of the 2014 Tulca Festival of Visual Art.
Itsa Collective's involvement with the Stir Project at Tulca '14 has instigated a line of research that finds its expression in You Are Here, specifically a field trip by the group to the Marconi radio station in Derrigimlagh Clifden. The transatlantic wireless transmitter opened in 1907, and can be seen as a ground zero for modern mass communications. Its location at the far-reaches of the Connemara landscape carries a further metaphorical significance in contemporary Ireland; symbolising the paradoxical necessity for both connectivity and solitude, the inescapable realities of globalisation, and misconceptions of both rural/urban and public/private divides.
Through continued discourse and evolving research, a number of new themes and questions are raised in the artworks shown. The inconvenience of real life relationships, the inevitable homogenisation of youth culture, issues of romanticism, and the questionable position of the artist creating in solitude in order to communicate publicly are among the themes explored.
The Collective say of the exhibition: "What is displayed is not an end, but a point in a continued line of research and discourse; a memory of where we were, where we are now, and where we might go, at present evolving but never to be finished – here now as we are."
Itsa Collective originated in a series of student led talks at the Centre for Creative Arts and Media (CCAM), GMIT in 2013. This led to the curation of a series of impromptu guerrilla exhibitions in the art college, with work comprising of talk members and the wider student body. In 2014 the group established an artist's collective upon realising the value of shared knowledge and activity. The collective in 2014 exhibited at Damer House Gallery Roscrea, at TULCA festival as the Stir Project in collaboration with Branch Collective, and most recently at 126 Artist-Run Gallery with the exhibition 'Synergy', the culmination of a 6 month residency with the gallery.
Itsa Collective's members are Jackie Burke, Jason Dunne, Peter Sherry, Phill Foley and Martin Reid.
Friday 3 April – Wednesday 15 April 2015
47 Dominick Street
Galway
Telephone: + 353 91 565 886
Opening hours / start times:
Monday 10:00 - 17:30
Tuesday 10:00 - 17:30
Wednesday 10:00 - 17:30
Thursday 10:00 - 17:30
Friday 10:00 - 17:00
Saturday 10:00 - 14:00
Admission / price: Free