IRON R 2018 – The Iron Project – Open Call
Open call, deadline Monday 11 June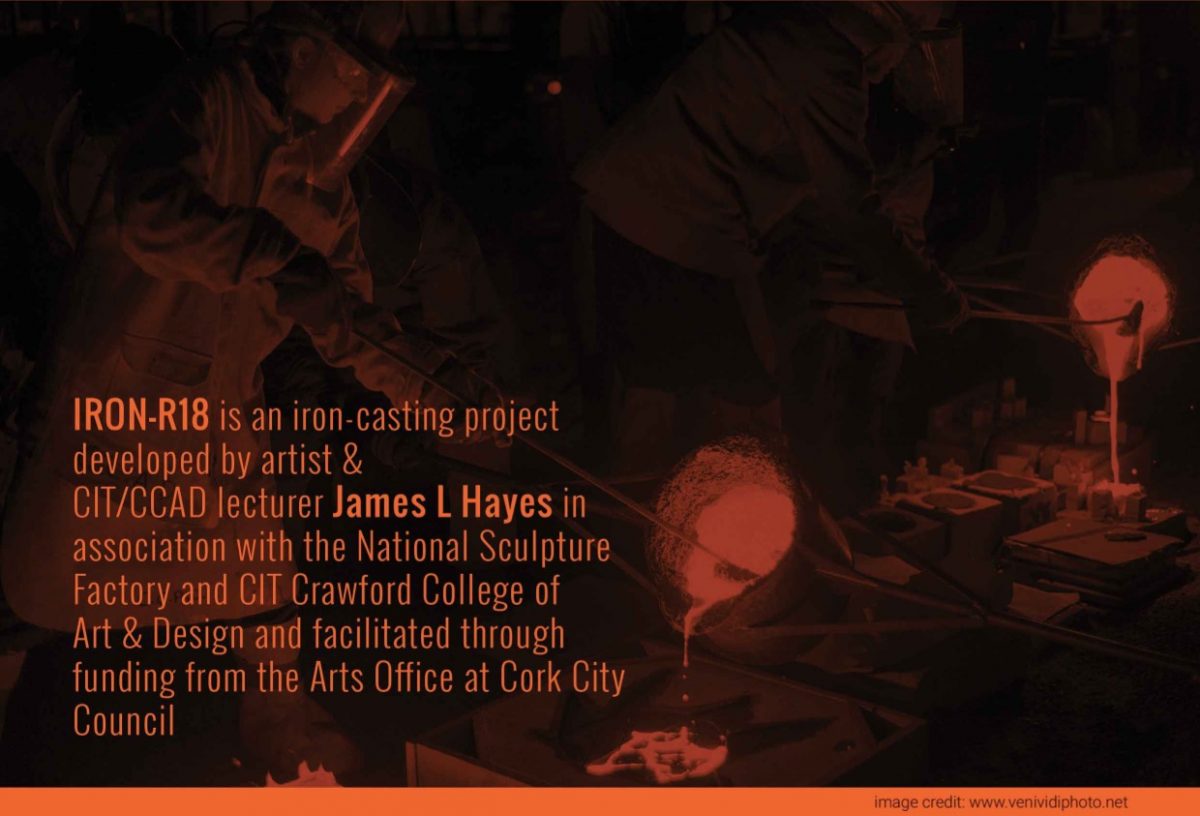 IRON R 2018 – The Iron Project
Mon 16th July – Sat 21st July 2018
(10:00 a.m. – 5:00 p.m. each day)
OPEN CALL FOR PARTICIPANTS
Application Date : Mon 11th June • Notification Date : 18th June
Fees: €250 (lunch included for 5 full days)
IRON-R18 is an iron-casting project developed by artist & CIT/CCAD lecturer James L Hayes in association with the National Sculpture Factory and CIT Crawford College of Art & Design and facilitated through funding from the Arts Office at Cork City Council
IRON-R18 is the third iteration of the Iron-R project since its inception in 2012 and this year it will be held in collaboration with US based artists and educators Tamsie Ringler and Rian Kerrane.
This project is designed as an intensive 6-day laboratory taking place from Mon 16th – Sat 21st July and it will be held at 2 venues CIT Crawford College of Art & Design and the National Sculpture Factory, Cork. During the IRON-R18 week there will be offsite events and talks included, relating to the artists involved and the overall context of the project.
Due to the unique nature of this project our open call is limited to a maximum of 6 participants. As places are extremely limited we are asking each artist to simply propose themselves in the following manner.
1.    A Short Biography.
2.    A selection of images of your work.
3.    Why you want to do this workshop.
4.    What it is you would like to do.
The selection will be made by a panel of your peers and you will be notified within a week of the final submission date.
This IRON-R18 project presents a rare opportunity for experienced visual artists to make new artworks through a unique, and rare cast-iron process over a 6-day period. They will learn how to make resin-bonded sand moulds and be involved in and experience each stage of the cast-iron process; from charging the cupola to pouring the molten iron into crucibles; to finishing and polishing.
Finally, the project aims to encourage the cross-pollination of ideas and practices, both traditional and contemporary allowing participants to create new works while exploring this underused and somewhat obsolete medium and processes that still herald valuable opportunities for working in a vibrant and communal way.
Submissions must be sent to elma@nationalsculpturefactory.com by the closing date of Mon 11th June. Notifications will be sent by Mon 18th June 2018.
The cost be involved in the project is: €250 (lunch x 5 days is included in this cost.)
The National Sculpture Factory wishes to sponsor one Bursary place on this workshop for an artist where the cost is beyond their means. If you wish to apply for this Bursary please state it on your application.
Open call, deadline Monday 11 June
Albert Road, Cork City
Telephone: +353 21 4314353