Iron R 2
Monday 7 April – Saturday 12 April 2014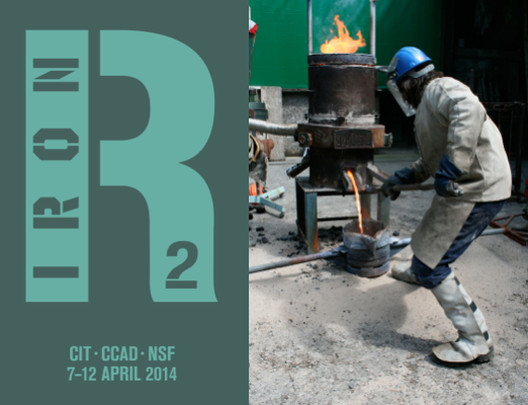 A research project led by James L Hayes, The National Sculpture Factory, CIT Crawford College & Art & Design and Coleg Sir Gar, Wales
Following the success of the first IRON-R Project in 2012, the National Sculpture Factory in partnership with CIT/CCAD, are delighted to announce the hosting of IRON-R 2 from Mon 7th – Sat 12th April 2014. To accommodate the increased scope and ambition of this year's workshop, IRON-R 2 has moved from the NSF to the former Ford Factory in Cork's Docklands.
The primary aim of this ongoing project is to engage with the often over looked medium of iron, this exploration is aimed at applying the medium to the contemporary ideas and debates that surround current sculptural practices. The IRON-R project is initiated and led by artist and lecturer James L. Hayes (CIT/CCAD) in association with the National Sculpture Factory. The six-day intensive project is a step-by-step initiation into the cast-iron process from sand-mould casting to charging the cupola and pouring the molten metal.
The project will be lead by world-leading cast-iron artists including Matt Toole (Savannah College Art and Design, Georgia); Rian Kerrane, University of Colorado); Bob Booth (Coleg Sir Gar, Wales) and James L Hayes (CIT/CCAD).
Matt Toole: Matt grew up around the barrier islands and salt marshes of Savannah, Georgia. He received a BFA from Georgia Southern University in 1994 and a MFA from Southern Illinois University, Edwardsville in 2000. He has travelled throughout the U.S., U.K., and Ireland collaborating on cast iron projects and creating performances dealing with the process of casting metal. Matt has been involved with the International Conference on Contemporary Cast Iron Art since 1997 and is currently a professor of Foundation Studies and Sculpture at the Savannah College of Art and Design in Savannah, Georgia.
Rian Kerrane: Born in Galway, Ireland in 1968 Rian received her BA in Fine Arts Degree from the University of Ulster at Belfast in 1991, her MFA from the University of New Orleans in 1997 and is currently Associate Professor and Area Head for the Sculpture Program at the University of Colorado Denver. A noted sculptor in cast iron, mixed media and installation, Rian has shown in sculpture gardens, museums and galleries in the United States, Ireland, Italy, Austria, and Mexico. She returns to Ireland each summer, often to the Burren College of Art, where she runs an interdisciplinary, site-specific art course.
Robert Booth: Robert (BFA) is a practicing artist, teacher and researcher. Having participated in performance pours and cast-iron art practice for many years, Booth is also a researcher in metalwork, stonework processes and in contemporary sculptural practice and process. He acted as coordinator and exhibited at the 6th International Conference of Contemporary Cast Iron in 2010.
James L Hayes: is a contemporary visual artist & Lecturer in Sculpture at CIT Crawford College of Art & Design in Cork. He is a graduate of Limerick School of Art & Design, The University of Vigo, Spain, De Montfort University Leicester and the University of London, UK. In 2005 he was appointed Sculpture Lecturer at the Crawford College of Art in Design in Cork and he is a regular visiting lecturer and guest artist to Universities and Art schools in the UK & USA. In 2011 he founded the IRON-R Project in association the National Sculpture Factory & the Crawford College of Art & Design in Cork.
Alongside 25 students from Cork and Wales, there are 13 Irish and International artists participating;
Tom Lyons (IRL)
Tom is interested in conspiracy theory, communication technology and the various ways foreign powers undermine Ireland and other states through subversive methods such as remote vision surveillance. The application of foreign (military) aerial vehicles over Irish airspace has consequences on the ground that question territory, Irish Neutrality and economic dependence. Tom is interested in the power this technology has over global territories and their inhabitants, usually without their knowledge, the mind games certain states play concerning such technology and the theatrical fiascoes they create to discredit or taunt each other.
Serena Porrati (IT)
Serena graduated in Art and Science at CSM in 2013 and studied Art and New Technologies at the Academy of Fine Art of Brera (Milan) until 2008. She lectured at NABA (Milan) from 2008 to 2011. Since 2010 she has been co-curating the project 222222 The Saddest Music in the World, a platform for performances, music concerts, thoughts and site-specific installations inspired by the fragmentation and modification of the landscape in the rural province of Milan.
Sarah O'Flaherty (IRL)
Sarah's practice involves the interrogation of ways to make work about temporality, about what becomes/is becoming absent and the incongruity inherent in attempting to make work of a material, object-based nature in a dematerialized way. The "presented absence" can become another or different kind of object, another tangible 'occupier' of space. This enquiry leads to the creation of quietly seductive and oftentimes arresting objects and images where material matter and the nebulous constructs of projected light can coexist and/or collide.
Maud Cotter (IRL)
Maud Cotter's most recent exhibitions were The Air they Capture is Different at The MAC, Belfast, (2013) and A Solution is in the Room, at CIT Wandesford Quay Gallery, Cork, (2013). Her work has featured in group exhibitions and solo projects in Europe and the US since the early 80s and is represented in the collections of IMMA, AIB and New Hall College Cambridge as well as numerous private collections. Cotter is an Adjunct Faculty Member of CCAD, Cork, Ireland, a co-founder of the National Sculpture Factory and a member of Aosdana (2000).
Rachel Fallon (IRL)
Rachel's work encompasses drawing, performance, photography and sculpture in metal, textile and paper. The methods of making are crucial to revealing new ideas and thought processes intrinsic to the starting point of each piece. Her practice is based on ideas of protection and defense particularly in domestic and maternal territories. She is interested in the thin line where protection becomes defensive and vice versa and what that means in ordinary daily life; the notion of the home as an extension of the personality with objects standing as metaphors for the human condition.
Ruth Lyons (IRL)
Ruth is concerned with landscape and the anthroposcene, the immensity of influence that humanity now exerts on the shape of the land as well as landscape's political dimension. She creates large-scale symbolic structures that exist within the landscape in conversation with architecture and other utilitarian constructions. Her work often begins from a physical engagement with material as a means to greater understand the substance of landscape. Ruth is also a co-director of The Good Hatchery in Offaly.
Michael O'Hara (IRL)
Michael's research revolves around the utilization of everyday materials and objects into formal artworks. Objects and their contexts are explored and manipulated to create ambiguous works seemingly caught in metamorphoses. It is a pre-occupation with an archaeology of the mundane through material exploration where his work originates. Ideas processed from the city landscape – its architecture, fragments of previous spaces and banal objects are his inspiration. Michael's sculptures are often simple articulations of these discrete fragments.
Kathryn Maguire (IRL)
Kathryn practice seeks to highlight moments from history, looking in the past for a potentiality, which represents an opening and a questioning. Her new departure could be described as Urban Alchemy, where the City's discarded remains become a prema materia. What is left behind or disregarded by others or Nature is a resource. Her most recent work 'The Possibility of an Impossibility' are seeds from the (once threatened) Platanus tree from turbulent Gezi Park in Istanbul, Turkey, cast in solid sterling silver.
Aga Tamiola (UK)
Aga is a multimedia artist working at the intersection of art and science, responding neuro-scientific developments from a neuro-sceptic point of view. Her work is heavily research driven and she has worked closely with linguists, ethnographers, neuroscientists and clinicians to develop her projects. In Vanishing Voices she focused on endangered languages. Currently she addresses issues surrounding the HIV epidemic. Aga completed her Masters in Art and Science at CSM, London. She is co-founder of the sonic arts collective – Random Order.
Angela Fulcher (UK)
Angela works primarily in the mediums of sculpture, installation and
photography. Her work points toward specific social contexts, and is often fabricated from found materials that are relevant to these. Techniques of collage and assemblage are used to reconfigure objects so that something of their material nature may be revealed. Angela received her MA in Visual Arts Practice from IADT. Recent exhibitions include Vanity Fair, Christchurch, Triskel Arts Centre; Conjuring For Beginners, Project Arts Centre, and Crystal Cabinet, The Black Mariah, Triskel Arts Centre.
Nedyalka Panova (BG)
Nedyalka's practice investigates advanced technologies and materials and she is interested in the hidden craft of their fabrication. Her primary medium is ceramics, from fine bone china to raku using a variety of techniques for making and firing. Originally from Bulgaria, Nedyalka received an MA in Art and Science from CSM, London, and has exhibited widely in Ireland and the UK. A recent example of her work is part of the collection of King's College, London.
Emma Houlihan (IRL)
Emma studied at NCAD and gained her MFA from The Royal Institute of Art, Stockholm in 2013. She also holds a degree in Political Science and a diploma in Architecture. Projects include: Aughty Walk: Rural Futures (Galway) and Resources 09: Beyond Development (Stockholm). Recent exhibitions include Mejan Mystics (SE), EVA: After the Future (IRL); Moving Ground (Leitrim); EIGSE Constellations (IRL); TULCA Living on the Edge: People, Place & Possibility (Galway).
Eleanor Duffin (IRL)
Eleanor looks to different research fields to find systems for creating meaning within object-based art and uses speculation as a tool for developing projects, employing problem-solving techniques that then generate art objects. She is interested in the relationship between materiality and science, and exploring the limitations of belief systems within empirical investigation – how belief systems establish 'truths', and the slippages between the real and the imagined. Her work has been exhibited in Futures 13, RHA, Dublin, (2013), More Often Lost Than Gained, Roscommon Art Centre, Roscommon (2013), Whitewashing the Moon, Project Arts Center, Dublin (2012).
The project employs the professional staff of CIT/CCAD and Coleg Sir Gar (formerly West Wales School of Art) and is designed to engender an open and interdisciplinary atmosphere with invited students from Coleg Sir Gar and CIT/CCAD, to work alongside professional Irish artists. 15 students from the Cork and 10 students from North Wales will take part in the workshop.
This week will be interspersed with presentations, talks and mentoring from world-renowned professionals in cast-iron sculptural practice. Rian Kerrane will deliver a keynote address at the Cork School of Music on Monday 7th at 7 p.m, Matt Toole will deliver a dramatic live performance involving molten metal and flaming pyres on Thursday 10th at 8p.m., and the week will climax with the spectacular production iron pour on Friday morning, 11th April.
If you need any other information on this international Art Project please don't hesitate to contact us on info@nationalsculpturefactory.com
More info at http://nationalsculpturefactory.com/current/iron-r/
http://nationalsculpturefactory.com/current/iron-r-2-the-pour/
Monday 7 April – Saturday 12 April 2014
Former Ford Factory, Cork Docklands