Invincible Spirit, by Simon Carman, on view
Saturday 9 June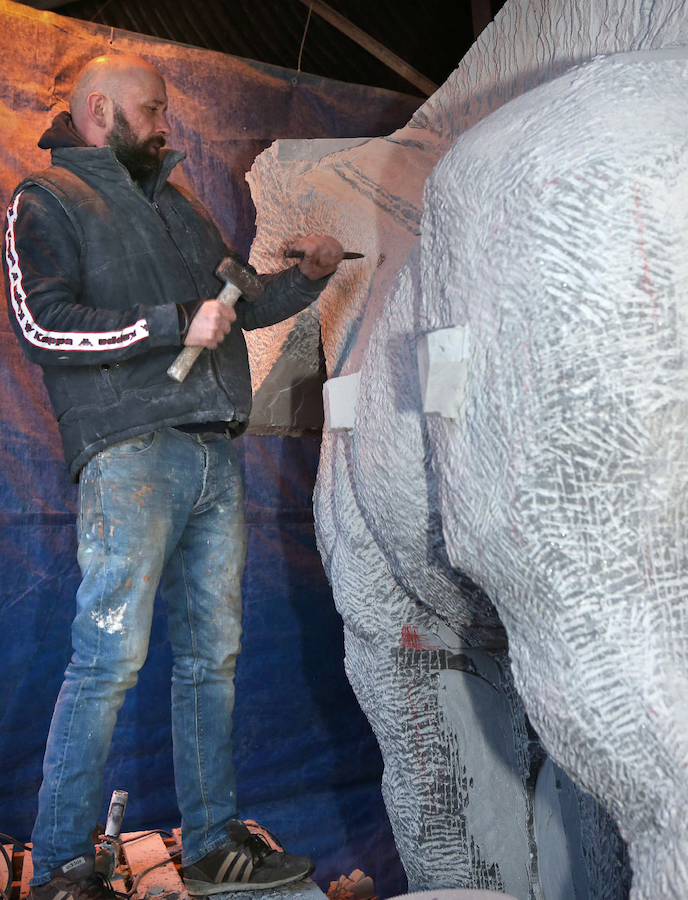 Saturday 9 June promises to be a fun and illuminating day in Stradbally, Co Laois. It kicks off at 2pm in the Laois Arthouse with an exhibition entitled 'Illustrating Joyce's Finnegans Wake', by Thomas Mc Nally.
At 4pm on Saturday 9 June, Invincible Spirit, by Simon Carman will be on view for the public to see in Mc Keon Stone, Stradbally, Co Laois before it is installed in the national Stud, Co Kildare. Simon made the work over the last number of months in Mc Keon Stone, whilst residing at the Laois Arthouse. The enormity of Simon's project becomes clearer when we consider the medium in which he works and the methods he needs to employ. The stone he has been sculpting (taken from McKeon's quarry in Kilkenny) was originally 32 tonnes and he says he has 'trimmed it down to 19 tonnes in the quarry. On completion it will be approximately 16 tonnes. The sculpture will stand at 2m tall by 2.7m long and approximately 1.3m deep.' He explains that he 'generally carves with pneumatics (compressed air hammers) and a lot of the work is finished by hand, which is very time consuming. A lot of my recent work has been highly polished which means a lot of man-hours in hand-finishing. For commissioned work such as Invincible Spirit, I employ very traditional techniques of creating a perfectly to scale maquette from life and then scaling that up to the desired size.'
Simon Carman lives and works in County Fermanagh. As well as producing his own work, Carman is well recognised for his casting and carving skills and is often called upon to fabricate work for some of the country's most recognised artists. Simon grew up in Dublin and has worked as an artist professionally all his life, following in the footsteps of his mother the recognised sculptor Cathy Carman, who hails from Co Laois. He attended Glasgow School of Art studying for a BA Hons in Sculpture following a foundation in Art at NCAD. He has worked in professional foundries such as Callow Bronze Foundry in County Mayo as well as setting up foundries and working for many years with the Leitrim Sculpture Centre.
Following the tour of Invincible Spirit, Simon will give a talk and slide presentation, at 5pm the Laois Arthouse. Refreshments will be served following the talk.
Saturday 9 June
McKeon Stone
Stradbally, Co Laois
Admission / price: Free