In The Line of Beauty
Saturday 12 October 2013 – February 2014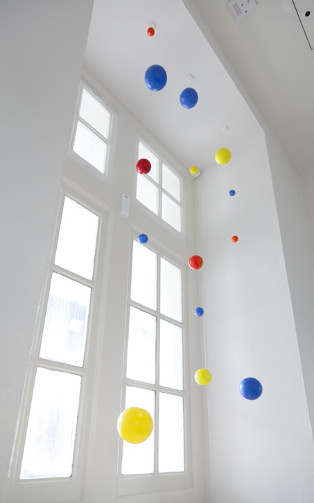 Opening Reception Friday 11 October, 6 – 8pm
In the Line of Beauty presents the work of a key group of eleven young Irish artists, whose current practices evoke a vitality and freshness in their engagement with the historical concept of beauty. Occupying the East Ground Galleries, In The Line of Beauty showcases the work of David Beattie, Oisín Byrne, Rhona Byrne, Aleana Egan, Fiona Hallinan, Sam Keogh, Caoimhe Kilfeather, Ciarán Murphy, Lisa Maria Murphy, Joseph Noonan-Ganley and Ciarán Walsh, alongside a print from William Hogarth's The Analysis of Beauty, from the museum's own collection. While each artist's work remains specific to their own concerns, impulses and practice, they come together in this exhibition to experiment with, and enquire into, notions of the line of beauty.
The exhibition examines artists' embrace of the beauty of objects, as well as their awareness of the ways in which beauty and materiality can transform experiences. The artworks selected for the exhibition, while reflecting the beauty of the object, also display a fascination with space, materiality and engagement of personal histories. This exhibition seeks to define the boundaries of materiality and non-materiality, while maintaining a concern for the search for beauty in our lives.
The title of this exhibition is taken from the term 'The Line of Beauty', a concept within art used to describe an S-shaped curved line (a serpentine line) appearing within an object, as the boundary line of an object, or as a virtual boundary line formed by the composition of several objects. This theory originated with William Hogarth and is an essential part of Hogarth's theory of Aesthetics, as described in his theoretical treatise The Analysis of Beauty , 1753. According to this theory, S-Shaped curved lines signify liveliness and activity, and excite the attention of the viewer as contrasted with straight lines, parallel lines, or right-angled intersecting lines which signify stasis, death, or inanimate objects. Focusing on the practical elements of beauty and elegance, The Analysis of Beauty examines the ideal form of the serpentine Line of Beauty, tracing its visual and formal applications from mundane, everyday objects to classical sculpture. In contrast to grand compositional lines, which are regularly found in Baroque or Rococo art, the serpentine line does not primarily dictate the entire composition of a canvas. Instead, the line should be understood as being found in parts; a composition is created by employing various types of lines in assorted relations to one another, without destroying its simplicity.
The title has also been inspired by the 2004 Booker Prize-winning novel by Alan Hollinghurst, The Line of Beauty. A key underlying theme of Hollinghurst's novel is the distinction between spiritual and material beauty, an investigation which relates fluently to this exhibition at IMMA. The novel dramatises the dangers and rewards of the protagonists own private pursuit of beauty.
A fully-illustrated catalogue, published by IMMA, will accompany the exhibition, including a text by Booker Prize-winning author, Alan Hollinghurst.
A limited edition has been created by Sam Keogh to accompany this exhibition, priced €25, which is available to buy from the IMMA Shop, email: books@imma.ie
In the Line of Beauty is curated by Rachael Thomas, Senior Curator: Head of Exhibitions, IMMA, and assisted by Poi Marr, Programme Assistant: Exhibitions, IMMA.
Image: Lisa Murphy: Colour Sphere Rating System for Consumer Responsibility, 2012, wire mesh, 0.12mm nylon fishing line, polystyrene balls, 3.0g lead weights.
Saturday 12 October 2013 – February 2014
Royal Hospital, Kilmainham
Dublin 8
Telephone: +353 1 612 9900
Opening hours / start times:
Tuesday 11:30 - 17:30
Wednesday 11:30 - 17:30
Thursday 11:30 - 17:30
Friday 11:30 - 17:30
Saturday 10:00 - 17:30
Sunday 12:00 - 17:30
Bank Holidays open 12:00 – 17:30.