In Our Own Image: Photography in Ireland 1839 to the Present
Monday 29 November 2021 – Sunday 13 February 2022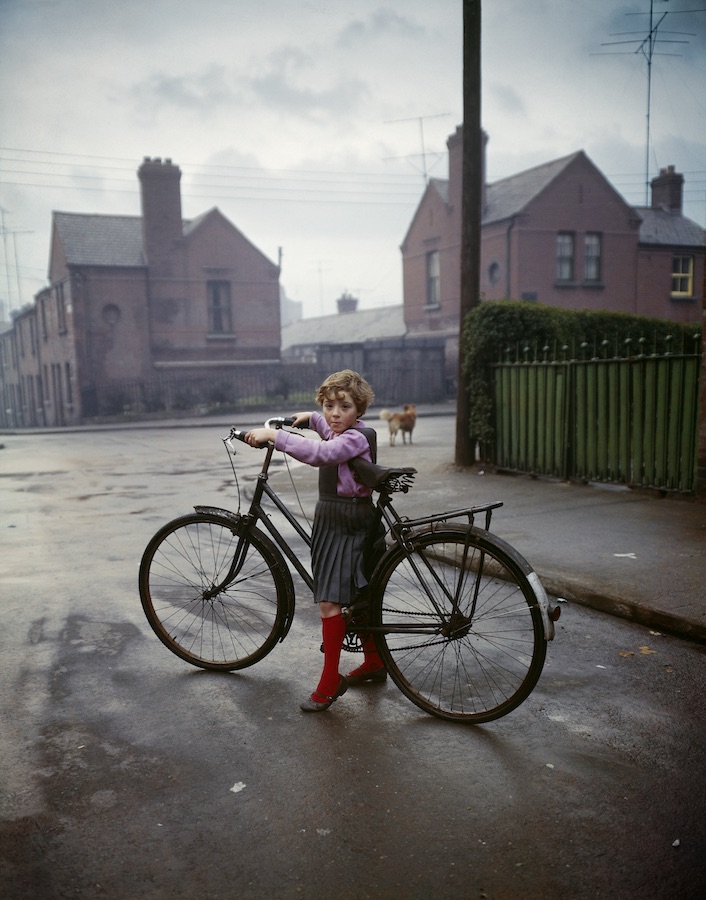 ――― In venue ―――
Curated by Gallery of Photography Ireland with the Office of Public Works, Dublin Castle
In Our Own Image: Photography in Ireland 1839 to the Present presents the first comprehensive historical and critical survey of photography from across the island of Ireland. This landmark centenary exhibition charts how the medium has both reflected and shaped Irish cultural identity, from the work of the earliest photographic pioneers up to the emergence of a recognisably modern state. Throughout the period of intense change that characterised Ireland in the late 19th and into the mid-20th century, we see how photography served as a mirror for shifting experiences of what it meant to be Irish. More than that, it also defined the way we saw ourselves, creating an image of life on the island of Ireland that still forms part of our identity today. This landmark season of exhibitions, online programmes, installations, events and education programmes launches in November 2021 and continues until November 2022.
In Our Own Image reveals the depth of our shared photographic heritage, viewed through important works by key photographers held in leading archives, cultural institutions, museums, and private collections.
It charts the contribution of early photographic pioneers such as Augusta Dillon, Mary Rosse, and the Tenisons. Photography's role as eyewitness to history is explored through the work of Robert French, William Lawrence, A.R. Hogg and others.
Photographs of life in the west of Ireland by J.M. Synge and surveys of heritage sites by Robert Welch and Jane Shackleton highlight the contribution of photography to the Celtic Revival movement.
Photography's role in constructing popular representations of Irishness is outlined through the production of romantic images to feed the new tourist market.
The use of photography as reportage during the War of Independence and the Irish Civil War contrasts official viewpoints with the more nuanced perspectives of commercial and citizen photographers.
The concluding section presents an overview of the key social and infrastructural developments that defined the emergence of the modern Irish state framed through the vision of creative Irish photographers.
The exhibitions and publications combine to examine how photography has recorded and shaped diverse cultural identities in Ireland. Innovative public art and online programmes invite audiences to contribute to conversations around what it means to be Irish today.
Programme highlights include:
Free exhibitions in Temple Bar, Dublin Castle, National Museum of Ireland and CHQ.
Major publication featuring contributions from leading writers, historians, curators and artists.
Innovative online interactive timeline charting the history of photography in Ireland.
Large street-art photo installations across Dublin city-centre.
Specially commissioned education programme with workshops and online resources.
Online programmes of exhibitions, talks, events, with links to key partner programmes.
In Our Own Image conference exploring issues relating to cultural identity and the Irish.
Nationwide engagement social media project inviting people to share their photographs of Ireland at 100 by tagging #Ireland100.
In Our Own Image: Photography in Ireland, 1839 to the Present is the first in a series of exhibitions that will serve to establish the canon of photography in Ireland, from the earliest pioneering works through to a survey of contemporary photography by Ireland's many acclaimed photographic artists.
This centenary programme is presented by Gallery of Photography Ireland in partnership with Dublin City Council Commemorative Committee, leading national cultural instutitions, Dublin Castle/OPW, School of History UCD, and the Heritage Council of Ireland. 
Supported by Dublin City Council Commemorative Committee, the Department of Tourism, Culture, Arts, Gaeltacht, Sport and Media, the Department of Foreign Affairs, the Heritage Council of Ireland, Office of Public Works, Dublin Castle, RTÉ Supporting the Arts and Nerve Centre/ Creative Centenaries NI. Presented by Gallery of Photography Ireland and the Office of Public Works, Dublin Castle, in partnership with the National Library of Ireland, the National Museum of Ireland, National Museums NI, the National Archives, PRONI, RTÉ Archives, UCD Archives, Irish Folklore Commission, University College Cork, Creative Ireland and the Arts Council of Ireland.
In Our Own Image: Photography in Ireland, 1839 to the Present has been made possible by contributions from: the Estate of Fergus Bourke; Irish Jesuit Archive/Fr. Francis Browne SJ Collection; Clare County Library; Davison and Associates; the estate of Dennis Dineen; the estate of Bill Doyle; ESB Archives; Arthur Fields: Man on Bridge; J. Paul Getty Museum; the Estate of Helen Hooker O'Malley; John Hinde Collection; Alen MacWeeney; Magnum Photos; New York Public Library; Parsons Family, Birr Castle; Photo Album of the Irish; Queen's University, Belfast; Royal Collection Trust, Royal Society of Antiquaries of Ireland; Sean Sexton Collection; the Estate of Jane W. Shackleton; Tipperary Museum of Hidden History; Trinity College, Dublin; Waterford City and County Archives.
Curated by Gallery of Photography Ireland with the Office of Public Works, Dublin Castle
Gallery of Photography Ireland would like to thank Dr. Myles Campbell, Research and Interpretation Officer (Curator) for the Office of Public Works at Dublin Castle and Mary Heffernan, General Manager at Office of Public Works, Historic Properties, Heritage Services and Head of Collections.
Gallery of Photography Ireland is a registered charity funded by The Arts Council, Dublin City Council and by a lot of great people who love photography.
Monday 29 November 2021 – Sunday 13 February 2022
Gallery of Photography
Temple Bar &
The Printworks
Dublin Castle
Admission / price: Free
Exhibition dates
29 November 2021 - May 2022

On show at The Printworks, Dublin Castle
29 November 2021 – 6 February 2022