IMMA Screen: Phil Collins
to 17 November 2020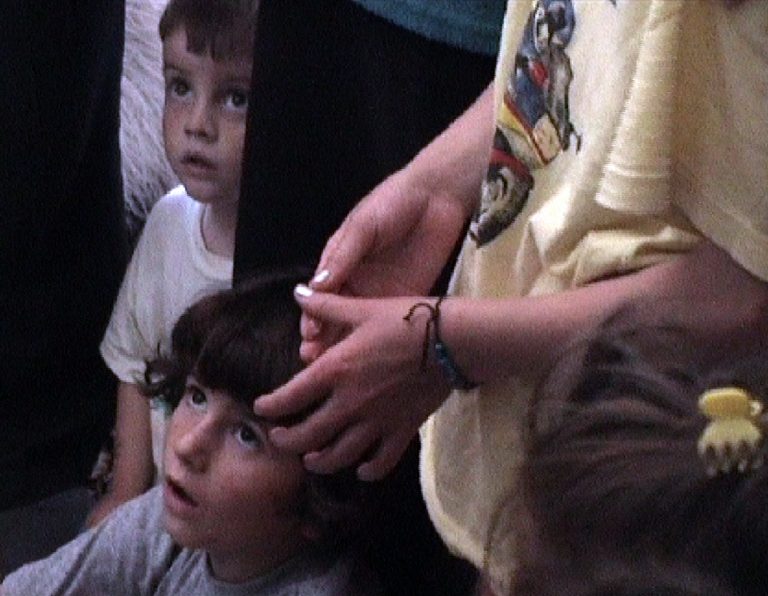 ――― Online only ―――
We are delighted to present 'how to make a refugee' (1999) by Phil Collins as the sixth and final work from the IMMA Collection to be showcased as part of IMMA Screen. Filmed during the IMMA Screen is an online screening series showcasing film and videos from the IMMA Collection. New screenings will be available monthly, presenting works by Irish and international artists alongside a new interview and related material from the IMMA Archive. Each work will be accessible online for one month.
Artists' moving image works have featured extensively in IMMA's programming history since 1991 and form a key part of the Collection. Recently, many of these works have been digitised from analogue formats such as VHS tape and Laserdisc as part of a large-scale Collection & Programme Digitisation Project funded by the Department of Culture, Heritage & the Gaeltacht. This process preserves the works for the future while also allowing greater access to audiences and researchers. IMMA Screen highlights the Museum's holdings of moving image work as a significant national collection of artists' film and video.
how to make a refugee was filmed during the Kosovo conflict in May 1999 on a trip to Skopje, Macedonia and the refugee camps at Stenkovec and Čegrane. The Kosovo War (1998-99) was fought by the forces of the Federal Republic of Yugoslavia (Serbia and Montenegro), which had constitutional jurisdiction over the region prior to the war, and the Kosovo Albanian rebel group known as the Kosovo Liberation Army (KLA), with air support from the North Atlantic Treaty Organisation (NATO).
In this work, Collins addresses the depiction of war victims by journalists and documentarians. It captures the moments before, during, and after a photo shoot organised by a team of journalists working in refugee camps in Macedonia. Their subject is a family of Kosovan-Albanian refugees and Collins' video presents us with a behind-the-scenes look, commenting on the role of the camera in the construction and mediation of identity.
His camera notices details that we do not normally see, such as constructing the frame or light-level readings being taken. The news photographer and crew discuss the clothes a wounded teenager is wearing, deciding whether he looks better with or without his baseball cap. We hear an interpreter translating instructions and questions from the crew; however, we learn very little information about the people in the film through this exchange, which is more concerned with arranging the families as a wedding photographer might, asking everyone to look at the lens.
how to make a refugee is the first video work made by Collins. It represents his longstanding interests in the media's simplification and reductive categorisations of people in conflict zones, and the complexities of the relationship between subject and the camera. Eschewing the conventions of reportage, how to make a refugee invites consideration of a network of incongruity, complicity and shame implicated in the production of images for political instrumentalisation and aesthetic consumption.
Born in 1970, Phil Collins grew up in the North of England. He studied Drama and English Literature at the University of Manchester, before moving to Belfast to complete an MA in Fine Art at the University of Ulster. He received the Paul Hamlyn Award for Visual Arts in 2001, and was nominated for the Turner Prize in 2006 and Artes Mundi Prize in 2012.
Over the last twenty years Collins has gained recognition for ambitious projects which are rooted in a close relationship with place, people and communities. Manifesting as films, installations, performative situations or live events, his work foregrounds the aspects of lived experience, the radical potential of empathy and connection, and voices that have often been disregarded or suppressed. Across different geographies, ethnicities, class, and language – from Europe and the Middle East to South East Asia to North and South Americas – Collins' approach is guided by an ethos of exchange, exemplified by a commitment to long-term process and engagement with the local context. Over the years his collaborators have included, amongst others, the youth of Baghdad, Palestinian disco dancers, friends and lovers in Belgrade, protagonists of Turkish and British reality TV, the stars of Mexican telenovelas, anti-fascist skinheads in Malaysia, teachers of Marxism-Leninism from the former German Democratic Republic, and men incarcerated in one of the United States' largest maximum security prisons.
Reflecting disarming immediacy, while remaining critical of uneven power dynamics and the political economy of culture, Collins' diverse practice underlines everyday hardships, a shared sense of solidarity, and what it means to relate to one another.
Collins is currently based in Berlin and Wuppertal, Germany. He is Professor of Video and Performance at the Academy of Media Arts Cologne.
Image: Phil Collins, how to make a refugee, 1999 Single-channel video projection; colour, sound, 12 min. Collection Irish Museum of Modern Art Purchase, 2004
to 17 November 2020
Royal Hospital, Kilmainham
Dublin 8
Telephone: +353 1 612 9900
Opening hours / start times:
Tuesday 11:30 - 17:30
Wednesday 11:30 - 17:30
Thursday 11:30 - 17:30
Friday 11:30 - 17:30
Saturday 10:00 - 17:30
Sunday 12:00 - 17:30
Admission / price: Free
Bank Holidays open 12:00 – 17:30.