IMMA Collection: Then and Now, Janet Mullarney
Friday 15 February – Sunday 13 October 2019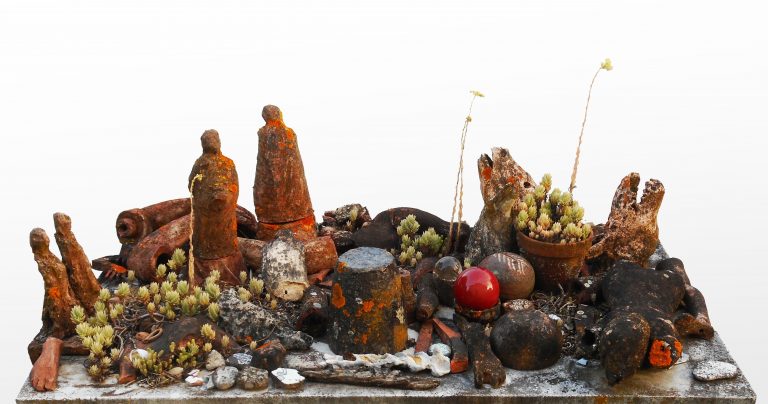 This exhibition of works by Janet Mullarney, from the early 1990s to 2018, demonstrates the remarkable multiplicity of her career through a wide-ranging body of work including sculpture, painting, drawing, video and installation.
Describing the importance of materials in her practice, Mullarney writes: "Materials and what they convey in sculpture has always been important to me, from the earlier works in wood holding a human warmth; wax seems bound with sadness; papier-mâché is humble and fragile; video can be essential, and a table full of rejects come together as the landscape of a long journey. Arturo Martini, a magnificent Italian sculptor, put it in a nutshell when he spoke of how he had always loved sculpture not for its why, but it's how."
The Then and Now series is a curatorial approach exploring works in the IMMA Collection where artists are invited to place their early work among their current practice.
Irish artist Janet Mullarney (born 1952) studied at the Accademia di Belle Arti and Scuola Professionale di Intaglio in Florence. Incorporating an extensive range of materials including bronze, wood, plaster, foam, cloth, glass and wax, her dynamic sculptural works reference religious iconography, art history and human relationships. Mullarney's work is represented in many public collections including that of the Arts Council, the OPW, and Dublin City Gallery The Hugh Lane. She divides her time between studios in Ireland and Italy.
Artists' Conversation / Janet Mullarney & Helen O'Leary
Saturday 16 February 2019, 3pm, Lecture Room / Booking advised                                                           
In association with the opening of the solo exhibition by Janet Mullarney as part of the IMMA Collection: Then and Now series, Mullarney discusses key developments of her longstanding career and the influence of her time spent in Italy. Mullarney is highly regarded as one of Ireland's most significant artists working today, recognised for making small to large sculptures juxtaposed with theatrical backdrops, lighting schemes and drawings, in which to reveal the power and imagination of the artists mind. Fellow artist Helen O'Leary, moderates this discussion, reflecting on shared artistic experiences and interests that span Mullarney's practice.
Image: Janet Mullarney, Lenience (paessaggio  di compassione), 1988 – 2018, fired clay, plants, table and mixed media, Dimensions variable, Photography Nataly Maier, Image courtesy of the artist
Friday 15 February – Sunday 13 October 2019
Royal Hospital, Kilmainham
Dublin 8
Telephone: +353 1 612 9900
Opening hours / start times:
Tuesday 11:30 - 17:30
Wednesday 11:30 - 17:30
Thursday 11:30 - 17:30
Friday 11:30 - 17:30
Saturday 10:00 - 17:30
Sunday 12:00 - 17:30
Admission / price: Free
Bank Holidays open 12:00 – 17:30.