IMMA Collection: Nick Miller and the studio of Edward McGuire
Thursday 19 November 2015 – Monday 2 May 2016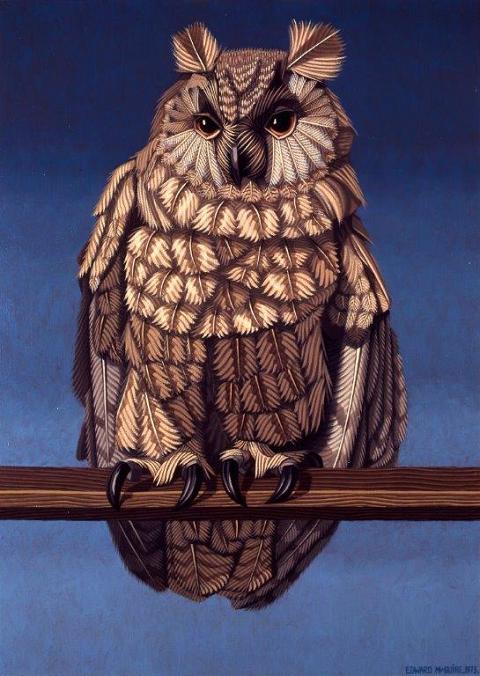 Irish portrait artist and still life painter Edward McGuire (1932-1986), is best known for his study of dead birds and portraits of writers and poets. McGuire's best-known sitters include Seamus Heaney, Paul Durcan, Anthony Cronin  and Pearse Hutchinson. Many of his portraits have a surreal quality derived from McGuire's love of unusual studio props such as stuffed birds and highly stylised leaf decoration. This feeling is strengthened by the often remote and static pose of the sitter which defies the realist precision with which they are executed. The portrait of the artist Patrick Collins from the IMMA Collection, painted just three years before McGuire's death, is unusual in its avoidance of these devices.
In 2009 Sally McGuire, wife of the late Edward McGuire formally donated the contents of the artist's Dublin studio to the National Collection at IMMA. Prior to the donation the contents were meticulously labelled and on arrival at IMMA catalogued and placed in purpose built crates for storage.
In 2014 the studio contents were photographed by IADT 4th year students and the resulting documentary was produced (see here). Concurrently the artist Nick Miller was invited to respond to the contents of the McGuire studio and the forthcoming exhibition is the culmination of this process. Miller's response provides a timely focus on Edward McGuire's preoccupations and processes and opens up the opportunity to examine the concept of the artist's studio in all its interpretations.
Commenting on the project Nick Miller stated "I want to step briefly Into the Studio of Edward McGuire, into his shoes. Not into the way he painted, as our methods are so clearly different, but by addressing some of his subjects, both human and otherwise, that interest me on my own terms".
Nick Miller moved from London to Ireland in 1984, and has been based in Co. Sligo since 1992 . His work, whatever his subject: a person, an object, or landscape, is concerned with portraiture and with how we experience and meet the world.  His paintings and drawings of friends and family members and colleagues, sometimes made from an unusually close range, parallel landscapes painted from a mobile studio devised to minimise the separation between artist and subject.  Miller has exhibited in Ireland and internationally since the 1980s.  His work is represented in many public and private collections. Miller was elected to Aosdána in 2001.
Image: Edward McGuire: Owl, 1973, Oil on canvas, 86.36 x 60.96 cm, Collection Irish Museum of Modern Art, Heritage Gift, P.J. Carroll & Co. Ltd. Art Collection, 2005,
Thursday 19 November 2015 – Monday 2 May 2016
Royal Hospital, Kilmainham
Dublin 8
Telephone: +353 1 612 9900
Opening hours / start times:
Tuesday 11:30 - 17:30
Wednesday 11:30 - 17:30
Thursday 11:30 - 17:30
Friday 11:30 - 17:30
Saturday 10:00 - 17:30
Sunday 12:00 - 17:30
Admission / price: Free
Bank Holidays open 12:00 – 17:30.