IMMA Collection: Les Levine, Resurrection
Friday 15 February – Monday 6 May 2019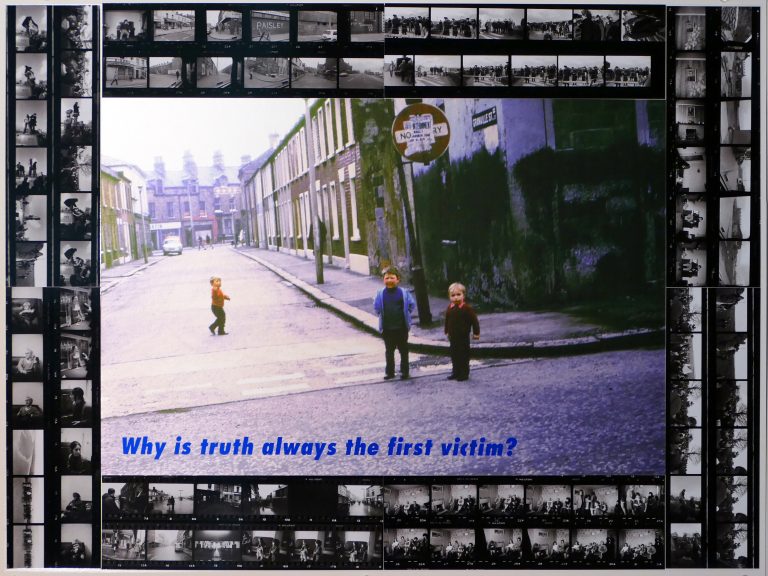 Les Levine, regarded as the founder of Media art, has made 13 new photographic works of children during the conflict in Northern Ireland. Entitled Resurrection (1972-2016) this work has been recently donated to the IMMA Collection.
Resurrection is a reconsideration of The Troubles: An Artist's Document of Ulster, a suite of 80 photographs Levine took in 1972, which are also in the IMMA Collection. The 13 images are framed by black and white contact-sheet images from the artist's 1972 work and carry texts. Each of the images contains a question. The true answers to these questions will reflect differently for each viewer. Many of the supposed truisms comprise commentary of events at that time and resonate in media coverage of events today. Levine has stated that often art produces more questions than answers. Perhaps the questions reveal more truth than the answers, and the big question is, how much truth do children deserve?
Les Levine studied at the Central School of Arts and Crafts, London, before moving to Toronto in 1958, where he continued his studies at the New School of Art. Levine's artistic practice incorporates various means including painting, sculpture, installation, performance work, mail art and artists' books. During his prolific career Levine has produced major series of works about the manifold effects and functions of the media and information systems. Levine continues to live and work in New York.
Friday 15 February – Monday 6 May 2019
Royal Hospital, Kilmainham
Dublin 8
Telephone: +353 1 612 9900
Opening hours / start times:
Tuesday 11:30 - 17:30
Wednesday 11:30 - 17:30
Thursday 11:30 - 17:30
Friday 11:30 - 17:30
Saturday 10:00 - 17:30
Sunday 12:00 - 17:30
Admission / price: Free
Bank Holidays open 12:00 – 17:30.