IMMA Collection: Freud Project: The Artist's Studio
Wednesday 12 February – Sunday 30 August 2020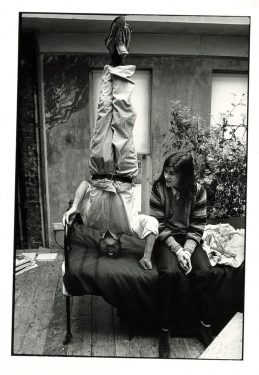 During 2020 the IMMA Collection: Freud Project, comprising of 32 paintings and 20 works on paper by Lucian Freud, will become the frame for an investigation into the timeless subject of the relationship between the artist and their studio and the role of the studio as a space of production. In all its forms the studio continues to exert a fascination as the physical and conceptual frame as an artist's work processes and as an enduring context from which art emerges. This programme of research and engagement will build upon existing ways of thinking about the studio and will focus on the contemporary situation in Ireland.
The exhibition is made possible by the IMMA Collection: Freud Project 2016-2021, a five-year loan of 52 works by Lucian Freud to the IMMA Collection by private lenders. This is the fifth exhibition to be presented as part of the project.
Lucian Freud (1922-2011) was one of the greatest realist painters of the 20th century. Renowned for his portrayal of the human form, Freud is best known for his intimate, honest, often visceral portraits. Working only from life Freud's studio was intensely private and he mainly worked with those he was close to, often asking subjects to sit for hundreds of hours over multiple sittings to better capture the essence of their personality.
Image:
Lucian Freud with daughter, the fashion designer, Bella Freud. Photographed by their good friend the Picture editor and photographer and editor of Lucian Freud, by Cape, Bruce Bernard.
Wednesday 12 February – Sunday 30 August 2020
Royal Hospital, Kilmainham
Dublin 8
Telephone: +353 1 612 9900
Opening hours / start times:
Tuesday 11:30 - 17:30
Wednesday 11:30 - 17:30
Thursday 11:30 - 17:30
Friday 11:30 - 17:30
Saturday 10:00 - 17:30
Sunday 12:00 - 17:30
Admission / price: Free
Bank Holidays open 12:00 – 17:30.