IMMA Collection Freud Project, 2016 – 2021
Friday 21 October 2016 – October 2017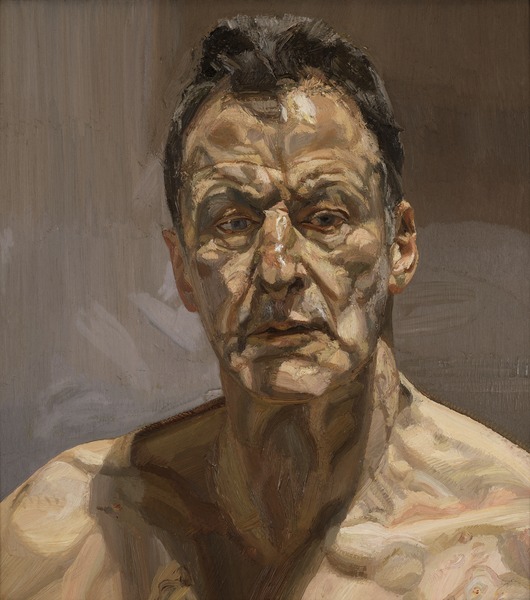 IMMA has secured an important five-year loan of 50 works by Lucian Freud (1922-2011), considered one of the world's greatest realist painters of the 20th-century. Renowned for his portrayal of the human form, Freud is best known for his intimate, honest, often visceral portraits. Working only from life Freud's studio was intensely private and he mainly worked with those he was close to, often asking subjects to sit for hundreds of hours over multiple sittings to better capture the essence of their personality.
IMMA Collection: Freud Project features a selection of 30 of the artist's finest paintings, and 20 works on paper. The works, mainly dating from 1970 onwards, explore several of the artist's key themes such as Portraiture; Self Portraiture; Still-life; Animals and Nature; works that reflect his interest in the people and the natural world.
During this unique five-year project IMMA will present a series of different and exclusive Lucian Freud related exhibitions, with a new programme of events and openings each year. In this first year all 50 works will be on display, subsequent exhibitions will include works and new commissions by other modern and contemporary artists in response to Freud, and will reveal exciting new perspectives on this major artist today.
The works, on loan from private collections, will be presented in a dedicated Freud Centre in IMMA's Garden Galleries for five years. With this extraordinary resource IMMA will create a centre for Freud research with a programme of special exhibitions, education partnerships, symposia and research that will maximise this important opportunity for schools, third level students, artists and audiences all over Ireland and beyond.
ADMISSION
€8 / 5 • Free admission for IMMA Members, full-time students and under 18s • Free Admission every Tuesday
Monies raised through admission charges will directly contribute to the care and development of the IMMA Collection.
Due to the number and delicate nature of the works and the limited circulation space of the historic Garden Galleries, admission will be by timed entry during busy periods. To avoid disappointment please pre-book your preferred time-slot online in advance of visiting. Online booking opens on Sat 15 October 2016.
Lucian Freud, grandson of the father of psychoanalysis Sigmund Freud, was born in 1922 in Berlin and emigrated with his family to the UK at the age of 11. He studied at the Central School of Arts and Crafts in London and the Cedric Morris's East Anglican School of Painting and Drawing in Dedham. His first solo exhibition, at the Lefevre Gallery in 1944, featured the now celebrated painting The Painter's Room, 1944. Since then Freud became one of the best-known and most highly-regarded British artists of recent times. He was awarded the Companion of Honour and the Order of Merit.
Freud painted notable figures including Elizabeth II, Lord Rothschild, Baron Thyssen-Bornemisza, Kate Moss and fellow artists Francis Bacon, Frank Auerbach and David Hockney. Freud was the subject of numerous museum retrospectives and exhibitions including the Centre Georges Pompidou, Paris, MOMA New York; the Museo Correr, Venice, the Metropolitan Museum of Art, New York, Whitechapel Art Gallery, London, the Hirschhorn Museum and Sculpture Garden, Washington DC; Tate Britain; the Scottish National Art Gallery and at IMMA in 2007. A major retrospective took place at the National Portrait Gallery, London in 2012, a year after the artist's passing.
Associated Events
A series of Freud related talks and events will be published throughout the year.
Image: Lucian Freud (1922-2011): Reflection (Self Portrait), 1985 (oil on canvas) / Private Collection / © The Lucian Freud Archive / Bridgeman Image
Friday 21 October 2016 – October 2017
Royal Hospital, Kilmainham
Dublin 8
Telephone: +353 1 612 9900
Opening hours / start times:
Tuesday 11:30 - 17:30
Wednesday 11:30 - 17:30
Thursday 11:30 - 17:30
Friday 11:30 - 17:30
Saturday 10:00 - 17:30
Sunday 12:00 - 17:30
€8/5 • Free admission for IMMA Members, full-time students and under 18s • Free Admission every Tuesday
Bank Holidays open 12:00 – 17:30.