IMMA Collection: Fragments
Friday 1 May – Sunday 26 July 2015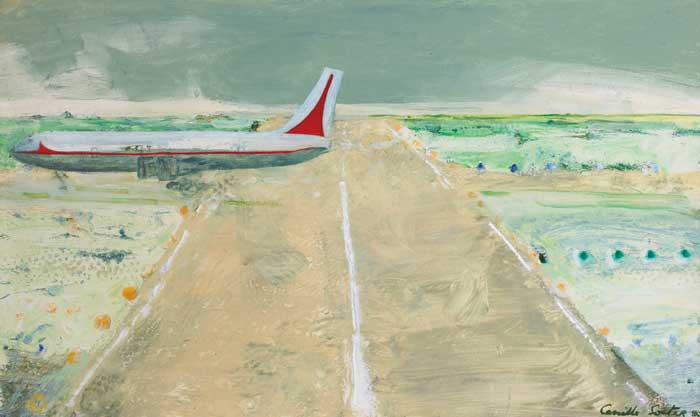 This exhibition borrows its title from Philosopher Walter Benjamin's comparison of the work of translation to re-assembling fragments of a broken vase – the individual fragments must come together, but need not be like each other. This could also be taken as an allegory for exhibition making, or collecting.
The exhibition includes the first-showing since their acquisition of a number of recent works by Irish artists, including The sky looks down on almost as many things as the ceiling, (2013) a wall based sculpture by Aleanna Egan and commissioned works by Ronan McCrea and Alan Phelan. The latter two are lens-based works titled Medium (Corporate Entities) and Include me out of the Partisan Manifesto, which resulted from IMMA's programme of temporary exhibitions. McCrea's photographic enquiry into spaces where corporate art collections are hung, took place before the economic collapse.
Caoimhe Kilfeather's newly acquired lead sculpture Abbreviation, (2011) joins works by Michael Warren, Shirazeh Houshiary, Brian King and Kathy Prendergast selected from the IMMA Collection. These works have an aesthetic and historic affinity with the sculpture and drawing of Gerda Frömel – whose retrospective, will be running concurrently in IMMA's Garden Galleries.
GILBERT & GEORGE's large-scale photowork Smoke Rising, (1989), Nigel Rolfe'sDance Slap for Africa, (1983) and will be shown along with other activist works or works with emphasis on performance including a film by Phil Collins and historic works by Marina Abramović.
Fragments will include a number of Subjectivist works by WW II imigrès, the White Stag artists, bequested by the late artist Patrick Scott to IMMA in 2014.  Scott exhibited with the White Stag from 1941 and the group swopped each others paintings.  The donation is particularly rich in key works by Kenneth Hall who was a close friend of Scott.
Now in her 85th year, Camille Souter's works included in Fragments are among some of her finest works of the 1950s and 60s and show her interest in Miró, Klee, Jackson Pollock and Arte Povera. In 1958 Lucio Fontana bought two of her paintings.
A pioneer of Conceptual Art and author of the renowned Inside the White Cube, Brian O'Doherty / Patrick Ireland's enduring obsession with themes of language, perception and identity are represented by a selection of his works from the IMMA Collection dating from 1954 onwards and include a new iteration of a recent Rope Drawing installation Orange Crush, 2014.
Talks and Events
Gallery Talk | Fragments
Saturday 9 May 2015,2 – 2.45pm East Wing Galleries
Marguerite O'Molloy (Collections, IMMA) discusses the broad range of sculpture on show in the exhibition Fragments. The tour covers a number of sculptural approaches, including examples from the 1950's through to contemporary works recently acquired for the IMMA Collection. Book here
Image: Camille Souter, Shannon Series Painting, 1980, oil on paper, 44 x 74 cm, Collection Irish Museum of Modern Art, Purchase, 2007
Friday 1 May – Sunday 26 July 2015
Royal Hospital, Kilmainham
Dublin 8
Telephone: +353 1 612 9900
Opening hours / start times:
Tuesday 11:30 - 17:30
Wednesday 11:30 - 17:30
Thursday 11:30 - 17:30
Friday 11:30 - 17:30
Saturday 10:00 - 17:30
Sunday 12:00 - 17:30
Admission / price: Free
Bank Holidays open 12:00 – 17:30.