IMMA Collection: Coast-lines
Friday 13 October 2017 – Sunday 16 September 2018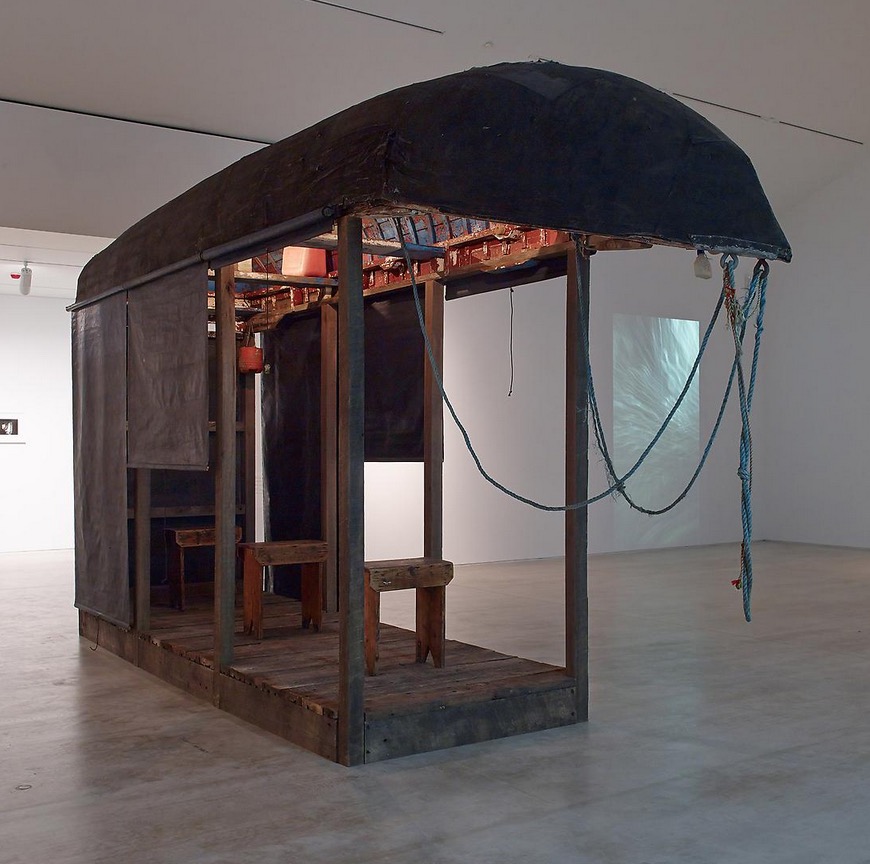 Drawing on the paradox implicit in the word 'coastline' – for never has a coast followed a linear course – the title of this exhibition throws a line around a display of diverse artworks and archival materials that explore similar ideas. Coast-lines will explore our sense of place, perception, representation and memory, as well as works which examine language and other systems that attempt to map what our senses perceive.
Works by Dorothy Cross, Clare Langan, Richard Long, Donald Teskey, Alexandra Weychart, Bridget Riley, Timothy Drever/Robinson and others variously explore the pull of the ocean, pattern and lines, surfaces, folds, enclosures, erasures, borders, terrain and the inherent coastal tensions between motion and stillness.
For example, in Tabernacle (2013), an extraordinary work by Dorothy Cross created at monumental scale, a life-size currach (a traditional Irish boat) creates the roof of a hut-like structure from which to view a video of a sea cave. Previously part of Cross's set design for the English National Opera production of JM Synge's 'Riders to the Sea', directed by Fiona Shaw in 2008, the work is evocative not only of the setting for that play – on Inis Mor, the largest of Ireland's Aran islands – but with Cross's home in Connemara and her ongoing practice encompassing found objects connected to the sea and the relationship between living this and the natural world around us.
JM Synge's writings were also impactful on the work of anarchic French writer and theatre visionary Antoine Artaud (1896 – 1949) who was drawn by them to the West of Ireland in 1937. Artaud's pilgrimage to Aran 80 years ago will be referenced through a programme of special screenings and events.
In 2017 IMMA is re-examining ROSC, the first major series of exhibitions of international art in Ireland. Starting in 1967 ROSC was a series of six art showcases which took place over twenty one years and had a significant impact on the development of contemporary art in Ireland. Coast-lines will include Curvas Inmateriales, 1966 by Jesús Rafael Soto, the only work borrowed for ROSC '67 from an Irish collection (Gordon Lambert's).
Through artworks and archival displays that draw on the Gordon Lambert and Timothy Drever/Robinson archives at IMMA, this exhibition will also look beyond ROSC '67 to provide glimpses of parallel developments in the art world of the time. It will place a particular focus on the work of leading Irish artists that were working internationally in the late '60s and '70s yet were not included in the ROSC displays, including Brian O'Doherty, James Coleman and Noel Sheridan. Coast-lines will further include material and artwork pertaining to the art scene in Ireland, highlighting key events and exhibitions such as the establishment of the Project Arts Centre, the Hendriks Gallery and the 30+ year Irish Exhibition of Living Art (IELA), a yearly exhibition of Irish modernist developments that was started by Mainie Jellett in 1943.
A key work of the period is the ground breaking Aspen 5+6 (1967), a multimedia exhibition in a box consisting of artworks, recordings and theoretical writings. Assembled, curated and edited by Brian O'Doherty these are editions 5 and 6, 'The Minimalism Issue', of an experimental New York 'magazine'. The first three-dimensional magazine in a box , previous editions were edited by Andy Warhol (Aspen 3) and Marshall McLuhan (Aspen 4). This one and only double issue of Aspen is now recognised as the first conceptual exhibition that did away with the gallery space.
Delivered to subscribers in a two-piece white box containing 28 items, The Minimalism Issue was about giving a participatory experience to the reader – contributions by artists such as Samuel Beckett, Mel Bochner, William S. Burroughs, John Cage, Merce Cunningham, Marcel Duchamp, Morton Feldman, Lazlo Moholy-Nagy, Robert Morris, Brian O'Doherty,  Robert Rauschenberg, Tony Smith, Susan Sontag and others came in the form of essays, films, sound recordings, music scores and DIY miniature cardboard sculptures.
Brian O'Doherty said of the work: "In 1967 I edited issue 5+6 of Aspen – an assemblage of artists, writers and musicians in shifting configurations. The themes were language, silence and time. I commissioned Roland Barthes to write 'The Death of the Author'; Susan Sontag, 'The Aesthetics of Silence'; and George Kubler – the author of The Shape of Time (1962), which we were all reading then – to write 'Style and the Representation of Historical Time'. I also asked Samuel Beckett to contribute something. After I explained some of my ideas he replied: 'Ah, sure I haven't a scrap.' I was prepared for that. I said: 'Could I use something out of "Texts for Nothing #8"?' He said 'Yes.' 'Would you read it for me?' 'No, I don't do that. But you could get Jack McGowran to read it.' Jack, though long gone, is, in my view, the unsurpassed Beckett performer. I called Jack in Dublin. Yes, he would read it. Send the fee. I did. Back came this magnificent tape. Some have generously called it the best Beckett reading ever." (Frieze 2012).
Image: Dorothy Cross / Tabernacle, 2013 / Currach, shed, wood, roller blinds, mixed media, video / 270 x 522 x 126 cm / Collection Irish Museum of Modern Art / Donation, 2015 / IMMA.3881
Friday 13 October 2017 – Sunday 16 September 2018
Royal Hospital, Kilmainham
Dublin 8
Telephone: +353 1 612 9900
Opening hours / start times:
Tuesday 11:30 - 17:30
Wednesday 11:30 - 17:30
Thursday 11:30 - 17:30
Friday 11:30 - 17:30
Saturday 10:00 - 17:30
Sunday 12:00 - 17:30
Admission / price: Free
Bank Holidays open 12:00 – 17:30.