I hear the Earth calling…
Saturday 8 April – Friday 28 April 2023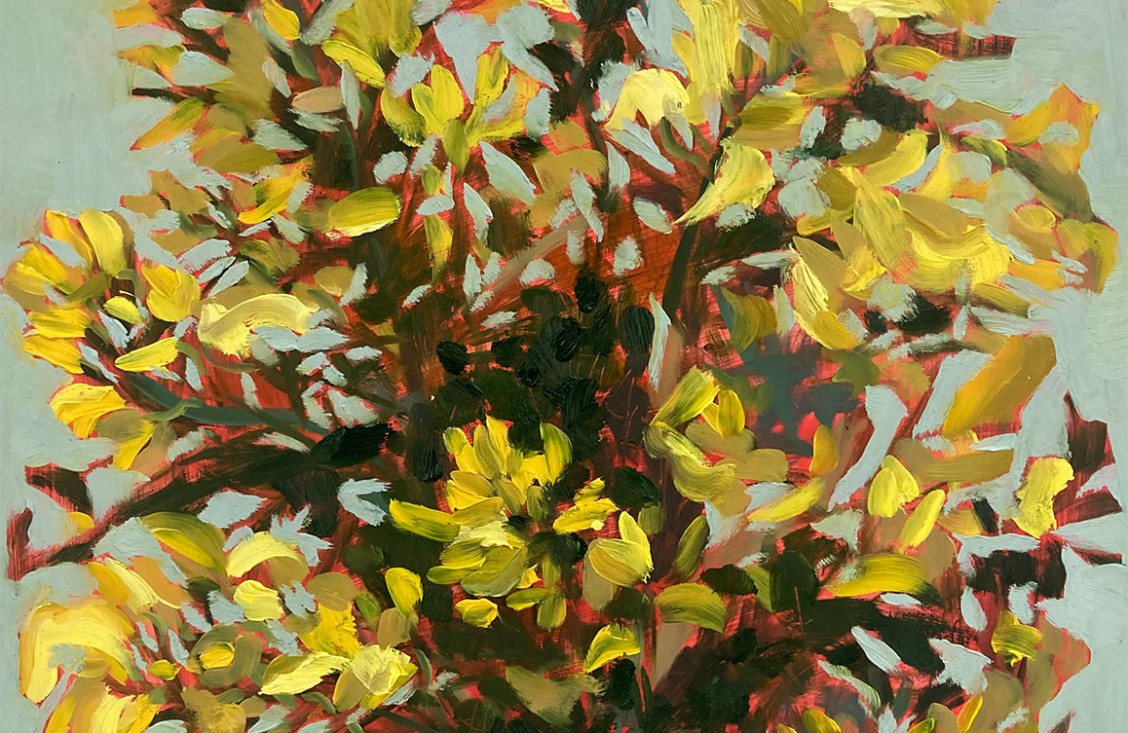 Mary Clarke, Theresa King, Penelope Lacey, Dympna Mahoney, Helene Malone, Cosette Olohan, Ina Olohan, Annabel Potterton, Mette Sofie Roche & Nóilín Shaw
Opening reception: Thursday 13 April, 6pm – 7pm • all are welcome, no booking required.
I hear the Earth calling… is an exhibition of mixed-media artworks by members of ReVerve, a local visual art collective. Responding to the call of the Earth's fragility, they interpret the intrinsic human relationship with the earth through a diversity of narratives and media including paint, textiles, ink, charcoal and print.
Mary Clarke has created abstract works on canvas, photographic paper & collaged photo prints to explore the necessity to be still and pay heed to melting ice masses.  Portraying simplicity and stillness, she invites the viewer to interpret them without explanation.  Pursuing her interest in digital photography and Japanese ink painting, she is striving to portray 'less' while suggesting 'more', a reflection of stillness.
Instagram @maryclarkeartist
Theresa King is a retired Senior Medical Scientist and a founding member of Connolly Collective, formed to raise awareness of the value of the Arts and Health.  Her background is the foundation of her interest in the uncanny, the aesthetics of pathology and the influence of mediated memory.  Curious about process and material properties she uses many mediums in her art practice.
Instagram @theresa.5645
Penelope Lacey is inspired by environmental issues, social connections, and nature.  She works primarily as a sculptor & collaboratively with public and professional groups to realise their creative potential. Her sculptural works are predominantly ceramic based however; she works with a variety of mediums supporting her ethical arts practice.
Instagram @penelopelaceysculpture • www.penelopelacey.com
Dympna Mahoney generally paints Plein Air, enjoying its immediacy and spontaneity.  She also uses photography and print in her practice.  Her background as a medical scientist has influenced much of her work: pursuing beyond what is visible by the naked eye, to find the unexpected detail.
Instagram @dympnamahoney
Helene Malone is a practising artist for over 30 years and is proficient in the cold wax technique. Currently working with oil paint and charcoal, her inspiration comes from walks in the woods and dramatic natural elements such as the reflective influences of light and weather phenomena.
Instagram @malonehelene1
Cosette Olohan is a multi-disciplinary artist using paint, print, photography and found materials in her work. Taking inspiration from her surroundings, exploring and interrogating both the built environment and natural world, her approach is process-based, and her investigations are in part experimental, allowing an element of unpredictability.  She seeks to highlight that which is overlooked, inviting the observer to look again and re-evaluate what they see.
Ina Olohan is an artist and art teacher.  Inspired by nature and her surrounding landscape, she responds using a mixed media, arts practice. She explores her subject matter using several techniques including screen print, fine art print and, more recently, eco-printing on cloth and paper, with added slow stitch. She is drawn to the serendipity inherent in a process-based approach to art making.
Instagram @inaolohan • www.inaolohan.com
Annabel Potterton is a painter living in Meath since 1998. The experience of painting with people living with advanced dementia influences her current work, which takes every opportunity of being in the moment. Using floral forms, she explores ways to find abstraction and rhythm on the surface of the canvas, bringing a dialogue between memory and our connection to nature.
Instagram @annabelpotterton
Mette Sofie Roche, originally from Norway, is a multi-disciplinary and process based visual artist. Primarily drawn to recycled thread, fibre and cloth, she explores ways to make them visible in the contemporary art world as a conceptual tool and vehicle for storytelling.  She re-deconstructs, layers, prints, dyes, paints and stitches materials aiming to connect with nature and the environment in a sustainable way.
Instagram @mettesofierocheart • www.metteroche.com
Nóilín Shaw paints mainly in oils.  Her work addresses ideas around the transience of nature, architectural interior spaces and uncertainty.  She aims to capture a visual, emotional and imaginative response in a painterly way.
Instagram @noilinshawart
Saturday 8 April – Friday 28 April 2023
Navan, County Meath
Telephone: +353 46 9092300
Opening hours / start times:
Tuesday 11:00 - 16:00
Wednesday 11:00 - 16:00
Thursday 11:00 - 16:00
Friday 11:00 - 16:00
Saturday 11:00 - 16:00
Admission / price: Free