Hugh Cummins: Explorations in Wood
Tuesday 11 July – Friday 28 July 2017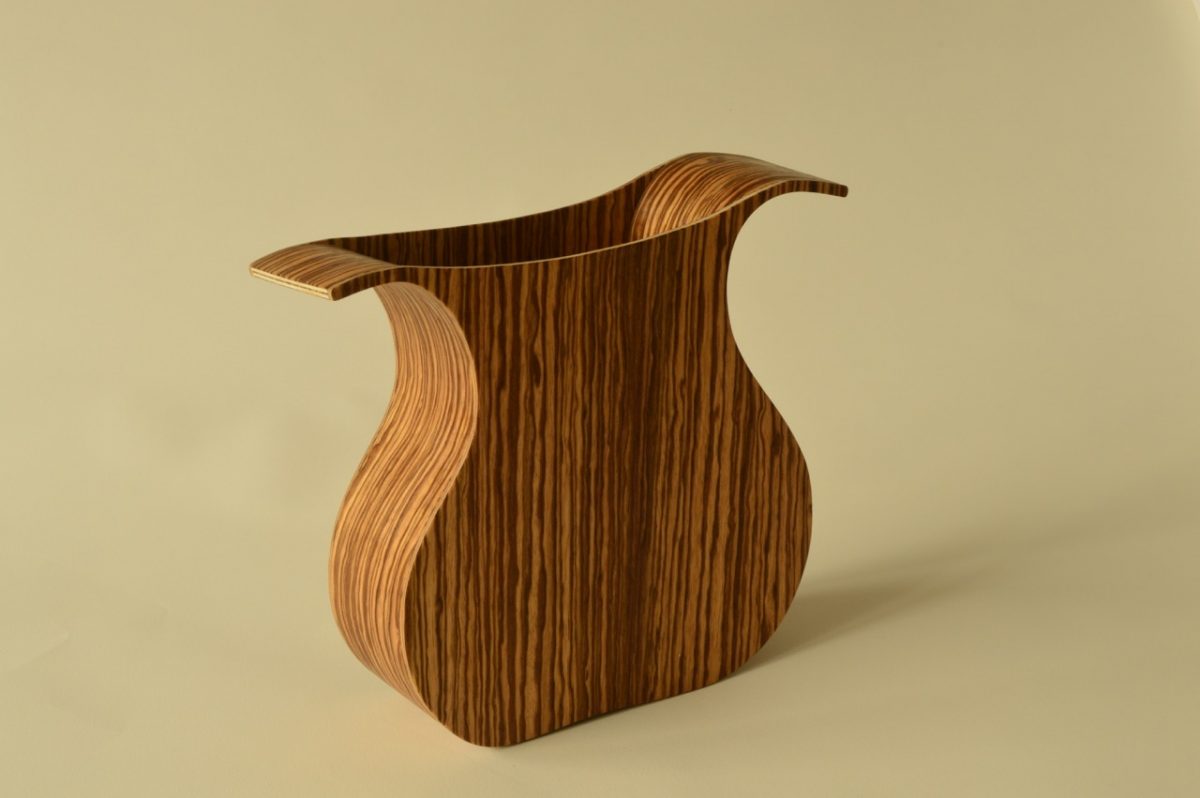 The Olivier Cornet Gallery is delighted to present a solo exhibition of work by gallery artist Hugh Cummins.
A special celebration of the exhibition will take place on Saturday, 15th July, 5pm. All welcome.
Using hardwoods and fine wood veneers, Hugh Cummins creates a wide range of objects including finely finished boxes, stylish uplighters, delicate platters and sculptural vessels and forms.
Hugh Cummins was born in Dún Laoghaire and after a number of years working and studying in London lives again in Dún Laoghaire.
He progressed with his acquired traditional fine cabinet making skills to creating purely decorative objects. His designs have clean, flowing lines involving his own innovative construction processes that consistently challenge the range of possibilities of his materials. Woods that Hugh works with, such as Beech and Walnut, allow him to push the boundaries within which traditional wood working techniques were previously contained.
Hugh selects very carefully thin slices of wood, knife cut from a prepared log, and uses a sequence of these leaves in layers. Different species of wood conform in similar but very specific contours and Hugh's creative process comes close to the limits of influence. The layering allows the artist to shape the wood using the inherent tensions in the grain and size of the cut sheets. The sequenced leaves can be compressed with formers made by Hugh and/or carefully shaped by hand while a glue vein sets creating one-off unique forms.
"The Olivier Cornet Gallery is providing me with the very valuable opportunity to present a number of new works alongside more established designs. The exhibition is a reflection of an eclectic approach to working with wood which embraces and harnesses its inherent challenging properties of strength and versatility. 'Explorations in Wood' includes many different species such as Ash, Bird's-eye Maple, Burr Elm, Cherry, Curly Maple, Fumed Eucalyptus, Indian Rosewood, Movingui, Rosewood, Sycamore, Teak, Walnut, Wenge, Zebrano."
– Hugh Cummins, July 2017
More information about the artist can be found on http://www.oliviercornetgallery.com/#/hugh-cummins-artist-cv/4585859983
Tuesday 11 July – Friday 28 July 2017
3 Great Denmark Street
(beside Belvedere College)
Dublin 1
Telephone: +353 87 2887261
Opening hours / start times:
Tues to Fri: 11am to 6pm (till 8pm on Thursdays) • Sat & Sun: 12 noon to 5pm • Closed on Mondays (or viewing by appointment only)
Admission / price: Free