Hugh Cummins and Sheila Naughton
Sunday 6 May – Wednesday 6 June 2018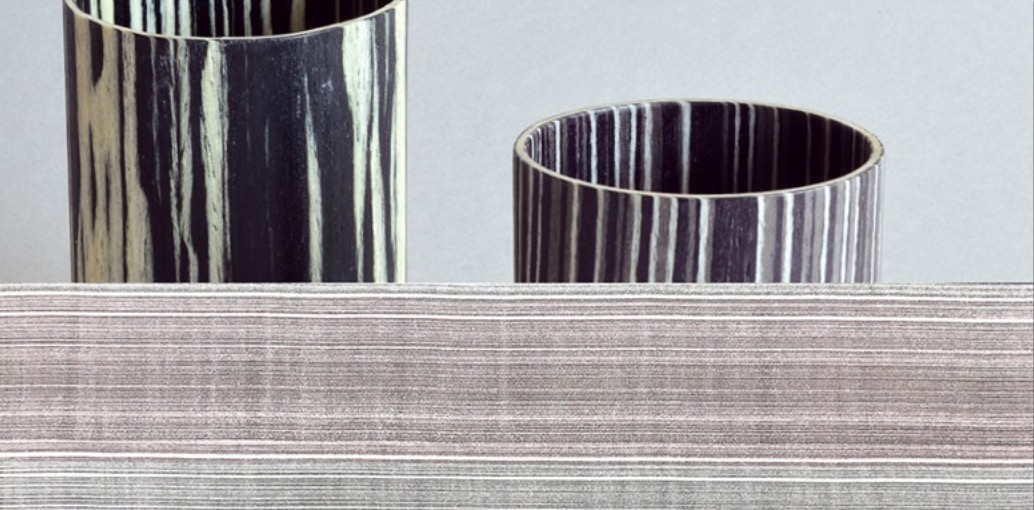 The exhibition showcases the work of two individual artists working with different materials while focusing on a commonality in the process of how each artist works.
Hugh Cummins works three dimensionally with wood – at the core of his sculptural expressions are the sequencing of thin slices of rare and exotic woods.  His objects embody a lightness and movement of form.  The inherent beauty of individual wood species – the grain, texture and pattern, are integral to his sensual sculptural forms.  Hugh celebrates the extraordinary variety of woods from all parts of the world by highlighting and contrasting their qualities – the whiteness of Sycamore, Holly or Maple layered together with the darker, more highly figured, Walnut, Wenge or Zebrano.
Hugh has work in national and international collections. The Office of Public Works has selected some of his work for the State Art Collection and he is represented in Dublin by the Olivier Cornet Gallery for his one-off sculptural pieces.
Sheila Naughton is an abstract artist who works mainly with watercolour and gouache on paper. Colour, linear movement and qualities of light and shadow are the key elements she works with to convey meaning and sensation. The works reflect states of being. There are meditative works of calm deliberation, where rhythmical bands of colour reflect the daily rhythms of life and work, the interior world of the artist a reflection of the exterior one. By contrast, other works have uncertainty and change at their heart. Constancy and calm give way to movement and fluctuation, reflecting the changing nature of life.
Sheila is a member of the Olivier Cornet Gallery's AGA (Associate Gallery Artist) group. Her work has been selected for the State Collection of the Office of Public Works, Waterford Institute of Technology, and is in private collections in Ireland, the UK, the US and Switzerland.
The word "Stria" (Plural 'Striae') means to make a linear mark. It also means striated or striped, a quality which is apparent in the work of both artists. There is a sense of layered histories in the work. Each uses a process of multiple layering to arrive at a finished form or image. 'Stria' also refers to any one of a number of nerve fibers in the brain, reflecting the cerebral activity which determines the decision making in how the technical process is used to communicate the meaning of the work.
Sunday 6 May – Wednesday 6 June 2018
3 Great Denmark Street
(beside Belvedere College)
Dublin 1
Telephone: +353 87 2887261
Opening hours / start times:
Tues to Fri: 11am to 6pm (till 8pm on Thursdays) • Sat & Sun: 12 noon to 5pm • Closed on Mondays (or viewing by appointment only)
Admission / price: Free