Hot off the Press
Saturday 11 January – Friday 14 February 2014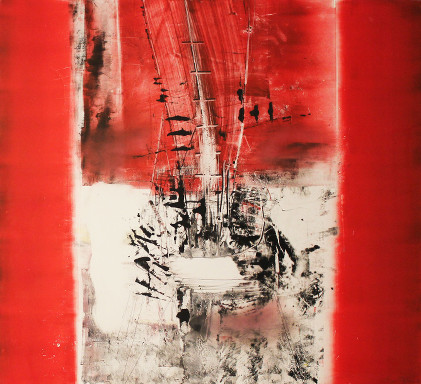 Gormleys Fine Art are delighted to announce the opening 'Hot off the Press', a group exhibition from 16 national and international printmakers.
The exhibiting printmakers include Belfast born Declan Byrne (RUA Printmaking Prize 2013), Laura Maloney (RDS Printmaking Prize 2013), Paul La Rocque, Monika Crowley, Robert Kelly, Fiona Kelly, Ned Jackson, James Robert Moore, Annushiya Sunda, Jill McKeown, Hugh McCarthy, Piia Rossi, Morgan Doyle, Bill Penny, Janet Preston and Shauna McGowan.
The exhibition will include a varied range of techniques and processes, contained in both the 2-dimentionsal and 3-dimentionsal form.
Doyle's work is large and expressive, drawing the viewer in to look closer at the deep and intense colour contained within the piece. This is juxtaposed against Bryne's extreme precise etchings. He repeatedly etches the image, exposing highlights and lowlights, which then reveals a very meticulously created piece.
Paul La Rocque has submitted a diptych containing a montage of Superheroes, with his images and sketches also taking the form of two ceramic horses which play on the kitsch and garish aesthetic to create a piece that is impossible to ignore. There is a sense of mystery within these pieces, as if they are a story partly told, inviting the viewer to finishing it their way.
Janet Preston is showing an immense photo-intaglio, measuring over 6 feet high. Preston is influenced by western-style metropolis living and voyeurism, often visiting New York for inspiration. Her work features images of building facades, often taken over a period of years. These are then collaged together, creating an image that is both of the distant past and current present.
The curator of the show, Stuart Cannell commented,
"It is exciting to bring together a group of artists who are dedicated to printmaking. The work on show is extremely diverse, demonstrating that print can be executed on many forms, not just on paper. We have several sculptural works that explores the realms in which printmaking can exist, whilst juxtaposed against more traditional printmaking processes.
It is also great to introduce Laura Maloney, the winner of the RDS Printmaking Prize in 2013 to Northern Ireland. This is her first time exhibiting in Belfast.
I believe this exhibition really captures the essence of printmaking, and will definitely intrigue viewers."
All work on display will be for sale with pieces starting at £120.
To view the complete exhibition go to www.gormleys.ie
Image: Morgan Doyle: Storm, 79 x 91 cm
Saturday 11 January – Friday 14 February 2014
251 Lisburn Road
Belfast BT9 7EN
Telephone: +44 28 90 663313
Opening hours / start times:
Monday 10:00 - 17:30
Tuesday 10:00 - 17:30
Wednesday 10:00 - 17:30
Thursday 10:00 - 19:00
Friday 10:00 - 17:30
Saturday 10:00 - 17:30
Admission / price: Free