Home
Friday 12 November 2010 – Saturday 22 January 2011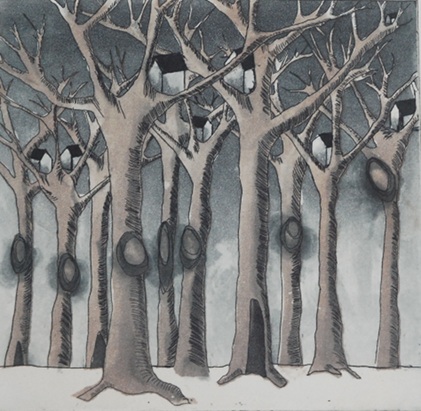 In association with Graphic Studio Dublin
First Floor Gallery, Draíocht
Graphic Studio Dublin rounds off its 50th Anniversary with a Members' Exhibition on the theme of 'Home'. The title refers to our notions of belonging and family and is particularly relevant at this time of year, a time when we return to the places and people that create our own sense of home. All the feature prints showcase the finest skills in fine art printmaking techniques, including etching, lithography, woodblock print, linocut and a variety of mixed media techniques. All works are priced under €250.
35 Participating Artists:
Ms. Yoko Akino / Ms. Maureen Buckley / Mr. Gerard Cox / Ms. Gráinne Cuffe / Louise Farrelly / Dr. Paul Fitters / Ms. Niamh Flanagan / Ms. Mary Grey / Ms. Nickie Hayden / Ms. Clare Henderson / Ms. Siobhan Hyde / Ms. Lilian Ingram / Mr. Desmond Kenny / Mr. Stephen Lawlor / Ms. Maev Lenaghan / Ms. Louise Leonard / Ms. Pamela Leonard / Daniel Lipstein / Ms. Niamh McGuinne / Ms. Margo McNulty / Ms. Susan Morley / Merijean Morrissey / Ms. Eilis Murphy / Ms. Deirdre Nolan / Ciara O'Hara / Ms. Geraldine O'Reilly / Ms. Caroline Patten / Ms. Sarah Rogers / Mr. Robert Russell / Mr. Joe Ryan / Ms. Adrienne Symes / Ms. Elke Thönnes / Mr. Michael Timmins / Ms. Margaret Tuffy / Ms. Marta Wakula-Mac /
Founded in 1960, Graphic Studio Dublin is one of the leading fine art print studios in Ireland. The studio was established to teach traditional printmaking skills (then unavailable in Irish art colleges), and to provide studios and technical assistance to artists to make fine art prints. Since 2007 the studios are housed in a stunning converted granary building in central Dublin.
Image: Niamh Flanagan: they nestled quietly in the trees, 2010, etching
Friday 12 November 2010 – Saturday 22 January 2011
The Blanchardstown Centre
Dublin 15
Telephone: +353 1 885 2622
Admission / price: Free