Hina Khan: The Tree of Life
Saturday 31 July – Sunday 29 August 2021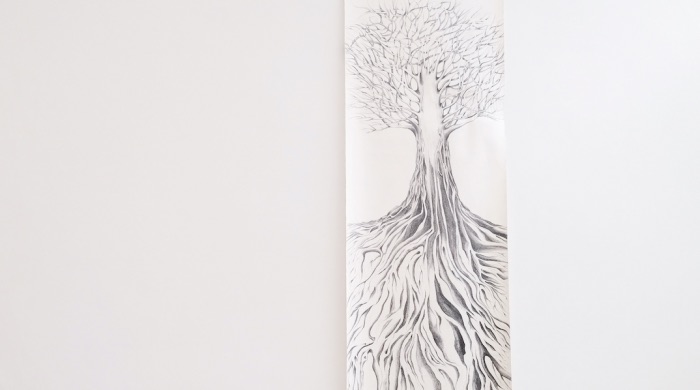 ――― In venue ―――
Khan has created this large-scale pencil drawing as a response to the themes raised by Miriam O'Connor's exhibition Tomorrow is Sunday. Khan and O'Connor developed a dialogue, sharing their perspectives on grief, intergenerational responsibilities, gendered labour and subverting patrilineal succession and expectations. Khan focused on the tree which features in O'Connor's exhibition, entitled Leylandiic, which is described by O'Connor as 'a foundation for all the other works and approaches that inform this project, holding everything together in protective, supportive and comforting way'.
Khan observes the significance of the tree in the other artists work, where she 'found a new companionship in the tree, which is witness to all what has happened –  observing, witnessing, listening to all, silently. Its presence is a companionship to a person in grief and somehow the person has also learned naturally to share that grief with the tree, which provides her with the spiritual and physical link between the past and present with a hope for future'.
Khan's depiction of a tree represents a solid and unchanging presence, akin to the tree of life, despite humankind's interventions into the land. The lifespan of the tree, over numerous generations, allows it to bear witness. Khan says: 'we come and go but trees are there to record history physically and spiritually. I believe that trees are our spiritual mentors as they become one's silent listener, responding spiritually to one's queries and confusions with their profound silence and their overwhelming presence as comforter and provider. Trees give us strength, wisdom, beauty, protection, redemption and bounty'.
Born in Pakistan in 1980, Hina Khan completed her MFA with majors in Miniature Painting from Pakistan, using a mixture of traditional and innovative techniques in Miniatures. Her work has recently expanded to include installation and video. Khan's work portrays social issues, immigration, humanitarian crises, gender discrimination, gender restrictions, prostitution, trauma, child abuse and killings. Khan describes her work as a reflection on migration and the marrying of two cultures: the one in which she was born and in Ireland, where she is re-rooting herself.
Khan participated in a number of groups shows in Pakistan from 2002 to 2011, before moving to Ireland in 2015. Her work has been exhibited in Dublin, Co. Laois, Co. Mayo, and Co. Cork. She has participated in residencies with Fire Station Artists' Studios, Create Ireland, West Cork Art Centre and Cow House Studio. Her work is also in the permanent collection of Arts Council Ireland. She is currently working towards a solo show in LHQ Gallery in 2022.
Angelica Interventions
This is the third in a series of five Angelica Interventions at RHA Gallery funded by Creative Ireland. Angelica is a network of artists, that aims to amplify the voices of self-identifying women and non-binary artists of minority cultural and minority ethnic backgrounds who are based on the island of Ireland.
This collaborative engagement programme between RHA and Angelica invites Angelica artists to respond, via an intervention, to one or more pieces in the RHA exhibition programme. Interventionist practices often enable opportunities to propose alternative perceptions on institutions and narratives, and may take the form of an artistic response, a talk/panel discussion or workshop and will be informed by ideas of representation.
Angelica was created to lead to fruitful relationships and new opportunities, designed to help curators and programmers to work with and nurture a more diverse art community; one which is built on care and accountability.
The first intervention, Darling Don't Turn Your Back On Me, an online screening of a performance work followed with a conversation by Thaís Muniz, took place in response to Denis Kelly's Ashford exhibition Look, then Look Again, on 11 July. The next intervention by Edy Fung, took place on Wednesday 4 August, in response to Barbara Knežević's exhibition pleasure 'scapes.
More information on Angelica is available here: www.angelica.network
Saturday 31 July – Sunday 29 August 2021
15 Ely Place, Dublin 2
Telephone: +353 1 661 2558
Opening hours / start times:
Monday 11:00 - 17:00
Tuesday 11:00 - 17:00
Wednesday 11:00 - 19:00
Thursday 11:00 - 19:00
Friday 11:00 - 19:00
Saturday 11:00 - 19:00
Sunday 14:00 - 17:00
Admission / price: Free