High Day
Thursday 1 August – Saturday 17 August 2019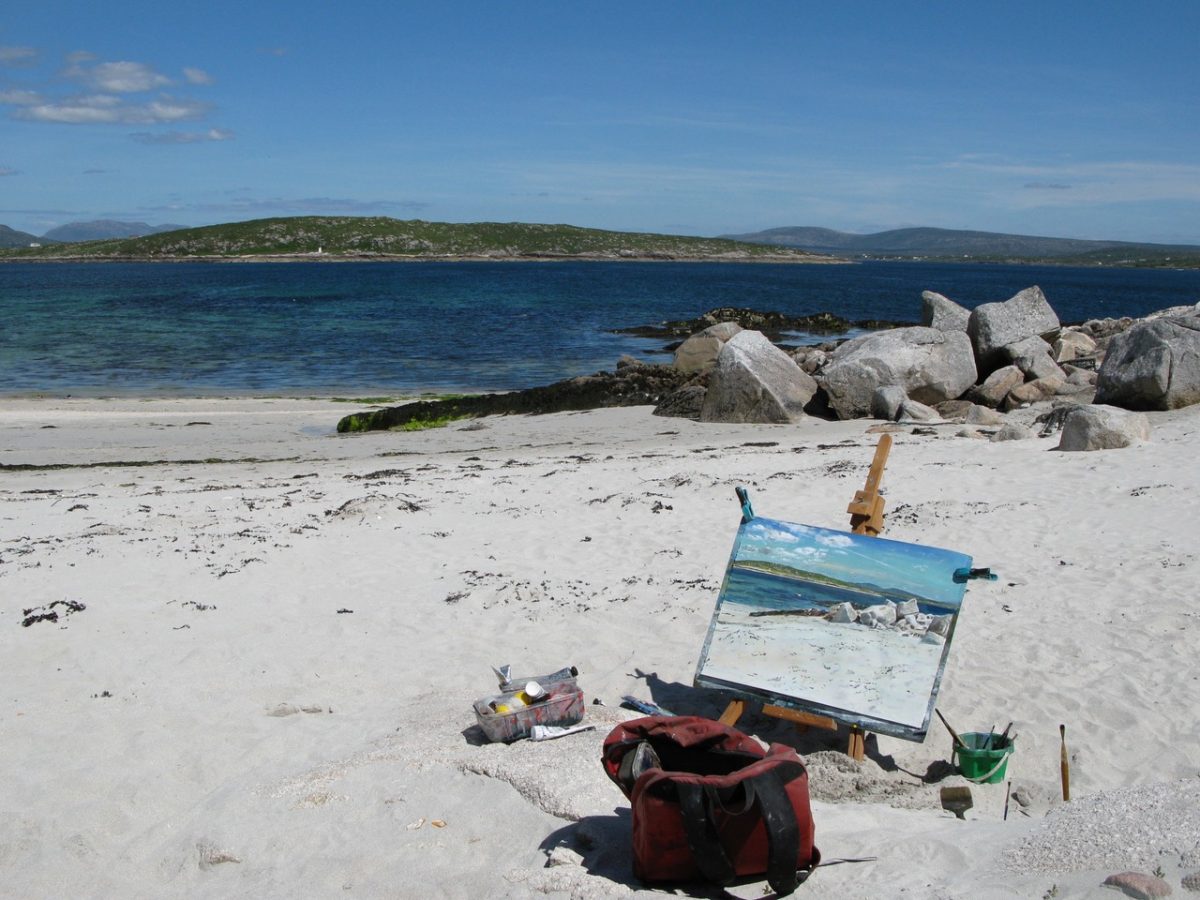 Kevin Kavanagh is proud to present High Day, a group exhibition of selected gallery artists.
The opening of High Day will also be the gallery's Summer Party. We will open until 10pm ​and provide an evening of food​, ​drinks and music by our resident DJ, Richard Lyons.
High Day is a celebration of the accomplishments and diverse processes of a selection of gallery artists at varying stages of their careers. The exhibition features work by Mick O'Dea, Aileen Murphy, Richard Proffitt, Sean Lynch, Geraldine O'Neill, Mark Swords, and Elaine Byrne. Incorporating a mixture of drawing, painting, sculpture, photography and collage, the exhibition hosts a vibrant conversation between form and medium.
Aileen Murphy's gestural paintings on paper depict colourful figures playfully contorting their bodies and reveling in their own fleshiness. Through whimsical brushstrokes of vivid yellows, pinks and greens, the painted bodies seem at once internal and external, corporeal and intangible.
Also making reference to the body, Richard Proffitt grounds​ his delicately assembled sculptures with painted hands and feet made of clay. Shown alongside some works on paper, these lumpy, disembodied appendages provide a necessary support to a series of fragile objects held together by sticks and string in a way that is both funny and strangely tender.
Mick O'Dea's watercolour series discloses a ritualistic annual return to an island off the west coast of Ireland. While the drawings are made in the same location each year and contain certain abiding features, they also radiate with an otherworldly quality. These summer scenes, although true to life could have taken place in a completely different time ​or in some other hemisphere.
Ice Cream Dream, a large painting by Mark Swords conjures all the joy and exultation of a child's day at the beach. The liveliness of both composition and colour within the painting gives rise to dreams of beach huts adorned with glittering plastic, pink candy floss and inflatable beach balls. The painting also contains certain markings and layers that convey an alluring sense of secrecy or an impression that its message has only been partly revealed.
Sean Lynch's photographic close ups of seabed dioramas extend an invitation into another world. This one is filled with manmade sea anemones, baby squids and rippling foliage against a painted backdrop of shadowy oceanic depths. The photographs create mysterious moments of a kind of fabricated intimacy in which the viewer might feel inclined to dwell.
Accompanying her sculptural works, ​Elaine Byrne's photograph, Mushroom, depicts a curvy mushroom cap growing from the side of a mossy tree on Saint's Island, Lough Derg. The piece is part of a series originally shown in a solo exhibition in Rome in which the artist examined the contemporary notions of corruption and punishment through the texts of 14th century pilgrims.
Geraldine O'Neill's paintings fall somewhere between past and present, dreamscape and reality. With masterful technique, O'Neill intermingles the grandiosity of art history with the normality of the everyday in a way that provides them with an equal status. Her canvases create a space of hallucinatory freedom for ideas to roam and flourish.
High Day offers the opportunity to pause and take stock of these artists' practices as they are in the present moment and also to look to the future through new artworks, indicating journeys yet to come. Bringing together a range of distinct and contrasting practices, High Day explores the abundance of information contained within each artwork. The exhibition invites the hazy blurring of boundaries that occurs when the artworks are read in relation to one another.
Please join us in the spirit of festivity to celebrate High Day.
Image: courtesy Mick O'Dea
Thursday 1 August – Saturday 17 August 2019
Chancery Lane
Dublin 8
Telephone: +353 1 475 9514
Opening hours / start times:
Tuesday to Saturday 11am – 5pm
Admission / price: Free