Hennessy Art Fund for IMMA Collection
Thursday 13 July – Sunday 26 November 2017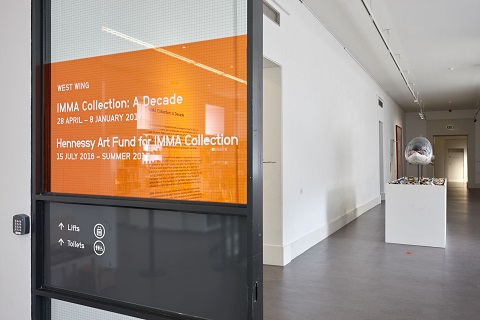 Hennessy Ireland and IMMA have announced the four artists whose works have been selected to be purchased by The Hennessy Art Fund for IMMA Collection 2017. Ciarán Murphy, Maireád McClean, Mark Garry and Yuri Pattison will see their works added to the IMMA National Collection of Contemporary and Modern Art and join the company of esteemed artists such as Louis le Brocquy, Patrick Scott and Katie Holten. The works will be revealed to the public at IMMA from Thursday July 13 2017 in an exhibition in the Courtyard Galleries. Admission to the exhibition will be free of charge.
Since the first solo presentation of Ciarán Murphy's paintings in Dublin in 2005 his work has achieved considerable national and international critical success, with solo exhibitions in Kavi Gupta Gallery Chicago, Grimm Gallery Amsterdam and Douglas Hyde Gallery Dublin; the work of Mairéad McClean, who grew up in Tyrone and has been based in London for the past 25 years, disrupts and restructures events from the past highlighting the unreliability of history; Mark Garry's practice stems from and is informed by a number of diverse fields of research, which inform his interest in observing and engaging with the many mechanisms that influence and effect how one navigates the world and the complexity and subjectivity inherent in these navigations; while Dubliner Yuri Pattison is described as a tireless, natural thinker at the forefront of a group of emerging artists whose practices, in an inherently 21st century manner, are informed by a seamless merger of hard and soft realities.
In 2016 Hennessy Ireland formed a unique partnership with IMMA to help fund the purchase of important works by Irish and Irish based artists for the National Collection. Works are sought that show excellence and innovation within contemporary art developments, and which represent a signal moment of achievement with the artist's practice and capture a moment in time of Irish culture. They must also have been made within the previous five years. Artists are nominated by a selection panel, including IMMA Director, Sarah Glennie and Head of Collections, Christina Kennedy and independent guest curator, Roscommon based visual artist Linda Shevlin. Linda has curated, facilitated and managed both large and small-scale visual arts projects including the 53rd Venice Biennale where she was project manager for the representative artists Gareth Kennedy & Sarah Browne and Radical Actions at RMIT Galleries, Melbourne as part of Culture Ireland's 2016 international programme I Am Ireland. Final recommendations are approved by the IMMA Collection & Acquisitions Committee, in line with IMMA's Collection policy.
The inaugural Hennessy Art Fund for IMMA Collection saw works by artists Kevin Atherton, David Beattie, Rhona Byrne and Dennis McNulty selected.
Hennessy was founded in Cognac, France in 1765 by Corkonian Richard Hennessy. Hennessy's distinctly Irish heritage has stood the test of time and today draws on more than 250 years of knowledge, talent, expertise and passion. This new partnership with IMMA continues Hennessy's long tradition of supporting and nurturing Irish talent within arts and culture.
Image: Hennessy Art Fund for IMMA Collection 2016, Photo: Denis Mortell
Thursday 13 July – Sunday 26 November 2017
Royal Hospital, Kilmainham
Dublin 8
Telephone: +353 1 612 9900
Opening hours / start times:
Tuesday 11:30 - 17:30
Wednesday 11:30 - 17:30
Thursday 11:30 - 17:30
Friday 11:30 - 17:30
Saturday 10:00 - 17:30
Sunday 12:00 - 17:30
Admission / price: Free
Bank Holidays open 12:00 – 17:30.