The Hennessy Art Fund for IMMA Collection
Friday 15 July 2016 – Sunday 26 February 2017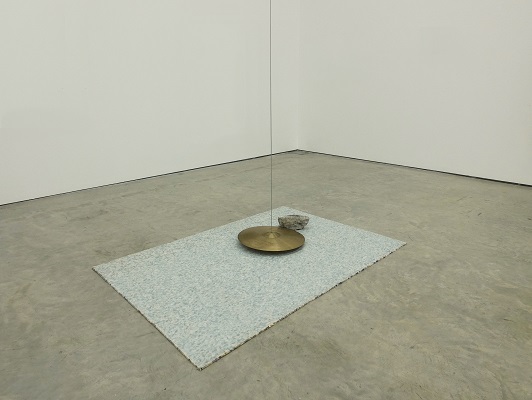 The Hennessy Art Fund for IMMA Collection supports the acquisition of works by artists not yet represented by the IMMA Collection of Contemporary and Modern Art. The Hennessy Art Fund exhibition showcases the four Irish based artists whose work will now join IMMA's Collection, funded by Hennessy Ireland.
Four works by four different Irish based artists have been selected, and the chosen artists for 2016 are Kevin Atherton, David Beattie, Rhona Byrne and Dennis McNulty. All of the works are installations that variously engage film, performance, new media, sound, found objects, everyday materials and audience participation.  They are being exhibited as part of IMMA Collection: A Decade, an exhibition which provides a snapshot of how the National Collection of Modern and Contemporary art has developed over the past 10 years.
The Hennessy Art Fund for IMMA Collection will see artists based in Ireland and Irish artists living abroad eligible for selection each year. Works will be sought that show excellence and innovation within contemporary art developments and represent a signal moment of achievement within the artist's practice. Work must also have been made within the previous five years. Artists are nominated by a selection panel, which in 2016 included Sarah Glennie, Director IMMA, Christina Kennedy, Senior Curator: Head of Collections at IMMA and independent curator Emma Lucy O'Brien (VISUAL, Carlow), with final recommendations approved by the IMMA Collection & Acquisitions Committee, in line with IMMA's Collection policy.
Hennessy was founded in Cognac, France in 1765 by Corkonian Richard Hennessy.  Hennessy's distinctly Irish heritage has stood the test of time and today draws on more than 250 years of knowledge, talent, expertise and passion. This new partnership with IMMA continues Hennessy's long tradition of supporting and nurturing Irish talent within arts and culture.
Kevin Atherton: In Two Minds (1978 – 2014), West Wing
Kevin Atherton is an artist who works with performance and new media in sculptural contexts. In Two Minds (1978 – 2014) has had a number of iterations since its genesis in 1978 when the artist was 27. The concept is of the artist having a spirited conversation with himself by way of video installation – a pioneering use of the medium at that time.
The work premiered in 1978 at the Project Art Centre, Dublin. Since then there have been a number of re-engagements by the artist with his young self when on each occasion he brings himself at that point of his career and accumulated experience into the exchange. The work has been included in the following group exhibitions:  2009: San Francisco MOMA; 2012: MOMA Vienna, Tate Britain, ICA London;  2014:  IMMA, Primal Architecture.
About the artist
A fine art educator, Kevin Atherton's is a time-based practice with an ongoing interest in the relationship between the real and the fictional. Since 1980s he has created many large scale public sculptural commissions. He was Head of the Department of Postgraduate Pathways in the Faculty of Fine Art in NCAD and as such has influenced a whole generation of young artists.
David Beattie: The impossibility of an island (2016), West Wing
David Beattie's art is situated between the scientific, the human and the spiritual. His sculptures combine sound, movement and physics to create unlikely alliances. The reapplication of domestic objects and technologies offers a fresh take on their function and allows a reinterpretation of these objects.
The impossibility of an island (2016) continues his interest in the physicality of sound and how we experience sound in our everyday. Consisting of a piece of broken concrete, carpet underlay and a used cymbal, the object interrelations are explored through their materiality. Although static and inactive, the concrete is essential in activating the sound that is produced as the cymbal rotates and grazes against it. This process of engagement can be seen as a search for a tangible present through the intermediary moments where physics, philosophy, technology and nature collide.
About the artist
David Beattie is an artist who lives and works in Dublin, Ireland. He has received a number of Arts Council bursaries, most recently 2015, and was awarded the Harpo Foundation Award in 2010. Recent solo exhibitions include Temple Bar Gallery and Studios (2011); The Mattress Factory Art Museum, Pittsburgh and Mercer Union Centre for Contemporary Visual Art, Toronto, Canada (both 2010). Beattie has been included in numerous group exhibitions including In the Line of Beauty, Irish Museum of Modern Art, Dublin (2013), O Brave New World, Rubicon Projects, Brussels (2013) All Humans Do, The Model, Sligo and Whitebox, New York (2012); Holding Together, Douglas Hyde Gallery, Dublin (2010); La Part des Choses, Mains d'Oeuvres, Paris, and in Quiet Revolution, Hayward Touring, UK (2009).
Rhona Byrne: Bolthole (2012), South Ground
Artist Rhona Byrne's hand-made objects, installations and collaborative, event-based, projects explore the interactions between people and their habitat. Bolthole (2012) invites visitors to construct and reconstruct the installation to make their own environments. The spaces can be individual shelters or a large configuration of pieces to make one large space.
The work has been shown at Tate Britain, 2012; Turbine Hall Tate Modern curated by Katy Fitzpatrick. 2012/13; Irish Museum of Modern Art, Action All Areas, 2013; The Big House Festival, performance collective, 2013 and Visual Centre for Contemporary Art, Carlow, 2015-16.
Bolthole continues until the 7 August 2016.
About the artist
Rhona Byrne lives and works in Dublin, Ireland. Rhona makes sculptural objects and spatial environments combining sculpture, performance and processes of participation that explore a negotiation of object, place and social practice. Recent and upcoming projects and exhibitions include, Pathways, Education Hub, Art commission, Maynooth University; A Fair Land, Irish Museum of Modern Art; Mobile Monuments, Fingal County Council public art commission; Huddle Tests solo show at Temple Bar Gallery and Studios; Huddlewear, Facebook AIR program residency/commission; Mobile Monuments, Fingal County Council 1916 Public Art commission; On that Note, Heart of Glass, Liverpool; Moving Thresholds, National Gallery of Ireland; Ridge, Verksmi∂jan, Hjalteyri, Iceland; It's All up in the Air, Norfolk and Norwich Arts Festival, Uk; Bolthole, Open Studio, Tate Modern and Tate Britain, IMMA
Dennis McNulty: I reached inside myself through time (2015), West Wing
Dennis McNulty makes installations, sound and video work, and in recent years, has produced a number of complex multi-layered performances. Beginning with detailed research of various kinds, and informed by his studies in psychoacoustics, his work often takes hybrid forms, drawing on aspects of cinema, sculpture, sound and performance.
Olaf Stapledon's timeline for Last and First Men, a book published in 1930, is one point of departure for I reached inside myself through time (2015), a multi-media installation work commissioned for an exhibition in Norway's dramatically scenic Lofoten archipelago.
A re-edited acapella of The sun always shines on TV, one of Norwegian pop band A-ha's biggest hits, spills into the gallery's reflective geometries, setting up a tension with Stapledon's geological and cosmic timescales.
About the artist
Dennis McNulty's work is conceptual and research driven. How we as human beings unconsciously accumulate knowledge through our interaction with our environment, especially the built environment, and how that has played out through history in terms of architecture and engineering – frequently provides the starting point for McNulty's artworks. Through research, McNulty looks for new frameworks for activity, to create works which propose a new kind of relationship to time and space, to histories, as well as our bodily experience of such forms.
Recent and current exhibitions include The Time Domain, a site specific live work, presented during Liverpool Biennal 2016, co-commissioned between Bluecoat School and Liverpool Biennial;    2015: I reached inside myself through time, commissioned for LIAF, Lofoten International Art Festival, Norway, 2014: PROTOTYPES, Limerick City Gallery of Art, Limerick; A Leisure Complex, Collective, Edinburgh; 2013:  INTERZONE, The Box, The Wexner Center, Columbus, Ohio; The Face of Something New, Scriptings, Berlin;  
A Stew of Universals, ZKU, Berlin;  2012:  PRECAST, off-site project, London;  INTERZONE, Seamus Ennis Center, Fingal, Co Dublin, 2011:  The Eyes of Ayn Rand, Performa 11, New York;  
Another Construction, Irish Museum of Modern Art, Dublin;  Space replaced by volume, Granoff Centre for the Arts, Brown University, Providence, Rhode Island.
Image: David Beattie: The Impossibility of an Island, 2016, Cymbal, steel wire, concrete, carpet underlay, motor, Dimensions variable, Collection Irish Museum of Modern Art, Purchase, Hennessy Art Fund for IMMA Collection, 2016; image courtesy the artist
Friday 15 July 2016 – Sunday 26 February 2017
Royal Hospital, Kilmainham
Dublin 8
Telephone: +353 1 612 9900
Opening hours / start times:
Tuesday 11:30 - 17:30
Wednesday 11:30 - 17:30
Thursday 11:30 - 17:30
Friday 11:30 - 17:30
Saturday 10:00 - 17:30
Sunday 12:00 - 17:30
Admission / price: Free
Bank Holidays open 12:00 – 17:30.