Heneghan Peng Architects: Shifting Ground
Friday 20 September – Friday 27 September 2013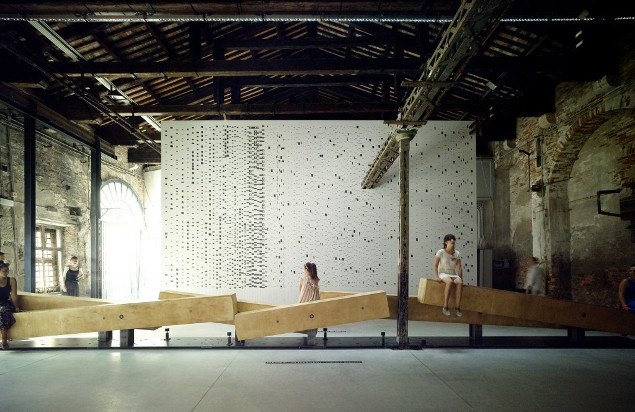 Starts Friday 20 September – Culture Night – 5 – 8:30pm
Ireland's Representation at the 2012 Architecture Bienale to be exhibited in Cork's National Sculpture Factory for Culture Night.
Shifting Ground from
HENEGHAN PENG ARCHITECTS
SHIFTING GROUND
Beyond National Architecture
Irish Representation 2012 at the 13th International Architecture Exhibition – la Biennale de Venezia
Commissioner
ELIZABETH FRANCIS
Curator
JOHN MCLAUGHLIN
Architects
Heneghan Peng Architects
Ireland is one of the most globalised countries in the world, and this exhibit looks at architecture's relation to networked flows of products, data, and knowledge. It asks how could a global architecture be grounded culturally, philosophically and spatially? How can it situate itself outside of shared national reference points?
Heneghan Peng Architects were selected as participants because they work across different continents on a range of diverse projects. 'Our dialogue led us to discussing the universal languages of projective geometry and number shared by architects and related professionals'.
In their work, the specific embodiment of these geometries is carefully calibrated by the choice of materials and their detailed design. The stone facade of their Giant's Causeway Visitor Centre in Antrim takes precise measure of the properties of the volcanic basalt seams from which it is hewn. The extraction of the stone is the subject of wall drawings (which are part of the installation), which record the cutting of basalt to create the façade of the Causeway Centre.
They have also identified water as the element, which is shared across the different sites.
The work is composed of a series of wall drawings and a bench for resting. The 12 meter long bench, is constructed of 6 interlinked sections, 6 rotation‐only fulcrums & 5 translation pivots.
The bench, when at resting balanced equilibrium is horizontal but the public are invited to sit on the bench setting it in motion.
Motion can be varied by sliding the body horizontally, this translation of mass along the bench length varies the lever arm and the resultant applied moment. Force applied at any of the 6 fulcrums (which are marked) does not vary motion; the bench remains static. The bench returns to stable equilibrium when no acting bodies are present.
The Nationals Sculpture Factory is delighted to host this large project and to provide Cork based audiences with the opportunity to physically interact with this work.
Curator John McLaughlin will be present on Culture Night to discuss the project with the public.
Ireland at Venice is an initiative of Culture Ireland in partnership with The Arts Council of Ireland Supported by Department of Arts, Heritage and the Gaeltacht and RIAI, The Royal Institute of the Architects of Ireland with Arup and Durlum
Artists on the factory floor during Culture Night…
Mick Wilkins, Alex Pentek, Maud Cotter, Carol MacGabhann, Frankie Shier, James McCann, Nedyalka Panova, Nuala Creed, Amanda Rice, Judy Fisher and Áine Farrell.
Friday 20 September – Friday 27 September 2013
Albert Road, Cork City
Telephone: +353 21 4314353
Admission / price: Free
September 20 – Culture Night, 5 to 8.30 pm

September 21 – 12noon to 4pm

September 23 to 27 – 12 noon to 4pm