Helen Comerford: Alpha to Omega
Saturday 10 March – Sunday 22 April 2012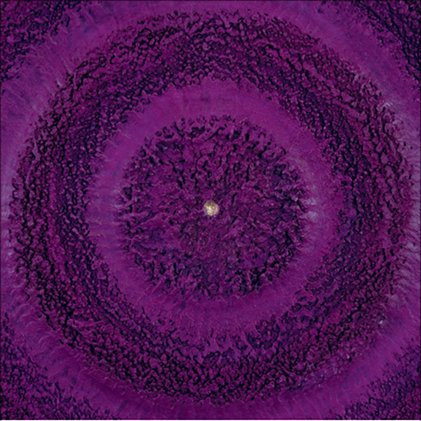 Opening Reception Saturday 10 March, 2:30 – 4:30pm
The Butler Gallery is delighted to present Alpha to Omega, an exhibition of new work by the Kilkenny-based artist, Helen Comerford.
Helen Comerford trained as a sculptor and worked with a variety of materials until she discovered wax as a medium while working on a small commission in the early nineties. When, in a whimsical moment, she put beeswax together with pigments, she discovered the ancient art of encaustic painting used by the Egyptians and Greeks. That was twenty-one years ago and she has continued to explore and refine works in this medium ever since.
Much of Comerford's artistic life has been spent exploring the secret of the seven stages of earth-evolution. This exploration began with her Planetary Boxes, 'treasure chests' that opened to give a glimpse of the seven planetary qualities. Eight years ago Comerford gave up teaching to devote herself full-time to this body of work. These paintings have grown layer-by-layer, week-by-week, until they have yielded their own hidden rhythms, colours and textures. In the catalogue essay, Christian priest, Reglind Kühlcke, provides a particular insight into viewing the work and encourages us to think of Genesis and the seven days of Creation, of the seven letters of the Book of Revelations, the seven seals and seven trumpets…
These paintings extend an invitation to engage with some of the most potent processes of existence: life's ability to teach, to transform, to heal; to give you times of great inner peace. They speak of a journey completed, of a secret uncovered, a mastery acquired.[1]
The abstract paintings of Alpha to Omega are exceptionally accomplished and strong in presence and are accompanied by a suite of exquisite carborundum prints. Comerford has produced an important body of work, rich in depth, where her years of experience with both her medium and her subject matter have collided to give birth to great beauty.
Helen Comerford was born in Thomastown, County Kilkenny in 1945. She studied at the National College of Art and Design, Dublin, Belfast College of Art and Design, Belfast, and the Akademie Voor Beeldende Kunst, Utrecht in the Netherlands. She is the recipient of many bursaries and awards and has participated in artist residencies in Ireland, Greece, Spain and France. Comerford has exhibited extensively in solo and group shows and her work is included in important public collections throughout Ireland. In addition to raising a family, teaching has played a significant part of her life and she has worked in various institutions including Dun Laoghaire School of Art and University College Dublin. Upon moving back to Kilkenny Comerford established an art school in Ormonde College in 1995. Helen Comerford lives and works in County Kilkenny and is represented by Taylor Galleries, Dublin.
With grateful thanks to The Arts Council for essential annual funding and to the OPW, FÁS, The Heritage Council and Kilkenny Local Authorities for additional assistance.
* Catalogue Available
Artitst Talk, Thursday 22 March, 1-2pm. Booking advised.
---
[1]
Reglind Kühlcke, from
Prologue by a Friend
,
Alpha to Omega
, 2012.
Saturday 10 March – Sunday 22 April 2012
Evans' Home
John's Quay, Kilkenny
Telephone: +353 56 7761106
Admission / price: Free
Closed 13:00 - 14:00 until March.