Helen Cammock: The Long Note
Wednesday 13 March – Sunday 26 May 2019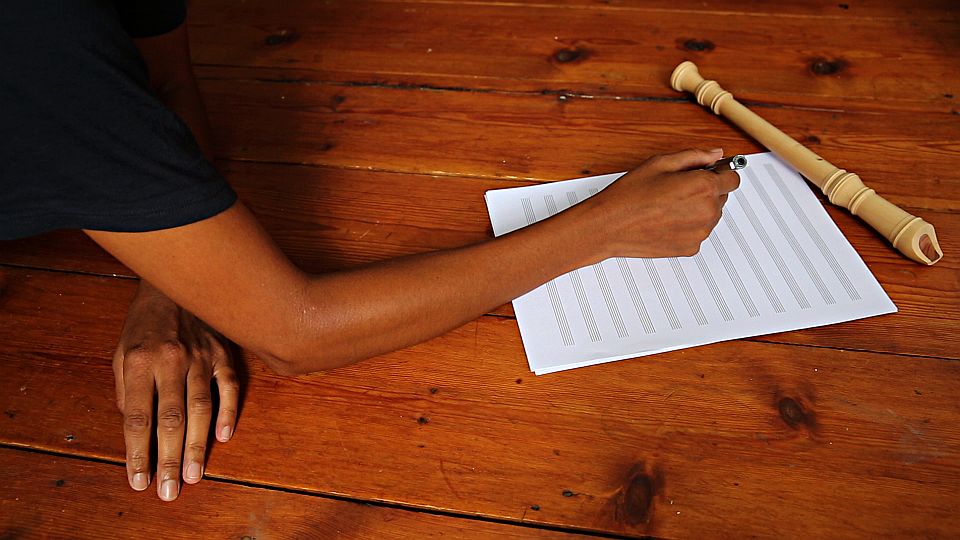 IMMA is delighted to present the film work 'The Long Note' (2018) by artist Helen Cammock. 'The Long Note' celebrates the involvement of women in the civil rights movement in Derry in 1968, commissioned by Void Derry to coincide with the 50th anniversary of the first civil rights march in Derry, Northern Ireland.
Exploring social histories through film, photography, print, text and performances, Helen Cammock creates multiple and layered narratives that are not linear, allowing the cyclical nature of history to be revealed. Through these devices Cammock explores the motivation for women's participation in the civil rights movement, the invisibility of women in the historical narrative of the time, and how it impacted family life and the notion of loss. The Long Note is an attempt to articulate the variety of political positions taken by women during the movement; there was no one unifying position or one identity but a multitude of voices that permeated a turbulent time in Derry.
The Long Note is a partial move towards redressing the lack of the female voice within the historical narrative, and to recognise the need to highlight the centrality of women in what was a pivotal moment in Derry and Ireland's history.
Also included in the exhibition is Shouting in Whispers (2017), a group of large screen-prints made up of hand-mixed solid colour block with text, offering a contemplative and powerful interplay with the film and reading resources provided. Each print quotes conversations with friends, as well as questions or statements from activists and philosophers both contemporary and historical. The reading room offers a space to explore material selected by the artist to expand and complement the conversations and topics raised in The Long Note and related programming.
Cammock's work has an ability to contextualise events within a universal struggle, addressing geopolitics in all its complexities, giving a voice to the invisible, laying bare the importance of the collective experience and highlighting women's perspectives within these events.
The selection of this work for the Project Spaces has a timely context within the current political and social climate. The complexities of The Long Note resonate with a contemporary sense of an unknown future; history can help question what is currently overshadowed by the political, and offer greater insight to the potential social implications. There is no absolute answer but there is a need to be inclusive, to listen and to be heard. The Long Note has a porous dialogue with other museum programming such as IMMA Collection: Les Levine, Resurrection and the upcoming Doris Salcedo exhibition Acts of Mourning, opening on 26 April.
Helen Cammock works across moving image, photography, writing, poetry, spoken word, song, performance, printmaking and installation. An interest in histories, authorship, storytelling and the excavation of lost, unheard and buried voices lead Cammock to map her own creative processes on to social and political situations. Cammock's work draws on material from Nina Simone, Philip Larkin, James Baldwin, The Housemartins, Walter Benjamin, Franz Fanon and others to reveal the way in which we construct our own personal collage of influences and reference points to establish a sense of self, context and history.
Recent screenings include the Serpentine Cinema Series and Tate Artists Moving Image Screening Programme. Cammock has exhibited at Cubitt, London; Galerie Futura Alpha Nova, Berlin; The Tetley, Leeds; Open Source Contemporary Arts Festival; Hollybush Gardens, London; 198 Contemporary Arts and Learning, London; and Void, Derry, Northern Ireland. Her written work has been published in several journals and magazines. Cammock is currently working on a project with Serpentine Galleries; Novel, Reading International and a new commission with Film and Video Umbrella, Touchstones Gallery and The Photographers Gallery. In 2018 Cammock was awarded the Max Mara Prize for Women which includes a forthcoming exhibition at Whitechapel Gallery, London and Maramotti Collection, Italy.
Wednesday 13 March – Sunday 26 May 2019
Royal Hospital, Kilmainham
Dublin 8
Telephone: +353 1 612 9900
Opening hours / start times:
Tuesday 11:30 - 17:30
Wednesday 11:30 - 17:30
Thursday 11:30 - 17:30
Friday 11:30 - 17:30
Saturday 10:00 - 17:30
Sunday 12:00 - 17:30
Admission / price: Free
Bank Holidays open 12:00 – 17:30.