Have You Seen a Monkey?
Friday 12 August – Sunday 14 August 2011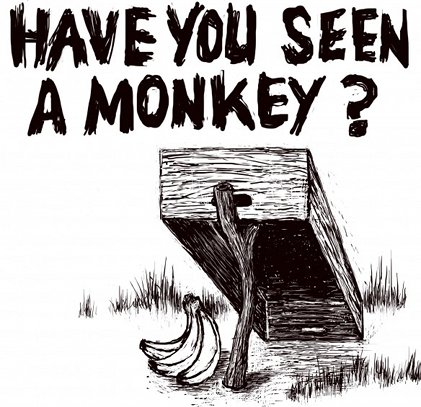 Hits: 2
Have You Seen a Monkey? is an exciting contemporary art event taking place in the scenic town of Banagher, located on the River Shannon, from 12th-14th August 2011.
Have you seen a monkey? will coincide with the Blue Breeze Music Festival taking place on the 13th Aug for further info see: http://www.newdawnpromotions.com/
For the art event a variety of artists will work within the locality to produce artworks in response to its location, including the aspects that make up its social, historical and metaphysical genealogy.
This contemporary art event will be staged in different locations throughout the town.
Very often facts and fiction fuse in the Irish landscape; intermingling, overlapping, contradicting and reinforcing our belief in myth, legend, and the power of gossip.
Taking inspiration from the true story of a monkey who escaped from a circus and got lost in the town, and how it was retold by Banagher girl Sinead Dolan on her blog which highlights her strange encounters living in this rural town. "Have You Seen a Monkey?" invites you to join in exhibitions, video installations, performances, discussions, competitions, treasure-hunts, tall tales, court cases, picnics and boat races on the Shannon.
All events are free. For further info please visit:
www.haveyouseenamonkey.wordpress.com
….and keep your eyes peeled for that monkey…
Featured artists include: Stephanie Hough, Lorraine McDonnell, Sharon McCarthy, Kevin Tuohy, Lorraine Neeson, Stephen Brandes, Rachel McDonnell, Maureen Considine, Tim Desmond, Anthony Kelly, Fiona Kelly, Angela Fulcher, Lilian Ingram, Patrick Hough, Sheila Hough, Peter McMorris, Michael Foy, David Upton, Denise Kehoe, Suzanne Van Der Lingen, Richard Forrest, Wendy Stephens, Linda Kelly & John Cullen (belmont mills artists) .
Friday 12 August – Sunday 14 August 2011
Admission / price: Free