Have to Hand, by my Hand, oh Handyman
Saturday 22 March – Friday 11 April 2014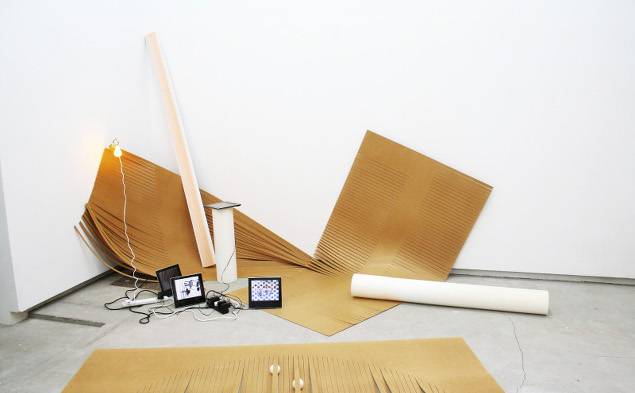 Opening Reception Friday 21 March, 6 – 9pm (Eleanor Vonne Brown publication launch, Beatriz Olabarrieta production performance, Stephen Morgann live casting action)
Eleanor Vonne Brown | Liam Crichton | Stephen Morgann | Steve Mykietyn | Beatriz Olabarrieta • Curated by Keef Winter
The handyman's potential lies in the role of the underdog – a renegade plumber, a deviant painter-decorator, a glorified technician. The Handyman Aesthetic is a language that presents subordinate materials from the polarised spaces of the city, between glimmering high-rise and dissonant disrepair, materiality and abstraction, resolution and fracture.
'Judd's earliest sculptures, perched on the edge between his neighbourhood's obsolescent manufacturing and the city's new systematicity, embodied a tension between materiality and abstraction, between manual labour and modular production.'
(Shannon, Joshua, The Disappearance of Objects, Yale University Press, New Haven, 2009, p. 166.)
All of these artists are, of course… artists, but they are also the hammers and drills in a larger art machine. They make the art of others and use the material that got left over; they produce the boxes your art arrives in, they reuse your material and reconfigure it to their own purpose, in their own time; they take the lollipop sticks from your mouths and prop up their plywood strips with them. In this vein, each of these artists aim to use FLOOD space as an extension of their studios, organising onsite, overlapping as necessary. In this show the artists begin to work for each other, one artist giving another a hand, and in turn the line between finished work and supporting structure becomes blurred.
Eleanor Vonne Brown, founder of East London independent art bookstore and project space X Marks the Bökship, produces a book work for this exhibition, cataloguing her visual and textual ideas in parallel to her busy bookshop schedule. Her limited-edition publication sits housed in a custom-made shelving unit screwed together by Liam Crichton. Crichton, a board member and technician of Platform Arts in Belfast responds directly to the exhibition space with a raw, material approach that underpins the proceedings with a clean, sinister edge. His work casts a footprint for Stephen Morgann, a mainstay in busy art fabrication company Other People's Sculpture in East London. Morgann up-scales the inherent properties of an emergency blanket carried in the form of a tabletop on a trolley from London. In the gallery he will choose a part of the building's fabric to pour plaster moulds live at the opening. These near-flat sculptures visually link us in proportion to the work of Steve Mykietyn, an art handler based in New York, who reveals new paintings from his studio and project space ORGY PARK that flow free with colour, geometric motifs and are painted onto pieces of toughened fabric. Lastly, Beatriz Olabarrieta scripts a live action to play out the production of her work in real-time on the opening night. The result of this event becomes the artist's exhibited work.
Image: Beatriz Olabarrieta: Splash, MOT International, Brussels 2012
Saturday 22 March – Friday 11 April 2014
Unit 3
James Joyce Street
Dublin 1
Telephone: +353 86 793 161
Admission / price: Free
Also open by appointment.