Haroon Mirza: Are jee be?
Saturday 8 March – Sunday 8 June 2014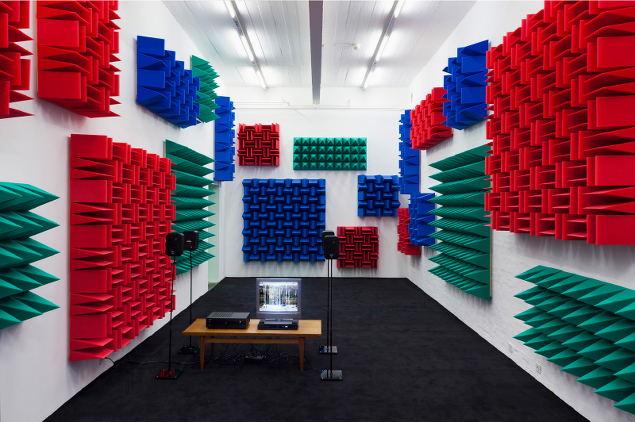 IMMA continues its commitment in showcasing some of the most exciting international artists working today with the first museum exhibition in Ireland of renowned British artist Haroon Mirza. Combining a variety of readymade and time based material to create audio compositions, which are often realised as site-specific installations, Mirza's work complicates the distinctions between noise, sound and music.
Mirza's exhibition will feature remnants of the recent Eileen Gray exhibition at IMMA. Occupying the same gallery spaces, the Gray exhibition will act as a 'readymade' from which Mirza will remix elements to create a new visual and sonic installation. The new site-specific work, System, created by Mirza for IMMA has been carefully conceived in response to the very particular architecture of the Royal Hospital Kilmainham. The title of Mirza's new work references the name of the Dublin based '90s nightclub venue System, which although only in existence for a few years framed a very specific moment in music, a genre of which heavily influences the artist's work. On 5 April, Mirza will stage a curated music night/DJ event at IMMA.
Alongside IMMA, Mirza will present solo exhibitions in 2014 at Le Grande Café, Centre d'Art Contemporain, France; and at the Villa Savoye, France. He won the Daiwa Art Foundation Prize (2012), he was awarded the Silver Lion Award at the 54th Venice Biennale Illuminations (2011), and the Northern Art Prize (2010).
Talks and Events
In Conversation| Haroon Mirza and Rachael Thomas
Saturday 8 March 2.30pm – 3.30pm, Lecture Room
Haroon Mirza and curator of the exhibition Rachael Thomas (Senior Curator: Head of Exhibitions, IMMA) will discuss the development of the project at IMMA, the influence of music and the idea of the 'readymade' in relation to Mirza's practice. All talks are free. Booking essential.
Click here to book
'90s Club Night at IMMA!
Saturday 5 April, 8pm – late, the Chapel
IMMA, in partnership with Totally Dublin, presents a '90s Club Night. Sets by artist Haroon Mirza, Donal Dineen, Adrian Dunlea (Sir Henry's, Cork), Totally Dublin DJs. Tickets €10.00. More details and where to buy your ticket to be announced shortly.
Image: Haroon Mirza: Digital Switchover, 2012, Installation View, Kunst Halle Sankt Gallen, St.Gallen, 2012, 1 x control box, 4 x active speakers, 1 x relay, 1 x DVD player, 1 x TFT monitor, LEDs, foam. Courtesy the artist and Kunst Halle Sankt Gallen, Photo Gunnar Meier, © Haroon Mirza
Saturday 8 March – Sunday 8 June 2014
Royal Hospital, Kilmainham
Dublin 8
Telephone: +353 1 612 9900
Opening hours / start times:
Tuesday 11:30 - 17:30
Wednesday 11:30 - 17:30
Thursday 11:30 - 17:30
Friday 11:30 - 17:30
Saturday 10:00 - 17:30
Sunday 12:00 - 17:30
Admission / price: Free
Bank Holidays open 12:00 – 17:30.