Gypsy Ray: Photographs
Saturday 2 May – Sunday 21 June 2015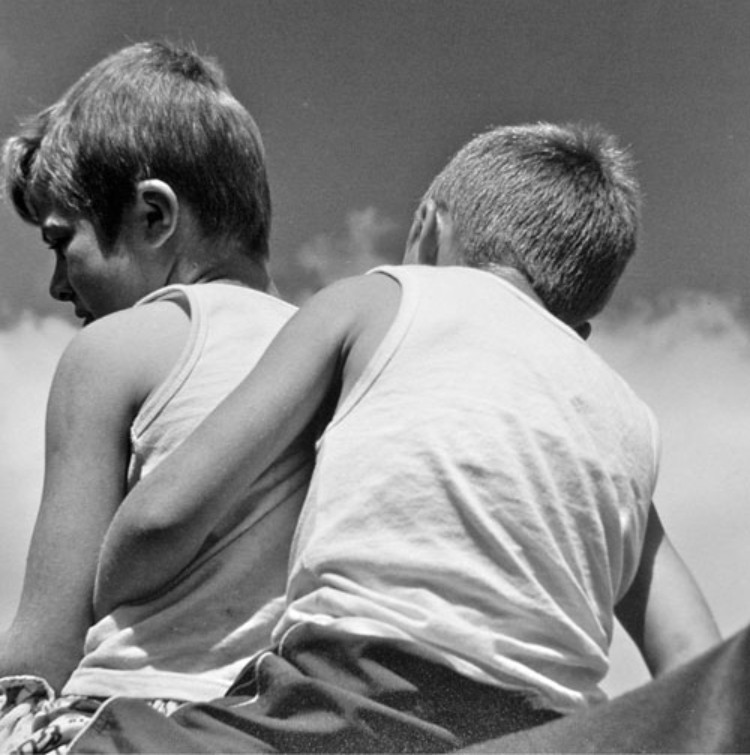 Opening Reception Saturday 2 May, 3 – 5pm
The Butler Gallery is delighted to present the exhibition Gypsy Ray: Photographs curated by Director Anna O'Sullivan.
Ray, an artist originally from the USA, has lived and worked in County Kilkenny since 2000.  She has a rich artistic practice that includes photography, drawing and teaching.  In the USA she is best known for her documentary photographs, especially her series on AIDS, which concerned her for many years. This exhibition includes black and white photography from the years 1983–2014, including portraits of writer Dervla Murphy and poet Adrienne Rich, portraits of friends, of children and teenagers, alongside a selection of her Holga landscape works.
The face is the most communicative part of the human body, with the ability both to reveal and to cover up emotions. Ray displays an innate engagement with the subjects of her portraits, who are usually unsmiling, direct and unflinching in their gaze. These photographs convey a quiet intensity from her sitters that sometimes tell us more about what they do – Sculptor, Mart employee, Fisherman.
Ray captures Irish youth posed on stonewalls, in laneways or stables, or caught for a moment at play. Ray pulls the lens in close on a group of Kilkenny-based traveller children tenderly photographed with their cherished horses and dogs. In Brothers, 2010, Ray elegantly reveals the kinship of two boys' on horseback cast against a big open summer sky. It is a poignant work that tells us a lot about the boys, even as their faces are turned away from the camera.
In the 1990s, Ray photographed a group of San Francisco Middle School students on the verge of adolescence, who shared with her their dreams and promises for the future. These photographs have not been exhibited before in Ireland. So many years later, they contain the enigma of where these adults are now; how they might have faired through high school.
The group of Holga photographs (1999-2014) immerse us in the natural world, and are reflective and more personal in spirit. The blurry corners add to the ethereal quality of these works, removing us from reality, suggesting a view both into and away from the physical world. They invite the viewer into Ray's private space and allow us to see things as she does, capturing and recording what she encounters on her solitary walks through nature. This selection is of passageways into landscape but mostly of bridges or steps into or towards murky water. There is a timelessness to these works that seems to anticipate how the shifting weather, or the arrival of people will immediately alter the scene. The weather is keenly felt in these Holga works, where Ray has successfully captured the gray shroud that invades the winter months and casts gloominess over the Irish landscape.
This exhibition also includes works from Ray's version on the Inside Out Global Photographic Project that was founded by French artist JR (www.insideoutproject.net). It is a global platform for people to share their untold stories and transform messages of personal identity into works of public art. Ray photographed studio artists at KCAT Art and Study Centre, Callan. The title for these images is "WE ARE! We are ARTISTS. No other labels please". The project addresses the issue that artists who also have special needs are always labeled as 'special' rather than simply as the artists they are. The KCAT artists portrayed are dedicated practitioners whose work deserves no special status, just the same careful and critical attention afforded to any other work of art.
Gypsy Ray is an artist who has lived a life filled with a multiplicity of experiences that is reflected keenly in her work. Her photographs enlighten and draw us closer to how she sees the world, and for this engagement, we are richly rewarded.
Gypsy Ray was born in Illinois but has been living on and off in Ireland since 1980 and has lived permanently in rural Kilkenny since 2000. Her work is in many public and private collections in Ireland, Europe and the USA. Ray taught third level photography for over twenty years in the United States for institutions such as the University of California Berkeley's Extension Program San Francisco Centre, San Francisco City College and Cabrillo College. A generous and respected teacher here in Kilkenny, she has taught at the Ormonde College of Art Programme, the Kilkenny Women's Art Project and Kilkenny Collective for Arts Talent/KCAT.
With thanks to the Arts Council for essential annual funding and to the OPW, Department of Social Protection, The Heritage Council and Kilkenny Local Authorities for additional assistance.
Image:
Gypsy Ray: Brothers, 2010, Silver Gelatin Photograph, 35.5 x 35.5cm, © The Artist, courtesy Butler Gallery
Saturday 2 May – Sunday 21 June 2015
Evans' Home
John's Quay, Kilkenny
Telephone: +353 56 7761106
Admission / price: Free
Closed 13:00 - 14:00 until March.