Gwen O'Dowd: immerse
Friday 10 November – Wednesday 6 December 2017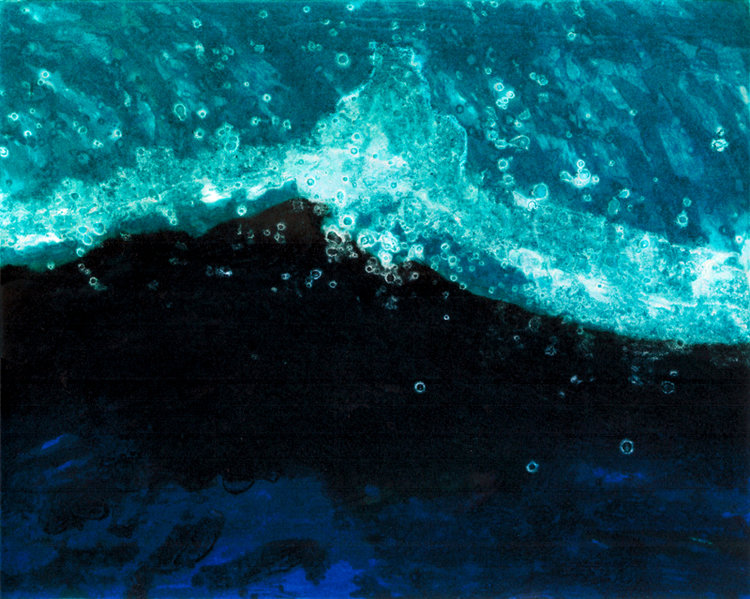 Graphic Studio Gallery is delighted to present 'immerse', a retrospective survey of Gwen O'Dowd's original prints, spanning more than 30 years – the exhibition includes an expansive series of new work.
"Gwen O'Dowd has always experimented with materials and methods to develop a language of expression to enable the surfaces and textures of her work to coalesce with her interpretation. She is known consequently for her exploration of print, which has been significant in providing her with opportunities to experiment and push the traditional boundaries of what her media has to offer. Since 1985, she has been working with carborundum printing techniques, taking advantage of the grittiness of the material to produce works with an almost tangible immediacy.
As an artist, O'Dowd seeks to express the emotion evoked by the direct experience of nature, such as the startling impact of a wave crashing against the obdurate surfaces of a rocky shoreline. She responds to the intensity and repetition of the action of water over centuries – rivers, glaciers, oceans – and how they carve their presence into the landscape, an interminable process of erosion that hollows out channels and spaces over time. Her study visits to environments range from the Grand Canyon in Arizona and the icefields and glaciers in Canada, to the coastlines of the west of Ireland.
This exhibition highlights selected points of reference in Gwen O'Dowd's print-works over the last thirty years or so, including her most recent explorations with carborundum to create new large-scale work, and also for the first time, etching, whose characteristics facilitate representations of veils of rain encroaching from a distance. O'Dowd's representations appear sublime in addressing expanses of time and space, but they are rooted in an acute awareness of contemporary events and concerns that express or threaten the pristine power evoked in her imagery."
Dr. Yvonne Scott, Director, Triarc (Trinity College Irish Art Research Centre)
Image: Gwen O'Dowd: Tonn ii, stage proof for Behaviour & Attitudes commission, carborundum, paper 37.5 x 39cm, image 20 x 25cm
Friday 10 November – Wednesday 6 December 2017
off Cope Street
Temple Bar, Dublin 2
Telephone: +353 1 679 8021
Opening hours / start times:
Monday 10:00 - 17:30
Tuesday 10:00 - 17:30
Wednesday 10:00 - 17:30
Thursday 10:00 - 17:30
Friday 10:00 - 17:30
Saturday 11:00 - 17:00
Admission / price: Free
Through the Arch off Cope Street (behind the Central Bank)