Grayson Perry: The Vanity of Small Differences
Friday 19 January – Monday 19 March 2018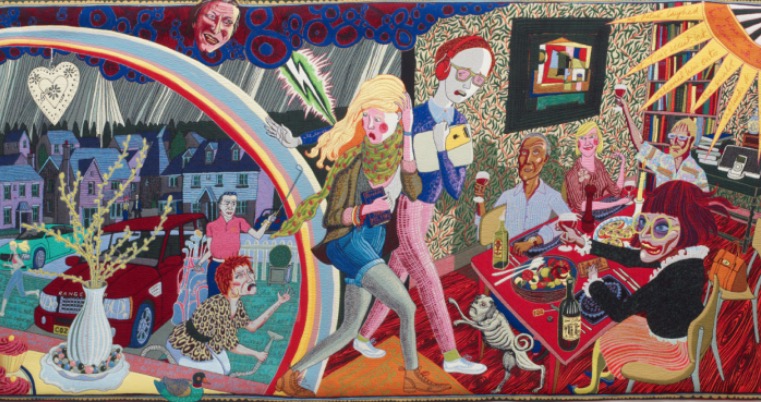 The RHA Gallery is pleased to present The vanity of Small Differences, 2012, by Grayson Perry which explores the artists's fascination with taste and class. These six tapestries were created alongside the Channel 4, Bafta-winning documentary series All in the Best Possible Taste with Grayson Perry, 2012, in which Perry vis- ited three very different regions of England, exploring the taste of the different social groups he encountered.
The tapestries look at English class through the story of the life of Tim Rakewell, and his progress through modern British society from humble birth to famous death. They are composed of characters, places and objects that Perry encountered on his travels through Sunderland, Tunbridge Wells and the Cotswolds. As well as drawing on these experiences, Perry also took inspiration from art-historical imagery: often early Renaissance religious works but also, and most importantly, William Hogarth's series of paintings A Rake's Progress, 1733, which tells the story of the rise and fall of a young man who loses his inherited fortune through a series of bad decisions.
"The tapestries tell the story of class mobility, for I think nothing has as strong an in uence on our aesthetic taste as the social class in which we grow up. I am interested in the politics of consumerism and the story of popular design but, for this project, I focus on the emotional investment we make in the things we choose to live with, wear, eat, read or drive. Class and taste run deep in our character – we care. This emotional charge is what draws me to a subject". Grayson Perry.
The Vanity of Small Differences is jointly owned by the Arts Council Collection, Southbank Centre, London and the British Council Collection. Gift of the artist and Victoria Miro Gallery with the support of Channel 4 Television, the Art Fund and Sfumato Foundation with additional support from Alix Partners. The UK and Ireland tour of the tapestries is supported by the Art Fund and the Sfumato Foundation.
LECTURE: Taste and Morality: a lens on society from William Hogarth to Grayson Perry with Adrian Le Harivel, Curator for British Art, National Gallery of Ireland
5.30pm, Wednesday 28 February – Friends Room
As part of our current exhibition by Grayson Perry, The Vanity of Small Differences, curator for British Art and expert in 18th century art, Adrian Le Harivel will discuss William Hogarth's 18th Century painting, A Rake's Progress from which Perry's work takes its inspiration.
Grayson Perry, born 24 March 1960 is an English artist, known mainly for his ceramic vases and cross-dressing. Perry's vases have classical forms and are decorated in bright colours, depicting subjects at odds with their attractive appearance. There is a strong autobiographical element in his work, in which images of Perry as 'Claire', his female alter-ego, often appear.
Perry studied at Braintree College of Further Education from 1978 to 1979 and graduated from Portsmouth Polytechnic in 1982. He was awarded the Turner Prize in 2003. The tone of his narratives is psychologically complex and often sarcastic. Although he uses traditional methods to make his pots, he employs a range of techniques, such as embossing and photographic transfers, to create intricate, animated surfaces. In 2008, Perry was ranked number 32 in The Telegraph's list of the '100 most powerful people in British culture'. In 2012, Perry was among the British cultural icons selected by artist Sir Peter Blake to appear in a new version of his most famous artwork – the Beatles' Sgt. Pepper's Lonely Hearts Club Band album cover – to celebrate the British cultural figures of his life.
Selected solo exhibitions include; The Most Popular Art Exhibition Ever! Serpentine Galleries, London; travelling to Arnolfini, Bristol, 2017; Hold Your Beliefs Lightly, Bonnefanten Museum, Maastricht, The Netherlands, 2016; travelling to ARoS Aarhus Art Museum, Aarhus, Denmark; 2015 – 2016 My Pretty Little Art Career, Museum of Contemporary Art, Sydney; Provincial Punk, Turner Contemporary, Margate, Small Differences, Pera Museum, Istanbul, Turkey, 2015.
Friday 19 January – Monday 19 March 2018
15 Ely Place, Dublin 2
Telephone: +353 1 661 2558
Opening hours / start times:
Monday 11:00 - 17:00
Tuesday 11:00 - 17:00
Wednesday 11:00 - 19:00
Thursday 11:00 - 19:00
Friday 11:00 - 19:00
Saturday 11:00 - 19:00
Sunday 14:00 - 17:00
Admission / price: Free