Grainne Hassett: The Calais Maps
Wednesday 29 March – Sunday 23 April 2017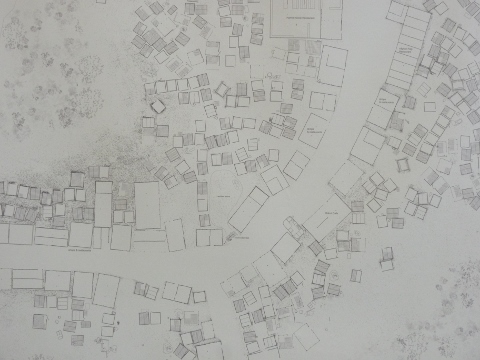 The Project Spaces presents Grainne Hassett's The Calais Maps, a document of the informal refugee camp which grew outside Calais town between 2015 and 2016.
The Calais Maps are a series of architectural, urban and landscape drawings generated by Grainne Hassett as political documents using architectural methodology. At Calais Hassett organised / built community infrastructure to include a women's and children's centre, a therapy and community space, a vaccination unit and a youth centre, amongst other projects.Whilst working in camp Hassett noted social and physical processes in the developing structures around her. Following the brutal demolition of the south camp Hassett commenced the task of mapping Calais to document a town disappeared.Highlighting the importance of architectural research through practice, Hassett's drawings speak about her work as a witness to address pertinent topics regarding the political, social and environmental issues which arose at Calais.Associated Events
In Conversation / Grainne Hassett & Sarah GlennieWednesday 5 April 2017, 6.30pm to 7.15pm / Project Spaces, IMMA
Grainne Hassett, founding architect of The Calais Builds project and Sarah Glennie Director, IMMA, reflect on some of the most pertinent issues arising out of the The Calais Builds Project that continue to drive Hassett's work as an architect and educator as well as her ideas on the ethical responsibilities of architects and society at large, to contribute to the global refugee crisis at large. This talk is free but booking is required. Book now
Image: Grainne Hassett: Detail Calais Refugee Camp February 28th 2016, 2017 Laser print on canvas Grainne Hassett / The Calais Builds Project
Wednesday 29 March – Sunday 23 April 2017
Royal Hospital, Kilmainham
Dublin 8
Telephone: +353 1 612 9900
Opening hours / start times:
Tuesday 11:30 - 17:30
Wednesday 11:30 - 17:30
Thursday 11:30 - 17:30
Friday 11:30 - 17:30
Saturday 10:00 - 17:30
Sunday 12:00 - 17:30
Admission / price: Free
Bank Holidays open 12:00 – 17:30.