Grace Weir: 3 Different Nights, recurring
Saturday 7 November 2015 – Monday 28 March 2016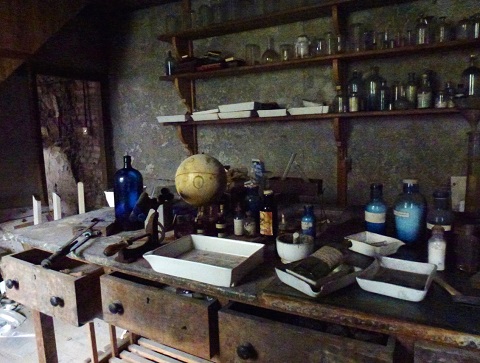 IMMA presents the first Museum exhibition by one of Ireland's most compelling and respected artists Grace Weir. 3 Different Nights, recurring is the largest exhibition of Grace Weir's work to date, comprising some 30 works including three major new film commissions, A Reflection on Light, Black Square and Dark Room, and two new series of paper works, 3 Different Blacks and Future Perfect. These new pieces are presented with complementary works that together span over 20 years of Weir's creative output.
Working primarily in the moving image and installation, Weir is concerned with aligning conceptual knowledge and theory with a lived experience of the world. She probes the very concept of fixed identity and her unique approach to research is based on a series of open conversations and experiments with scientists, philosophers and practitioners from other disciplines. This leads to work that deals with physics, philosophy, the nature of light and time.
Interested in those moments in time before definition occurs, Weir's works in the exhibition also explore the dynamic of practice and representation.  For Weir meaning becomes tangible through activity and the works make reference to both the act of making and the mediums in which they are made; largely photography and film. The exhibition title 3 different nights, recurring references a note made on a Whirlpool galaxy drawing by William Parson's in mid 1840s, pre dating photography. The drawing was repeated over three nights as a form of proof of his discovery of the spiral nature of galaxies.
This is an exhibition that explores limits; the limits of understanding, the limits of representation and the limits of definitions, tracing a trajectory to the very edges of our understanding.
Presented as an activated project 3 Different Nights, recurring will develop while at IMMA. The research informing the new work will be developed and made evident with a series of performative lectures and experiments, connecting the audience with the scientific explorations and collaborations that underpin Weir's work.
The exhibition is presented as part of an exciting new initiative, New Art at IMMA, proudly supported by Matheson, which allows IMMA to continue to support this vital work in a strand of programming that recognises and nurtures new and emerging talents, new thinking and new forms of exhibition-making.
Grace Weir represented Ireland at the 49th International Venice Biennale and has exhibited widely nationally and internationally. She is currently Artist-in-Residence in the School Of Physics, Trinity College Dublin.
Working primarily in the moving image, Grace Weir makes a critical appraisal of film through film-making, in a practice that fuses documentation with highly authored situations. Weir probes the nature of a fixed identity and these questions are underpinned by the theories under her scrutiny, whether it is relativity, intentionality, film theory, the duality of light or the philosophy of time and history. She is interested in issues that are not unspecified because something is missing but because of their nature and content. Weir is interested in the slippages between the conceptual and experiential in different fields of enquiry. She examines how the imperfect world of direct experience plays a role in our understanding of theoretical concepts. Researching facts not as self evident objects in the world but as processes, Weir takes a transdisciplinary approach in her research. The resulting work is wide ranging, from structural cinematic works to 'footnote' videos, web projects and installations.
Read more on www.graceweir.com
New Film Works
Three film works receive their premiere in IMMA during this exhibition. A Reflection of Light travels across different locations and histories that surround the hanging of a painting by Mainie Jellett titled 'Let there be Light' in the School of Physics in Trinity College Dublin. Having studied under the founder or cubism Albert Gleizes Jellett became one of the key Irish Modernist painters. Her grandfather and uncle were both physicists, the latter stating the Lorentz-FitzGerald Postulate which was a major step towards Einstein's Theory of Relativity in 1905. The film explores the controversial relationship between Cubism and Relativity across three locations; Mainie's former house on Fitzwilliam Square, the New Galleries at IMMA and a number of spaces in Trinity College Dublin.
The film Black Square explores the making of an image of the black hole that lies in the exact centre of the Milky Way Galaxy. Black in a black sky, these holes are one of the last unknowns in physics. The film travels to the edge of comprehension, reaching the limits of our ability to both understand and to represent something.Black Square explores the dynamic between what can be understood and what cannot, a mobile threshold where intuition meets calculation, and the limitations of representation in such a place.
The third new film work; Dark Room, was filmed in both Mary Rosse's original darkroom in Birr Castle and in the reconstruction of this darkroom in the Science Centre in the Castle's grounds where the entire contents have been moved and reconstructed by conservators. Mary Rosse was a pioneer in photography in Ireland in the 1850s. Prompted by a desire to photograph the moon, she was the first woman to win the Silver medal award of the Royal Photographic Society for her work in the 1850s. In 1983, the laboratory where she had worked was rediscovered. It had lain untouched within the Castle from the middle of the nineteenth century.
Associated Publications
There will be an exclusive IMMA Edition by the artist and an extensive catalogue to accompany the exhibition with essays by Sam Thorne, Peter Brooke and Caoimhín Mac Giolla Leith  among others.
Please contact the IMMA Shop for more details.
Associated Talks and Events
Artists Discussion | Three Nights Occurring-Grace Weir
Saturday 7 November 2015, 1-2pm, Lecture Room, IMMA
Grace Weir discusses her new exhibition 3 Different Nights, recurring at IMMA, comprising of new and existing works that span over 20 years of Weir's creative output as well as her current projects as residency artist in the School Of Physics, Trinity College Dublin. Book your free place here
Lecture-Performance | A past still to come
Wednesday 2 December 2015, 6pm, The Schrödinger Lecture Theatre, Trinity College Dublin
Grace Weir (artist), Dr Shane Bergin (physicist, TCD) and Dr Sean Enda Power, (philosopher, UCC) explore concepts of time and recurrence, the paradoxical nature of light and the making of a photograph in a lecture-performance, held in the lecture theatre where Erwin Schrödinger in 1943 gave a public series of lectures called What is Life?. This talk is in association with the School of Physics, TCD. Please note this event takes place at Trinity College, Dublin. Book your free place here
Critical Response | Frances McKee
Wednesday 2 March 2016, 6.00 – 7.00pm, Johnston Suite, IMMA
Frances McKee (Director of the Centre of Contemporary Art, Glasgow) draws on his interdisciplinary interests in philosophy, science fiction, cinema and the archive to address a number of compelling narratives that underline Weir's exhibition at IMMA. Ticket line opens in 2016.
Image: Grace Weir: Dark Room, 2015, HD video still, courtesy of the artist
Saturday 7 November 2015 – Monday 28 March 2016
Royal Hospital, Kilmainham
Dublin 8
Telephone: +353 1 612 9900
Opening hours / start times:
Tuesday 11:30 - 17:30
Wednesday 11:30 - 17:30
Thursday 11:30 - 17:30
Friday 11:30 - 17:30
Saturday 10:00 - 17:30
Sunday 12:00 - 17:30
Admission / price: Free
Bank Holidays open 12:00 – 17:30.