Grace Dyas: A Mary Magdalene Experience
Friday 4 November 2022 – Friday 3 February 2023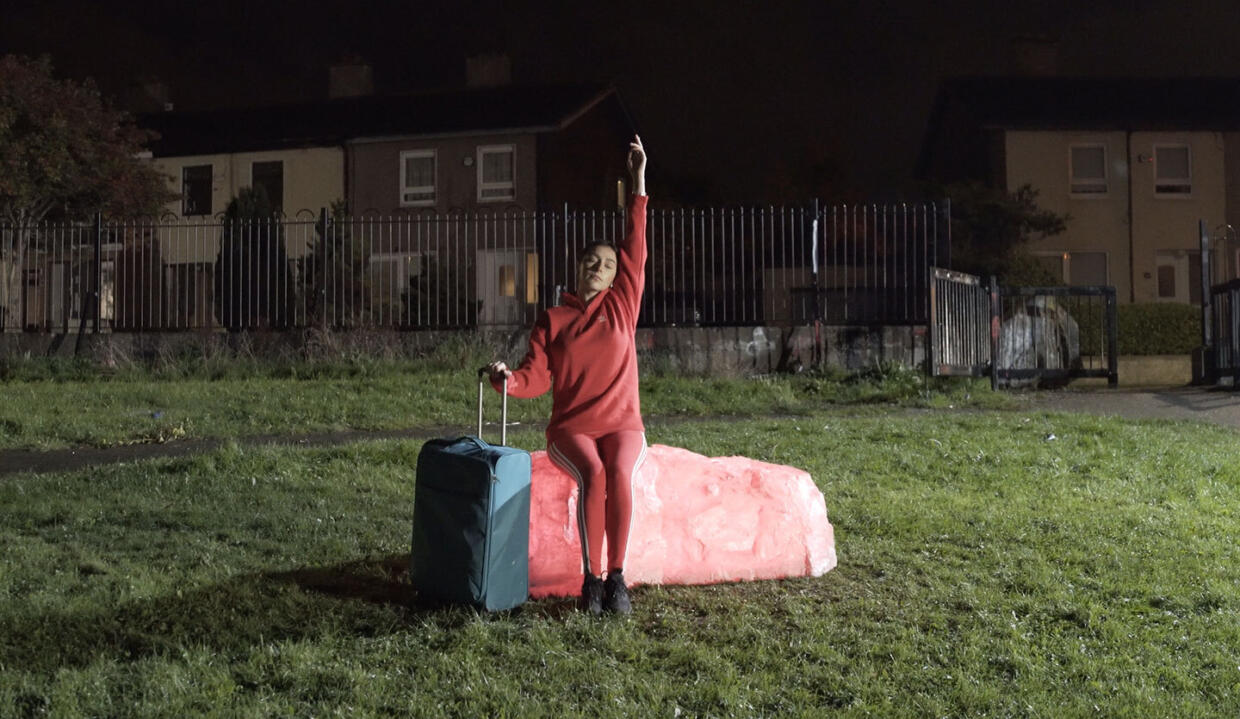 The Magdalene Series • A Mary Magdalene Experience • Grace Dyas
Mary Magdalene; a prostitute, a mad bitch, a woman only important because Jesus forgave her.
Up until now, men have painted the picture of Mary Magdalene.
Tina Malone is on a mission to clear her name.
It's 2022, we're in an imaginary Tallaght. Neoliberalism is the prevailing faith-based religion, and money gives men the power to buy any experience they want.
John Brophy TD, a community activist with a Jesus complex, orders Tina to deliver A Mary Magdalene Experience.
He wants Tina to play her as a fallen woman that he can save, but she won't play that part. She's discovered the 'lost' Gospel of Mary Magdalene, and she has a better idea.
She has no sermon, she's trying not to play Jesus, but she will share her Experience.
Artworks about Mary Magdalene start popping up all over Tallaght. A piece of glowing Rose Quartz proclaims that it contains 'Mary Magdalene Essence'. It feels to Tina like everything is synchronous, like it's all meant to be. Bernie Brophy – John's mother – keeps getting in her way. That one thinks she's the mother of God.
John gets "me-tooed on the fucking internet." He has what feels like a slow, painful public death. Tina watches it all play out online, conflicted. Then a performance artist invites John to be publicly crucified as a durational artwork in a Gallery. The work is called If you keep acting like a saviour, eventually you will be crucified. John agrees to do it to show everyone how awful it is that he's being cancelled, in the hopes that he will be forgiven. Jesus forgave Mary Magdalene after all.
Tina seizes the opportunity, she bursts into the gallery to disrupt the performance and clear her name once and for all.
Mary Magdalene: Spiritual Leader. Powerful Woman. Equal to Jesus.
A Mary Magdalene Experience is a new film by Grace Dyas, correcting the record once and for all.
Starring: Jordanne Jones, James O'Driscoll, Louise Lewis, Pom Boyd, Sean Dyas, Ciara Byrne
Writer / Director: Grace Dyas
Producer: Clare O'Connor
Director of Photography: Jaro Waldeck
Movement Director: Ella Clarke
Production Manager: Rowan McDonagh
Sound Recordist: Anthony Egan
1st Assistant Director: Jack O'Higgins
Editor: Allyn Quigley
Production and Costume Designer: Grace Dyas
The Magdalene Series is a programme of exhibitions, interventions, performances, and events curated by Rua Red Director / Curator Maolíosa Boyle and features five of Ireland's leading artists: Amanda Coogan, Alice Maher, Rachel Fallon, Jesse Jones, and Grace Dyas. Rua Red commissioned the five artists to research and produce new work in response to Mary Magdalene.
The Magdalene series will explore Mary Magdalene's associations with the incarceration and institutionalisation of women and other themes such as forced labour, morality, shame, reparation, and penitence.
The series will propose a new world, uncurbed by religious, political, or societal doctrine, a world led by the experience of Magdalene and viewed through the lens of contemporary feminism and feminist theology.
Mary Magdalene has been a subject of fascination and curiosity throughout history. She is a binary creation: conflicted and mysterious, noble and humble, strong yet morally weak, beautiful and haggard, passionate yet penitent, erotic and unreserved, reclusive and solitary. The Magdalene is the earthly, carnal, and sensual counterpart to the celestial Virgin. She embodies humanity and humility – she sweats, cries, and bleeds. The Magdalene Series is the culmination of a three-year collaboration between the artists and curator. The process has also included input from leading international theologians, academics, and researchers.
The Magdalene Series is generously supported by the Creative Ireland Programme South Dublin, The Arts Council, and South Dublin County Council Arts Office.
Image: Grace Dyas: A Mary Magdalene Experience, film still
Friday 4 November 2022 – Friday 3 February 2023
South Dublin Arts Centre
Tallaght, Dublin 24
Telephone: +353 1 451 5860
Opening hours / start times:
Monday 10:00 - 18:00
Tuesday 10:00 - 18:00
Wednesday 10:00 - 18:00
Thursday 10:00 - 18:00
Friday 10:00 - 18:00
Saturday 10:00 - 18:00
Admission / price: Free