Gordon Ashbridge: For God and Ulster
Saturday 11 October – Sunday 16 November 2014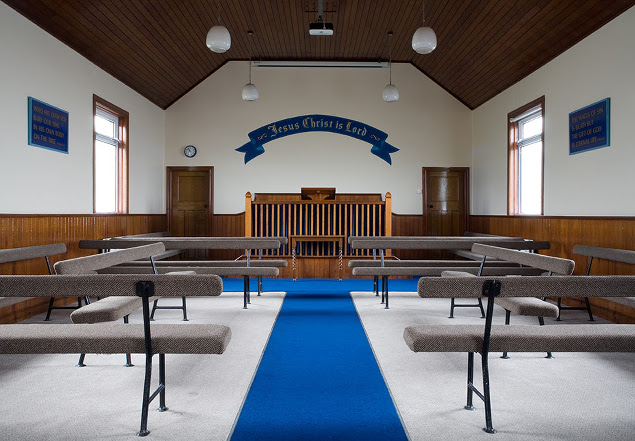 Opening Reception Thursday 16 October at 6.30pm
For God and Ulster brings together different worlds, highlighting tensions between the experience of community and an increasingly fragmented society. As a child growing up in Belfast, Gordon Ashbridge's spiritual roots were in the Brethren, a Christian evangelical movement which had its beginnings in Dublin in the 1830s. In his colour photographic series 'God Willing' and 'The Word Unadorned' Ashbridge examines the people, places and architecture of this once radical movement as it struggles for relevance in a post-Christian society. He does not attempt to judge the values of this ordinarily closed world. The subjects that Ashbridge has turned his camera towards are familiar to him. His work takes the viewer beyond the strident stereotypes of Protestant cultures in Ulster –revealing instead an insider's intimate space.
Each of Ashbridge's photographic series invites quiet contemplation of our basic, and often frustrated, desire for a sense of community. 'Through a Glass Darkly' is a study of a pub in Loyalist North Belfast. It explores ideas of entrenchment and resistance to change. In these dark and unsettling images, time moves slowly. The interiors offer a narrow perspective where the world beyond is only hinted at. It is a space defined by the fear of change, whether real or imagined.
In a further exploration of community, Ashbridge has included pictures from his family album depicting life in Belfast in the 50s. In this revealing selection we can trace the common concerns of rituals and rites of passage. Included are his first negatives made at the outset of the troubles in the late 1960s.
Gordon Ashbridge (b. 1956) worked as a firefighter in Belfast for thirty years. A keen photographer from an early age, he graduated with an MFA in Photography 2013 following a first class honours BA degree from University of Ulster in 2010. He now teaches photography at the Southern Regional College, Lurgan.www.gordonashbridge.com
Artist's Talk: Gordon Ashbridge will talk about his influences and about the making of his work on Friday October 17th at 1.15pm. Admission is free.
Saturday 11 October – Sunday 16 November 2014
Meeting House Square
Temple Bar, Dublin 2
Telephone: +353 1 6714654
Opening hours / start times:
Tuesday - Saturday 11am - 5pm. Mondays by appointment for education, artists archiving and training. Closed Sundays
Admission / price: Free