Geraldine O'Reilly: New Works
Thursday 6 October – Saturday 29 October 2011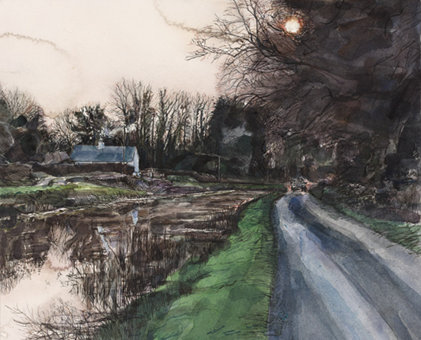 Hits: 2
Hamilton Gallery is delighted to host an exhibition of new works by Geraldine O'Reilly, Aosdána, opening on Thursday October 6th at 8pm. Mr. Éanna Rowe, Head of Marketing and Communications, Waterways Ireland, will perform the opening ceremony.
Geraldine O'Reilly's work relates to landscape. Either working directly outside painting or drawing, she extracts ideas and stories from research relating to a particular landscape. "Over the years, I've noticed my artwork always has a narrative of sorts and I like to think that the narrative is the line I peg the images on."
Geraldine, now based in Westmeath, has developed a fascination with the Royal Canal and how this failed mode of transportation fits as if it is a naturally occurring waterway in the landscape. Over time it has converted itself into a vast nature reserve and a walker's paradise. It opens up the closed midland landscape in a way never intended. It is this 'constructed landscape' that she explores in this exhibition.
Geraldine O'Reilly has had many one person exhibitions as well as participating in hundreds of group exhibitions. Her work is represented in many public and private collections. In 2004 she was elected a member of Aosdana. She is a former chairperson of the Graphic Studio, Dublin.
Image: Geraldine O'Reilly: A Circuitous Line
Thursday 6 October – Saturday 29 October 2011
4 Castle Street
Sligo
Telephone: +353 71 9143686
Admission / price: Free