George Shaw: Nothing Strange or Startling
Friday 10 November 2023 – Sunday 28 January 2024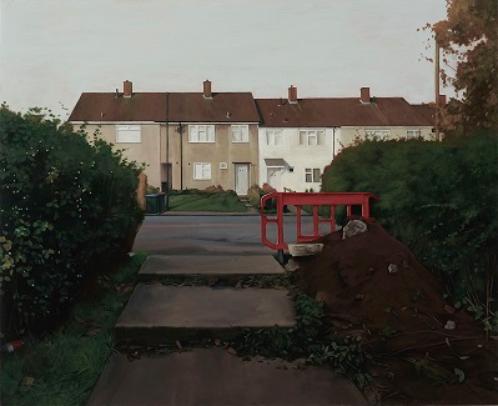 Limerick City Gallery of Art is delighted to introduce a new exhibition, Nothing Strange or Startling by George Shaw, a Turner nominated artist.
The exhibition speaks of the artist's journey from 'root to route.'
In a showcase of drawings and paintings, Shaw primarily traces back to his family home. This location has been a constant source of inspiration in his work, exploring the impact of connection and place spanning an artistic route of nearly thirty years. Included are scenes of the artist's childhood landscape through urban architecture, housing estates and nature, all which carry a sense of raw, imperfect nostalgia central to Shaw's memory. These works are complemented by newer pieces, casting a fresh light on the artist's own cultivated adult environments.
With most of the work recent, or shown only once before, the collection indicates a departure from the artist of a 'goodbye' to previous concepts and a lean towards new ideas. "One of the changes", says Shaw, "is the increase in fencing, barricades and gates.. (it) really refers to myself haunting an area that I should have left years ago.."
He calls his images as 'scraps of history', a fuse of grandeur and humility, both a nod to the past and a gesture to the future.
The exhibition is  accompanied by an exhibition guide with texts by George Shaw and Ciara Hickey.
Image: George Shaw: The Undead, 2023, humbrol enamel on board, 43 x53cm
Friday 10 November 2023 – Sunday 28 January 2024
Pery Square, Limerick
Telephone: +353 61 310633
Opening hours / start times:
Monday- Saturday 10am – 5pm
Sunday 12 – 5pm
Last admission 15 minutes before Closing time.
Admission / price: Free
The gallery is closed on Bank and Public Holidays.