George Potter: Selected Works
Friday 6 July – Saturday 28 July 2018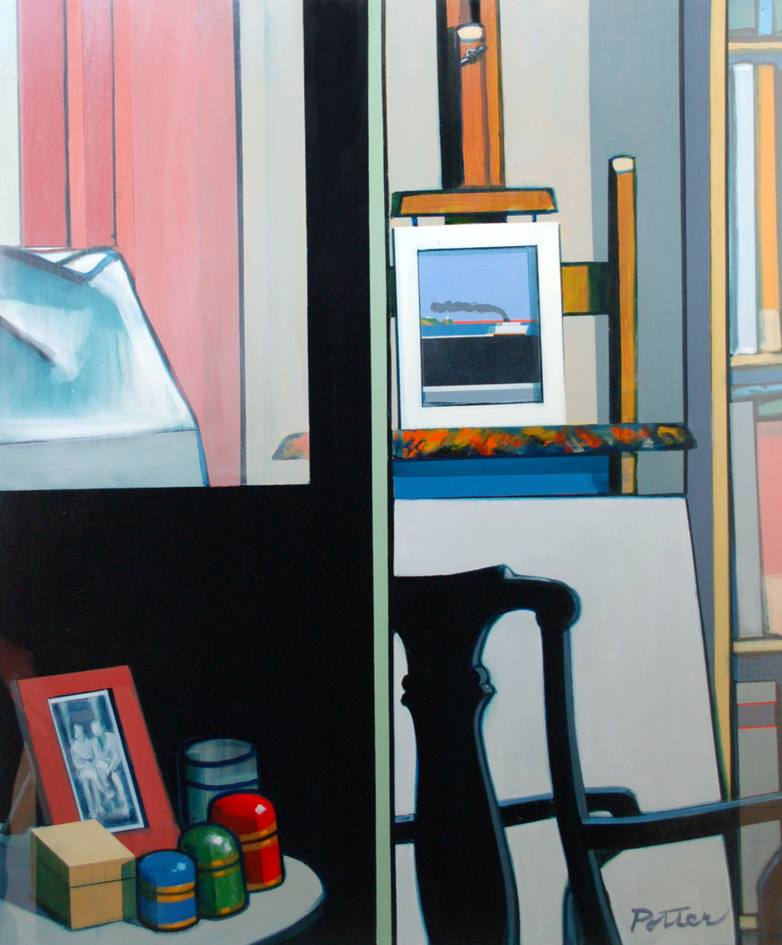 Taylor Galleries is very pleased to present Selected Works, an exhibition of paintings and drawings celebrating the life and work of George Potter RHA (1941-2017).
Born in Washington DC, George Potter received a BA in Fine Art Painting from Rhode Island School of Design (RISD) in 1962, then completed two years military service in Germany before returning to Berlin on a Fulbright Scholarship from 1967 to 1968.
In 1971 he moved to Ireland, where he settled in the south Dublin town of Dun Laoghaire. A familiar figure in and around his adoptive hometown, his work gradually moved away from abstract expressionism to embrace figurative representation. He was strongly informed by his surroundings, often painting street- and sea-scapes of Dun Laoghaire, Sandycove and Glasthule, as well as pictures of these works-in-progress in his studio. He made paintings of places that he saw everyday and became fascinated by the relationship between the land and the sea, which is often seen as a backdrop in his work, nestled in the negative space between buildings or glimpsed at the end of roads leading down to the seafront. His large still lifes and portraits of women display the same confident use of a sure, heavy line and restrained use of a rich, creamy palette.
George Potter was a part-time lecturer at the National College of Art and Design, Dublin from 1975 to 2000, and was a member of the Royal Hibernian Academy. The recipient of numerous awards, he exhibited regularly in the RHA Annual Exhibition, Irish Exhibition of Living Art and Figurative Image shows, and presented solo exhibitions of his work with Taylor Galleries from the early 1980s. His work is represented in private collections on both sides of the Atlantic, as well as the public collections of Trinity College Dublin, Bank of Ireland, Jury's Hotel Group, Nissan Ireland, OPW / State Art Collection, and the Imperial Hotel, Cork, among others.
Image: George Potter, Studio (Park Lane), 2015, oil on canvas, 100 x 80 cm
Friday 6 July – Saturday 28 July 2018
16 Kildare Street, Dublin 2
Telephone: +353 1 676 6055
Opening hours / start times:
Monday 10:30 - 17:30
Tuesday 10:30 - 17:30
Wednesday 10:30 - 17:30
Thursday 10:30 - 17:30
Friday 10:30 - 17:30
Saturday 11:00 - 15:00
Admission / price: Free