Gemma Browne: Wallflowers
Thursday 2 March – Saturday 25 March 2023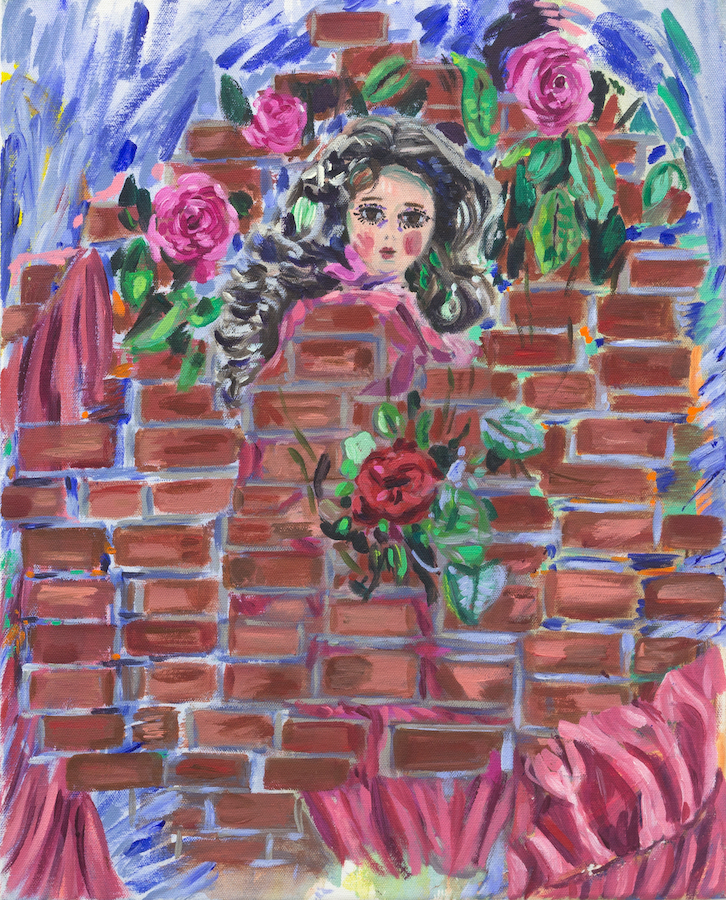 'Wallflowers' is an attempt to engage with living through a period of huge upheaval and coming through it. As Browne walked the suburbs, redbrick houses and lace-curtained windows came into sharp focus. The work teems with flowers, particularly roses, a symbol of secrecy. Despite the vivid blues, greens and pinks – on closer inspection – something darker lurks on these canvases: disembodiment, seclusion, the ghosts of lives lived before 2020.
Browne's work has always featured faces – mask-like or dolls – but many of these paintings are not just faceless, but are without a corporeal body. This disembodiment evokes the disconnection and isolation of lockdown, while the antique dresses in 'Finest', 'Debutante' and 'Sunday', are – literally – all dressed up with nowhere to go. "None of us were dancing at the dance," says Browne, but these figures look ready to remerge into the world, to a newly reclaimed sociability. Their bygone attire is an echo of the time before everything changed. Browne's canvases vary in size: some are large and demonstrative while the smaller works hint at more introspective moments.
Extract from an Accompanying Text written by Sinéad Gleeson. Sinéad Gleeson is a writer, editor, freelance broadcaster and journalist.
Gemma Browne is an Irish artist born in London and based in Dublin. Recent solo and group exhibitions include The Pleasure Ground, Rathfarnham Castle OPW, Dublin (2022), Doorways and Windows, Curated by Rayne Booth for Wexford Arts Festival (2022), Lady-Salad Days, Solo online show of paper works at Kevin Kavanagh, Dublin (2021), Dubliners, 6th Biennial of Painting,Zagreb, Curated by Pallas Projects (2021), Speaking of which…, film with The Dock Arts Centre, Leitrim and The Lab Gallery, Dublin (2020), The Invisible Sorceress, The Lab Gallery, Dublin, Curated by Sheena Barrett (2020), Queen Of The Dusk, Kevin Kavanagh, Dublin (2020).
Image: Gemma Browne, Wallflowers, 2022, acrylic on canvas, 50 x 40 cm
Thursday 2 March – Saturday 25 March 2023
Chancery Lane
Dublin 8
Telephone: +353 1 475 9514
Opening hours / start times:
Tuesday to Saturday 11am – 5pm
Admission / price: Free